ECNL Alums account for two-thirds of 2019 NWSL Draft class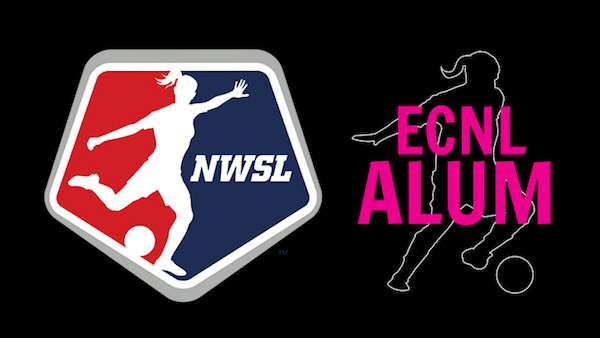 RICHMOND, VA  (Via ECNL) – The National Women's Soccer League (NWSL) is the longest-running professional women's soccer platform in the country and is entering its seventh season. Each year, the NWSL provides an opportunity for more and more female players to continue their playing careers beyond the collegiate game.
ECNL Alums' names were called over and over again at the 2019 NWSL Draft that took place on Thursday at the United Soccer Coaches Convention in Chicago. 24 of the 36 players drafted were ECNL Alums, accounting for 67% of the total 2019 draft class.
+READ: NWSL College Draft Recap | Tierna Davidson goes No. 1 overall
The first round featured seven ECNL Alums, including Stanford University standout, Tierna Davidson, selected as the 1st overall pick and former Amazing Young Woman Spotlight of the Week, Hallie Mace, as the 2nd overall pick. Both the second and third rounds each saw five ECNL Alums called to the stage, while seven ECNL Alums were chosen in the forth round.
Congratulations to all of the ECNL Alums selected in the 2019 NWSL Draft:
Round 1
Tierna Davidson
Hallie Mace
Jordan DiBiasi
Leah Pruitt
Julia Ashley
Tegan McGrady
Dorian Bailey
Round 2
Paige Monaghan
Julie James
CeCe Kizer
Betsy Brandon
Kayla McCoy
Round 3
Kyra Carusa
Grace Cutler
Michelle Maemone
Emily Ogle
Kayla Sharples
Round 4
Kenie Wright
Marisa Viggiano
April Bockin
Alex Kimball
Hannah Davison
Sabrina Flores
Kaycie Tillman
The Elite Clubs National League has had a major impact on all levels of women's soccer since its founding in 2009. Over 90% of the ECNL's Amazing Young Women go on to play collegiate soccer every year and make an impact at the next level as cataloged in the ECNL's College Impact series.
The ECNL is now in the tenth year of existence, and players who spent the majority of their youth careers in the ECNL are now graduating college and moving on to play professionally. The ECNL's dominant impact on college soccer is now transitioning to have a significant impact on professional soccer.