ECNL adds DMCV Sharks (CA), FC Alliance (TN) as member clubs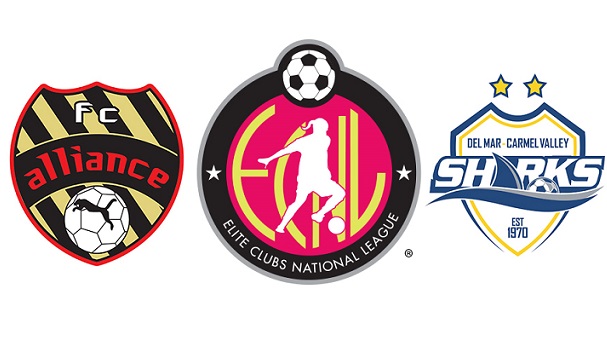 RICHMOND, VA (Via ECNL) – The Elite Clubs National League has announced that Del Mar Carmel Valley Sharks (Del Mar, CA) and FC Alliance (Knoxville, TN) will be joining the Girls ECNL beginning in the 2017-2018 season as new member clubs.
The ECNL will be the only national leagues in which the clubs will compete, and the focal point of their competitive efforts.
The DMCV Sharks are led by former US Soccer National Team star Shannon MacMillan, a veteran of 2 Women's World Cups (one championship), a 1996 Olympic Gold Medalist, and a 2016 inductee of the US Soccer Hall of Fame. DMCV won USYS National Championships in both 2013 and 2014, and was a USYS National Finalist in 2015. The DMCV U18 girls are currently competing in the USYS National League, and in 2015-16 DMCV won the California Regional League at U16. The club has consistently developed top players in the formation age groups for years.
+READ: Houston area pro, youth clubs partner to create youth soccer behemoth
"Becoming a member club of the ECNL is a tremendous opportunity for our girls," said DMCV Executive Director Shannon MacMillan. "The ECNL is a proven and respected platform in terms of competition and continued investment in player development. The league's core values align perfectly with the DMCV Sharks and we are excited to offer all of the opportunities that come along with a top league to our membership. Participating in ECNL will showcase and challenge our players, helping to enhance their development both on and off the field."
FC Alliance has placed nearly 100 players into college soccer since 2014, with 24 players in the class of 2017 alone moving on to college soccer. Over the past 3 years, the club has qualified 6 teams for the NPL Finals, 3 teams finished as USYS Region 3 Finalists, and has had 7 teams compete in the USYS National League.
+READ: Jefferson Cup 2017 Championship Division Preview – U-18 Girls
"We are honored to be announced as a new member club of the ECNL for the 2017 season," said FC Alliance Girls Director of Coaching Josh Gray. "The ECNL has been the top female youth league in the world for many years, and we are very excited to provide this opportunity to the players of East Tennessee. Our main goal has been to provide our players with the path to play soccer at a level beyond the youth game. ECNL's college and professional impact is unparalleled, and will enhance our ability to meet that goal."
"DMCV and FC Alliance will be great new member clubs for the ECNL," said ECNL President Christian Lavers. "We have been very impressed with the leadership of both clubs, and their commitment to develop top players in a holistic environment makes them a natural fit."
Both clubs will begin formal competition in the ECNL in August 2017.