Eastern New York Youth Soccer Associatio​n to host free coaches clinics on Aug. 10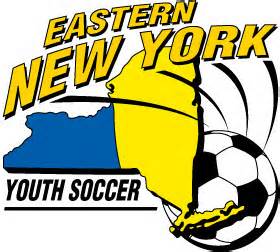 (Via Eastern New York Youth Soccer Association) – The Eastern New York Youth Soccer Association (ENYYSA) is set to present three free clinics for soccer coaches or those interested in becoming a soccer coach. These clinics will take place after the conclusion of our US Soccer C License course from August 1 to 10 at the OMM/World Class Facility, 175 Old Orangeburg Road in Orangeburg.
The three free clinics will be offered on Sunday, August 10.
Leading off from 11 am to noon is Tim Bradbury, Director of Coaching Instruction for Eastern New York. Tim's credentials also include a NSCAA (National Soccer Coaches Association of America) Master Coach, US Soccer A License for 23 years, US National Youth License, NSCAA National Staff Coach, Director of Education for UK Elite and 4-time presenter at the NSCAA Convention. Tim will be speaking on "Possession, Possession, Keep It and Win!"
From noon to 1 pm, Mike Dickey will be discussing the "2014 World Cup." Mike was the US Girls-Under-17 Youth National Team Coach and the head coach of the Delaware Wizards of the USL and is the current head coach of Region 2 Girls ODP, a US Soccer National Instructor, US Soccer A License for nine years and coached the US Girls-Under-16 Youth National Team to a gold medal at the 2010 Nordic Cup. Plus Mike was a professional player in Germany to boot.
At 1 to 2 pm, Gary Lewis gives a clinic on "Movement Patterns in the Final Third." Gary is the National Director of Coaching for FCUSA. He holds a UEFA "A" Coaching License as well as a FA Academy Managers License, FA Psychology for Soccer Level 3 and FA Youth Module 3. Gary oversaw the training curriculum for boys ages 12 to 14 at the renowned Liverpool Football Club.
"Building on the momentum from the popularity of the 2014 World Cup, we are very happy to offer these free clinics by some great instructors and hope that many local coaches and just those interested in soccer will come to Orangeburg for what should be an exceptional day," commented Eastern New Youth Soccer Association President Richard Christiano.
Those who pre-register for these free clinics will also receive a T-shirt. You can do that by logging on to http://www.enysoccer.com/events/free_coaching_instruction_course_at_omm/?F_c=1322&F_ByCat=205190