Division standings take shape as sun arrives on Jefferson Cup Girls Showcase Day 2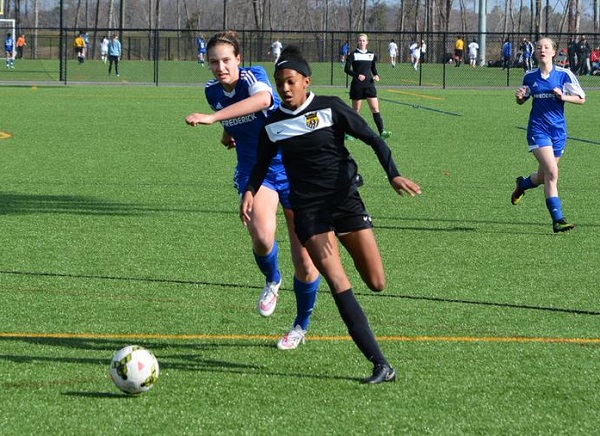 More Jefferson Cup Girls Showcase Coverage
+Top teams face off on Day 1 of Jefferson Cup Girls Showcase
+U-17 girls scramble, adapt as Friday rain forces reschedules
+Jeff Cup a long way from icy home for Wisconsin's Strike FC Premier U-18s
+SoccerWire Q&A: Duke's Robbie Church talks Jeff Cup, recruiting, spring match vs. UVa
Saturday was another big day for college recruiting and high-level competition between over 300 of the best girls club teams in the country at the 2015 Jefferson Cup Girls Showcase Weekend.
The division standings are taking shape with only one round of group games remaining on Sunday morning. Division finals will be played late Sunday morning and into the afternoon as teams square off for the chance to be named Jefferson Cup champions.
A few highlights from Saturday's U-15 to U-17 games…
U-15
Florida Krush 99 Black 0-0 Richmond United ECNL – Championship Division
In Group B of the U-15 Championship Division, Richmond United and Florida Krush 99 Black played to a 0-0 draw on Saturday morning at Stratton Park.
Both sides played great defense and Richmond United held off a late flurry by Florida Krush to preserve the draw. Krush went on the attack for much of the second half with a speedy group of midfielders and forwards playing a technical brand of possession soccer. Shayla Smart, Megan Mosley and Jordan Diverniero paced the Krush offense, but center back Emily Crocco (2018) led a valiant effort for the Richmond defense.
"The U-15 age group is a great level," said Krush coach and club executive director Hue Menzies. "Richmond is a very good team, we had a few more chances than they did but they're such a good team and they didn't allow us to convert on those chances."
Florida Krush won their final group game 1-0 over YMS Premier 99 Pride on Saturday afternoon, and trails Richmond United by just one point for first place in the Group B standings entering Sunday's final round of group play.
Arsenal FC Golden Fire 5-3 SC Waukesha Blue – Elite Orange Division
Arsenal FC overcame an early deficit against Wisconsin State Cup champion SC Waukesha Blue on Saturday, scoring four of the game's final five goals to win 5-3.
Delaney Snyder, Lauren Schultz and Sophia Hudson sparked the Arsenal offense after the team trailed 2-1 in the first half. Waukesha's Jelena Seaver had a goal and an assist within five minutes of each other in the first half, scoring a breakaway goal and then sending in a well-placed cross to Samantha Nickell (2018) to give her team the lead.
However, Arsenal coach Brian Bacchus made some tactical adjustments and his team was rolling from then on. Bacchus moved Kristi Kania (2018), one of the team's top players from center midfield to center back where she made a major impact defensively in the win. Although Waukesha was an unfamiliar opponent coming in, Arsenal rallied after making a quick study of their opposition.
"We always try to identify a team's top player, we've never faced this team before because they're from Wisconsin," Bacchus said. "You want to identify that key player and a style of play. You see if they want to play direct or if they want to play possession, and once you've figured it out you try to capitalize on it. In the second half we were able to mark up and do a much better job defensively."
Arsenal beat Quickstrike FC 2-1 on Friday and with Saturday's win is now 2-0-0 in group play. Arsenal faces Council Rock FC Bucks 99 ECNL on Sunday morning with a chance to lock up a trip to the Elite Black Division final.
ISA Elite 99 1-0 Herndon United 99 – Elite Black Division
A 1 p.m. matchup at Stratton Park between Herndon United 99 and ISA Elite 99 was a show of two great defenses, as both sides had their prolific goal-scorers shut down for most of the match.
They appeared to be headed for a scoreless draw but ISA was able to score a late game-winner on a corner kick sent in by Selena Fortich and finished off with a powerful blast into the upper left 90 by Lauren Couto.
ISA's strong defensive effort was led by Jennifer Bonifazio, Kaitlyn Heneghan, Ariana Aliprantis and Couto, among others. Herndon playmakers Abigail Hoisington (2018) and Rory Donahue (2018) were held mostly in check by ISA's back line and defensive midfielders. Stephanie Salazar (2017) and Morgan Pettit (2018) were active defensively throughout the match for Herndon.
"Today was great competition once again, our teams like the environment here and they're played well," said coach Joseph Bonifazio. "Being from the Northeast, this is really our first time outside this season, so we're happy to play in some nice weather."
ISA is the points leader in Group A heading into Sunday, and will moved on to the U-15 Elite Black Final with a tie or a win against Atlanta Fire United ECNL in their last group match (11:20 a.m. at Ukrop Park Field 1).
FC Virginia United Premier 99 1-1 NEFC Elite – Championship Division
FC Virginia and NFC Elite played to a thrilling 1-1 draw at Stratton Park on Saturday afternoon.
FCV struck first on an outstanding effort by Amy Thompson (2018), one of the ECNL's top goal scorers. However, NEFC's stifling defense would hold strong the rest of the match as center back Jenna Tivnan (2018) showed why she is an elite level college prospect with a commanding performance against FCV's skilled playmakers.
[player_box id=48973 leftright=right]Following a two-goal effort on Friday night against PDA, Marykate McGuire was able to equalize for NEFC midway through the second half against FCV. NEFC remained on the attack late in the match trying to find a game-winner, but Julia Villagomez, Alyson Broecker (2017), Emma Dize (2018) remained strong defensively for FCV. Ashley Rodriguez was highly active for FCV defensively as well, helping shut down NEFC's top notch scorers the entire first half.
"FC Virginia is a rival of ours in the region, we love playing each other because they are always great games," said NEFC Elite coach Carl Tarabelli. "Today was a really physical game and we both took it to each other at times, I thought 1-1 was a fair result. FCV has a great coaching staff and great kids, they are the real deal."
NEFC will face Cleveland FC on Sunday morning with the winner representing Group A in the U-15 Championship Division final just a few hours later.
U-16
Richmond United 4-3 Ahwatukee United White – Championship Division
One team had one of the longest journeys of any team at the Jefferson Cup tournament. The other slept in their own beds. But perhaps the lack of familiarity was what led to such a barnburner.
After a scoreless first half in the U-16 Richmond United and Arizona's Ahwatukee United White erupted for seven second half goals as Richmond won a wild game 4-3.
Junior Taylor Guy and sophomores Morgan Hall, Lyndsey Gutzmer and Laurel Ness scored for Richmond while sophomores Paige Maling, Corey Zaremba and Lauren Votto scored for Ahwatukee.
"A seven-goal thriller. Back and forth, very entertaining," said Richmond coach Andrew McIntosh. "It's nice to play somebody we aren't familiar with. In the ECNL we get used to seeing the same teams and we know how each other plays. But this gave us a chance to see someone new. It was a great showcase of teams with two different styles."
This was the first trip East for Ahwautukee, a club from Phoenix that pulls its players from just a few nearby high schools.
"Most of these girls have been together since they were U-8s and a lot of them go to high school together and play with or against each other," said Ahwatukee manager Geoff Carr. "We have some girls on this team who are looking at coming east for college and we decided to come here instead of going to [another showcase tournament this weekend in] Las Vegas. because we'd see most of the same western schools and this was a chance to get seen by a lot more and a lot different coaches."
U-17
Maryland United ECNL 1-0 Syracuse Development Academy – Championship Division
In a U-17 Championship Division matchup that was postponed a day because of the field crunch by Friday's inclement weather, Maryland United beat Syracuse Development Academy 1-0 Saturday morning. Both teams will play a second game early in the evening Saturday.
Maryland scored the game's only goal by connecting a string of passes together in the first half before junior Kia Rankin finished a cross from the left flank by classmate Abbie Ellis.
"We did a good job winning a 50-50 ball in midfield then getting it wide and up to Abbie and she hit a great ball," said Rankin. "I was able to get a good shot off and finish. It was a great team goal."
Syracuse came close to scoring the tying goal midway through the second half when Madison Belvito's header found the net only for her to be called offside.
With a second game scheduled for later today, Maryland coach Shannon Higgins-Cirovski rotated her players regularly. "This is a showcase event so it's important to make sure everyone gets a chance to be seen by all the coaches who are here," said Higgins-Cirovski, a former NCAA Division I college coach. "It's also a great event to start off the spring season and get everyone competitive games to get us ready."
PDA Arsenal 1-0 GPS Massachusetts Elite – Championship Division
In a U-17 Championship game featuring a team loaded with players bound for elite division programs versus one with only one verbal commitment so far, the run of play was predictable while the scoreline but the scoreline was surprisingly close.
Despite having the vast majority of possession and creating myriad chances, PDA Arsenal from New Jersey needed a late penalty kick to beat GPS Massachusetts Elite 1-0.
With time winding down, PDA's Gabriella Bair dribbled through traffic and into the box where she was dropped by a GPS defender and the referee immediately pointed to the spot with little arguing from the team from Massachusetts.
Nicole Whitley stepped up to the spot and calmly converted the spot kick to provide the margin of victory.
"We played very well in a lot of areas today but we still have a lot of work to do in the final third to get where we want to be," said PDA coach Meghan Ryan. "It's early and we'll get better but this shows us we still have some work to do."
All but three of the PDA players have either signed letters of intent to Division I colleges or have verbally committed. "This is such a great event and we want to use it to showcase our three players who haven't committed yet," said Ryan.
"They were hurt last year and this gives them a chance to show what they've earned."