Despite rain, high-paced soccer on display at day two of CCL Fall Showcase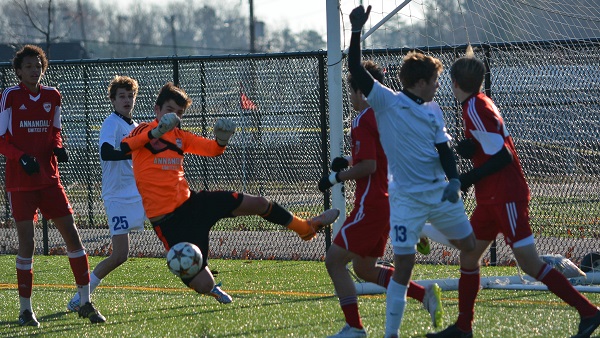 (Via CCL) – Despite rain coming down throughout the afternoon on Saturday, the play on the turf fields at River City SportsPlex and Stratton Park remained strong on day two of the CCL Fall Showcase. There was no shortage of great match-ups on the boys and girls sides, including several rivalry matches stemming from State Cup and league play.
A few highlights from Saturday's games at River City SportsPlex:
In the U18 boys division, Arlington Soccer Association squared off with Annandale United and were able to defeat their Northern Virginia rival 4-0. However, the score line would not tell the whole story, as Arlington only exploded for four goals after a hard fought scoreless first half.
Jordi Moya scored Arlington's opening goal, bringing down a high cross and converting the chance with a precision move to the goal. Tyler Runge scored the second and third goals, and Maycol Nunez scored the fourth goal and also added an assist.
"It's a good rivalry, and we always play good games against each other," said Arlington coach and Youth Director Mo Tayari on his team's matchups with Annandale. "We played them two years in a row in State Cup, and it's always fun."
Annandale got the best of Arlington in the U16 age group in which ASA recently captured the 2014 State Cup title. In another tightly contested match, the teams were scoreless at the half but a second half goal gave Annandale an important league win at the Fall Showcase.
Annandale received an outstanding effort from its entire back line, anchored by Isaac Gamboa and Marcus Wilson. The defensive unit managed to hold forward Nikolas Jackson and the rest of Arlington's powerful group of offensive weapons without a goal.
"We're both top teams, it's like I've been telling my group all along, you're going to be good enough to play with them," said Annandale coach and Technical Director Bo Amato on his team's matchups with Arlington. "We've caught up a little bit athletically, and our team played aggressive and they're good kids with great work ethic. Arlington's a great club as well, we have a lot of respect for them."
On the girls side, BRYC met Loudoun in a match with major CCL standings implications and several marquee players already committed to top programs. BRYC, led by Penn State commit Kaleigh Riehl and uncommitted Charlotte Hyland, edged Loudoun 2-1 on a late go-ahead goal by Hyland.
BRYC coach Mark Dolansky was pleased with his team's performance and the event as a whole, aside from the heavy downpour the teams had to endure for most of the match.
"We want this to become a tournament that is a must-see for colleges, and these girls that are playing this weekend are going to leave a legacy for the ones that are coming behind," Dolansky said.