Olsen, Krieger, Michallik & Co. grace Capital Soccer Classic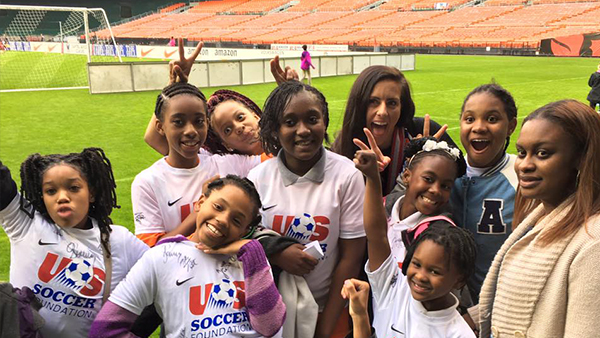 WASHINGTON (via U.S. Soccer Foundation) – Democratic Members of Congress defeated their Republican counterparts to win the Congressional Soccer Match at U.S. Soccer Foundation's 4th Annual Capital Soccer Classic charity event at rainy RFK Stadium on Tuesday night.
The Democrats fended off rain and mud to come out on top 7-4. The politicians were joined by former professional soccer players like Ben Olsen, Danielle Slaton and Cobi Jones. Meanwhile U.S. Women's National Team star Ali Kreiger, former USMNTer Jonathan Spector and members of the D.C. United and Washington Spirit teams were also in attendance.
"I want to thank the D.C. community and the players and Members of Congress that participated in tonight's game and for supporting the U.S. Soccer Foundation's work in underserved communities across the nation," said Ed Foster-Simeon, the U.S. Soccer Foundation's President & CEO, in a press release.
"Children who grow up in these neighborhoods face distinct challenges. Many don't have access to healthy foods, a safe place to play or the guiding hand of a mentor. The U.S. Soccer Foundation's programs help to change this unfortunate reality to helps kids thrive."
Sixteen embassies competed during the Embassy Tournament that opened the evening, with Russia coming out on top. Later, Capitol Hill staffers competed during a "Congressional Staffer Tournament, where Rep. Dina Titus' (D-NV) staffer Eva Hicks was named "Queen of the Hill" following a penalty kick shootout.
"The Capital Classic is light-hearted and fun for all who get involved," said Rep. Todd Young (R-IN), Congressional Soccer Caucus Co-Chair. "I look forward to the match each year, as it provides a rare opportunity for members of both parties to come together and showcase a different set of skills. Above all, we get to promote the sport I grew up playing and encourage the next generation of players to get engaged in sports-based youth programs."
Proceeds raised from the event support the U.S. Soccer Foundation's programs, which work towards helping children in underserved communities embrace an active and healthy lifestyle while nurturing their personal growth through trained coach-mentors. The Foundation partners with local communities to create cost-effective, long-term initiatives that meet each community's youth development needs and provide safe environments where kids thrive.
"The Capital Soccer Classic supports programs that get children off of the streets while promoting physical activity and good life skills," Rep. Eric Swalwell (D-CA), co-chair of the Congressional Soccer Caucus. "I helped lead the call this year for robust funding of three critical programs that promote sports-based youth development, and no sport is nearer to my heart than this – a Division I soccer scholarship was my ticket to becoming the first person in my family to go to college."
Congressional Match Roster
Democrats:
Rep. Kathy Castor (D-FL)
Rep. Suzanne Bonamici (D-OR)
Roy Austin
Roger Austin
Cobi Jones
Siri Mullinix
Steve Hartell
Franck Journoud
Devon McTavish
Andre Akpan
Ambassador Juan Jose Arcuri (Argentina)
Republicans:
Rep. Todd Young (R-IN)
Rep. Erik Paulsen (R-MN)
Cully Stimson
Jennifer DeCasper
Juergen Sommer
Ben Olsen
Mike Hillis
Danielle Slaton
Janusz Michallik
Zach Thornton
Jonathan Spector