DC Stoddert youth league announces support of D.C. United stadium project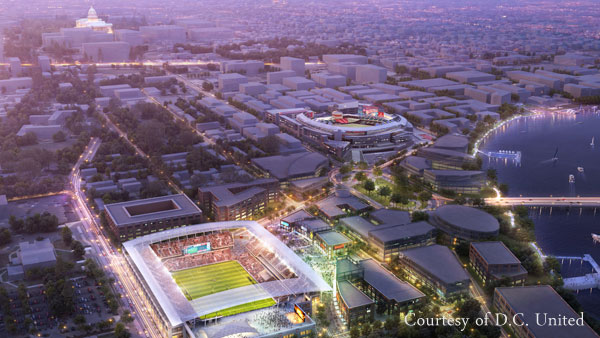 The Board of Directors of the DC Stoddert Soccer League, the largest youth soccer organization in the city of Washington, has voted to support construction of a professional soccer stadium in the District of Columbia.
Young soccer players can be inspired, encouraged and educated in the sport by the example of professional soccer programs for male and female players. Professional soccer has been successfully represented in the Washington area by D.C. United since the founding of Major League Soccer in 1996, by the Washington Freedom of WUSA and WPS, and most recently the Washington Spirit, an inaugural franchise of the National Women's Soccer League in 2012.
The DC Stoddert Soccer Board believes that professional soccer is more likely to thrive in Washington with the construction of a dedicated soccer stadium within the District.
United have partnered with the administration of D.C. Mayor Vincent Gray to present a plan for construction of a stadium and mixed-use development at Buzzard Point in Southwest D.C. That plan is currently being evaluated by the City Council and is expected to come to a vote later this fall.
"To the greatest extent possible, the new stadium should be easily accessible to the communities that DC Stoddert Soccer serves and should create new opportunities for D.C. United's engagement with and support for the youth soccer community," said Stoddert in a club press release.
Established in 1977, DC Stoddert Soccer is the largest youth sports organization in the District of Columbia. Since then, the organization has evolved into a community-minded, volunteer-driven entity that provides innovative soccer enrichment opportunities for more than 6,000 children, ages 4-18, throughout the school year. The club also offers a variety of clinics for players, referee education and training for coaches to help educate and inspire its constituents.