Dallas Cup Super Group brackets, opening day schedule unveiled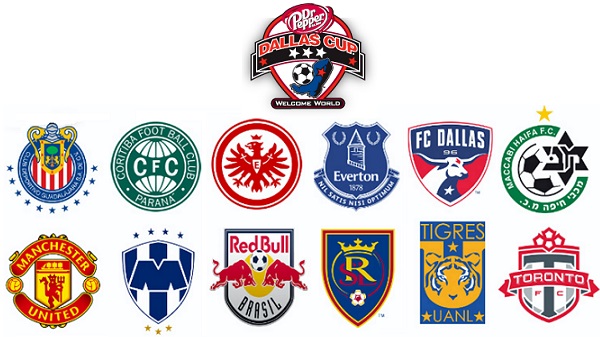 DALLAS, Texas (Via Dallas Cup) –  The Dr Pepper Dallas Cup has announced the match-ups for 2017's opening day triple-header at Cotton Bowl Stadium, along with the brackets for the twelve elite teams that make up this year's Gordon Jago Super Group.
Dr Pepper Dallas Cup XXXVIII kicks off on April 9 with a full day of soccer action at the historic Cotton Bowl. The marquee game of the opening day's triple header features a battle between two of the world's most popular teams as Manchester United and Chivas face off at 6:30 pm. The day will start at 12:30 pm with 2016 Super Group champions Everton FC squaring off against the 2016 U18 U.S. Soccer Development Academy champions FC Dallas.
At 3:00 pm, Germany's Eintracht Frankfurt and Mexico's Tigres battle to settle the score of the 2011 Super Group final that ended in a tie between the two teams due to inclement weather. The annual "Welcome World" Opening Ceremonies and Parade of Nations, featuring all 200 Dr Pepper Dallas Cup XXXVIII teams, will start at 5:00 pm.
The Super Group matchups for the games on Wednesday April 12 at the Cotton Bowl will be determined at a later date. Additional games will be played throughout the week, free of charge, at the Classic League Soccer Complex at Richland College, and MoneyGram Soccer Park in Northwest Dallas. The Super Group semifinals will be played on Friday, April 14 at Toyota Stadium in Frisco, which will also host championship matches of all age groups on Saturday, April 15 and Sunday, April 16.
The twelve Super Group participants include top academies from seven countries and four continents, including four former Gordon Jago Super Group champions.
Group A
Manchester United
Chivas de Guadalajara
Coritiba FC
Real Salt Lake
Notable Group A Facts: World-renowned Manchester United academy is making their fourth appearance in the elite bracket, but still seeking their first title. Mexico's most popular team Chivasreturns to Dallas Cup for the first time since 2014 in pursuit of their first Super Group championship and eighth championship across all age groups. Coritiba FC, a two time Dallas Cup champion, hoisted the Super Group "Boot and Ball" championship trophy in 2012 and 2015, when the club last competed. Real Salt Lake is making their third consecutive Super Group appearance looking to advance out of group play for the first time.
Group B
Everton FC
CF Monterrey
Macabbi Haifa FC
FC Dallas
Notable Group B Facts: Everton FC is the defending Gordon Jago Super Group champion, defeating Fulham 2-1 in the final last year. CF Monterrey has the most Dallas Cup championships all-time, but are still in search of their first Super Group title. Israel's Macabbi Haifa FC is making their Dallas Cup debut in 2017, becoming the first Israeli team ever to compete in the Gordon Jago Super Group. Arguably the top MLS academy, FC Dallas looks to reach the Super Group final for the first time.
Group C
Eintracht Frankfurt
Tigres
Red Bull Brasil
Toronto FC
Notable Group C Facts: Eintracht Frankfurt and Tigres were named co-champions of the 2011 Gordon Jago Super Group after the final was cut short due to extreme weather. Tigres won the Super Group title outright in 2003. Red Bull Brasil makes their Dallas Cup debut this spring hoping to become the third Brazilian Super Group champ in the past six years. Toronto FC looks to become the first Canadian champion across all age groups since 1988.