D.C. United Academy, The Calverton School launch residency program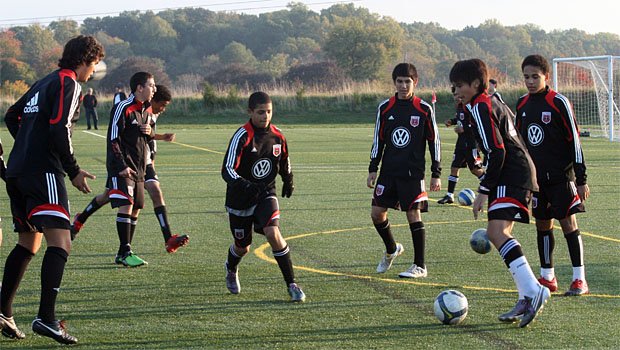 Washington, D.C. (Via D.C. United) – D.C. United and The Calverton School will begin a landmark partnership this Fall that elevates the standard of player development, a residential program that will combine the D.C. United Academy's elite soccer training with top-notch academics at The Calverton School, a leading college preparatory school in Huntingtown, Md.
"This is a major step forward for the D.C United Academy," said D.C. United Director of Youth Development Nolan Sheldon. "We are thrilled to partner with such a strong academic institution and the wonderful staff at The Calverton School. With our academy players on campus, the club will be able to offer morning and afternoon training sessions, transportation to and from RFK Stadium and academic oversight of the players."
+Read: D.C. United U-23 Academy team to compete in Premier Development League
The D.C. United Academy residency program at The Calverton School will nurture aspiring professional players at the Under-14 to Under-18 level from the Mid-Atlantic region, across the country and around the globe. Located 25 miles outside of Washington, D.C., the Calverton campus boasts the One World Residential Village and four athletic playing fields, as well as a controlled environment that promotes the academic and athletic lifestyle of a developing professional. The program will include five-day and seven-day residential programs for domestic, international and local student-athletes that allow for morning and afternoon training sessions.
"We are thrilled to be partnering with one of the region's top independent schools to provide the best possible experience for serious student-athletes," said D.C. United General Manager Dave Kasper. "Our goal is to provide a challenging soccer environment to help players reach their full potential, and to identify and develop players who can one day become professional players."
D.C. United will bring its coaching expertise to The Calverton School campus, with a member of the club's staff permanently on site. In partnership with D.C. United's affiliate clubs, the program will also offer professional training in an all-inclusive development platform for aspiring female players.
"The Calverton School is very excited about our partnership with D.C. United," said Dr. Spence Taintor, Head of Calverton School. "The ability to foster the academic and athletic potential of young men and women at the highest levels through this unique program will provide our student-athletes with the skills to compete on and off the field. It will prepare our student athletes for advancement into higher education and to further their soccer careers."
Student-athletes in the residency program will be identified through D.C. United residential camps June 14-20 and June 21-27 at The Calverton School. Accepted individuals will include a mix of full scholarship recipients and paid admissions. Academic and athletic financial aid for those that qualify will be available through The Calverton School and D.C. United.
The residency program will complement current D.C. United Academy offerings, which include teams at the Under-12, Under-13, Under-14, Under-15, Under-16 and Under-18 levels. The U-14, U-16 and U-18 sides compete in the U.S. Soccer Development Academy, the top youth league in North America. United's teams compete in the Mid-Atlantic region against other MLS Academies, including New York Red Bull and Philadelphia Union.
Each year, the D.C. United Academy consistently places an overwhelming majority of its graduating U-18 class into Division I programs, including 16 signees in the class of 2015. Seven D.C. United Academy players have gone on to sign Homegrown contracts with the First Team: Bill Hamid, Andy Najar, Conor Shanosky, Ethan White, Michael Seaton, Collin Martin and Jalen Robinson. Najar, who is currently with R.S.C. Anderlecht in Belgium, was the first Homegrown player to be named MLS Rookie of the Year in 2010 and represented Honduras at the 2014 FIFA World Cup. Hamid was the first Homegrown player to be named MLS Goalkeeper of the Year Award in 2014.