D.C. United Academy update: Good start to league play as Generation adidas Cup approaches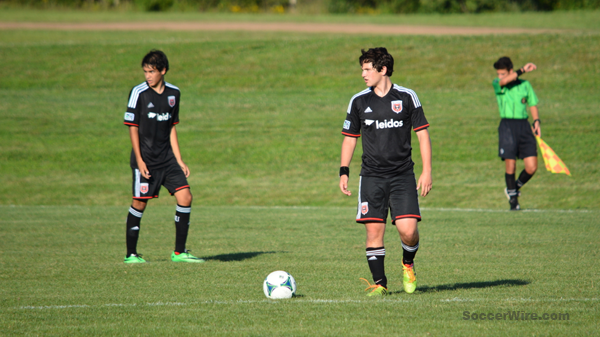 Washington, D.C. (Via D.C. United) – Two D.C. United Academy teams kicked off their 2015 season this past weekend in New York and Virginia while two more teams are currently participating in the Generation adidas Cup in Frisco, Texas.
In regular season action, the U-14s played away against the Prince William Courage in Woodbridge, Va., while the U-13s traveled to Rye, N.Y., to play New York Soccer Club. Both sides will return to action at home on April 11, facing off against the Soccer Association of Columbia (Md.).
U-14s vs. Prince William Courage, 2-2
Goals: Danny Nugent, Damien Polinski
"Great effort by the U-14 boys this weekend," said United U14 Head Coach Jeff Carroll. "For our first game of the season we showed great signs of things to come. We executed our game plan for the majority of the match by holding good possession and dictating play. We were just a bit unlucky to not put a few more goals in the net."
U-13s defeat New York Soccer Club, 5-1
Goals: Max DeBodene, Max Morris, Jair Sosa, Mamadu Bah & Asparuh Slavov
"Today the players brought a high level of attitude, concentration and effort which translated to a fast start from the first whistle," said United U13 Head Coach John Bello. "I think the result was well deserved as the players have been working very hard in training. This should give them a confidence boost going into our first home game of the spring season."
Generation adidas Cup
This week a group of 30 D.C. United Academy players at the U-17 and U-12 levels are participating in the Generation adidas Cup tournament in Frisco,Texas. The U-17s have been placed in the premier division with Sagan Tosu of Japan, and two MLS academy teams, Chivas USA and Columbus Crew SC. The U-12s have been pitted against Querétaro F.C. from Mexico and four MLS academy clubs: Toronto FC, Sporting Kansas City, FC Dallas and the Houston Dynamo. D.C. United is scheduled to play all eight opponents at Toyota Soccer Center throughout the course of the week.
The Generation adidas Cup is an annual tournament among academy teams of Major League Soccer and selected international teams. Qualifying for the 2014-15 tournament consisted of two events, one held in the fall and one in the spring, for each of the following regions: East, Central and West. The U-12 event was introduced this year, offering the younger players a high-level competition against other MLS and international teams.
Generation adidas Cup Rosters
U-12s: Amir Acree, Foday Bangura, Carlos Cardona, Sebastian Conlon, Jacob Greene, Thomas McDermott, Juston Rainey, Eduardo Ruiz "Max", Luca Smith, Jeremy Solis, Cameron Viator
U-17s: Folasanmi Adetola, Idrissa Barrie, Luke Campbell, Jose Carranza, Ronald Cerritos, Lance  DaSilva, Mark Elmore, Carson Jeffris, Derin Kokuuslu, Raheem Lawal, Shaun McKenna, Zachary McMurrer, Andrew Nicholas, Donovan Pines, Miles Robinson, SahrFelix Sandy, Chandler Vaughn, Trey Vinson, Brandon Williamson