Crossfire Premier appeals to FIFA in Yedlin case as USSF, MLS fight training compensation in U.S. youth soccer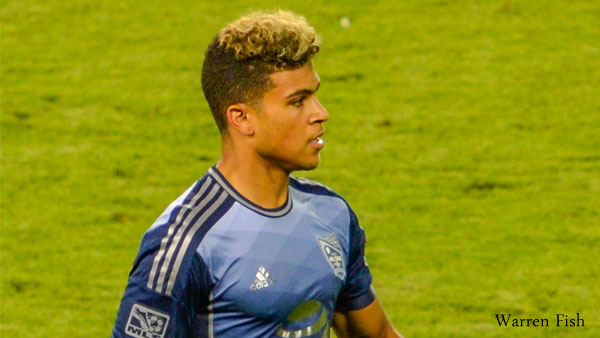 One of the U.S. youth soccer scene's most quietly contentious issues flared into the public eye this week as Sports Illustrated and Vice Sports reported that Redmond, Washington-based youth club Crossfire Premier has petitioned FIFA to intervene in a disagreement with U.S. Soccer and MLS regarding "solidarity mechanism" fees resulting from the sale of U.S. Men's National Team defender DeAndre Yedlin to Tottenham Hotspur.
Often called training compensation or solidarity payments, FIFA's policy is designed to financially reward clubs that produce high-quality professional players with a calculated percentage – usually 5 percent – of transfer fees paid for said player up to the age of 21 or, in the case of transfers conducted on the international market, 23.
+READ: Dure: Will U.S. Soccer find opportunity in Yedlin training compensation crisis?
The solidarity mechanism is also intended to prevent human trafficking, player poaching and other abusive practices by creating a developmental resume for players, tracking the stops in their career where their abilities were developed. Youth clubs that charge their players fees or tuition forfeit solidarity payments on those who eventually draw transfer income.
But the United States Soccer Federation has for years barred this policy from being enacted in this country, citing child-labor laws and a "consent decree" issued by a U.S. federal district court after the turn-of-the-century legal case Fraser v MLS, an antitrust challenge to the professional league's single-entity business structure.
The upshot of the federation's policy is that smaller clubs which play significant roles in developing top talent are not financially compensated if and when their alumni are purchased on the transfer market, as Yedlin was by Spurs for $4 million in 2014. Pro clubs have thus been protected from additional cost and presented with a simplified landscape for the identification and acquisition of young talent, but a powerful incentive for successful player development has been removed from the wider system.
Yedlin, 21, is a speedy fullback who made his name as a star at Akron University before signing as a "Homegrown" player for the Seattle Sounders in 2013. He quickly became an everyday starter at right back and drew the attention of USMNT coach Jurgen Klinsmann, becoming a surprise inclusion on last summer's World Cup team, where he contributed in a useful "supersub" role on the right flank.
+READ: DeAndre Yedlin completes transfer to Tottenham Hotspur
Yedlin spent several years in the Crossfire system as an adolescent and the club was recognized in writing by Tottenham as deserving of a solidarity payment, the size of which could reportedly add up to around $100,000. But U.S. Soccer and MLS intervened and Spurs subsequently stated that they paid all such fees directly to MLS, which did not pass them on to the youth club.
Crossfire alleges that "at least seven" and likely many more U.S. youth clubs have found themselves in similar situations, with many hesitant to go public on the matter due to overt threats of discipline or retribution from the federation.
"First and foremost, Crossfire wants to get paid its portion of the solidarity fee that Tottenham agreed to pay us and MLS had taken," Lance Reich, Crossfire's Seattle-based lawyer, told SI.com. "The second thing we hope to get is to help all of the clubs like Crossfire—and Crossfire itself because it's going to have the same issue pop up again—to be able to get training compensation and solidarity fees without interference from U.S. Soccer or MLS without justification for doing so.
+READ: DeAndre Yedlin named U.S. Soccer Young Male Athlete of the Year
"U.S. Soccer typically will give … pretty overt threats, especially for clubs who have U.S. Soccer Development Academies like Crossfire, to not pursue these fees," he said. "Crossfire's brave enough to come forward to really raise this to the front."
FIFA officials, who have generally granted U.S. governing bodies wide leeway in their management of what is seen as a fairly unique soccer environment relative to its global peers, have yet to respond to Crossfire Premier's move. But the organization's ruling in this situation could well trigger dramatic changes on the nation's youth soccer landscape.