Connor Smith earns NSCAA Player of the Year nod after stellar McDonogh career
For the second year in a row, McDonogh School in Owings Mill, Maryland has seen one of its top boys soccer players earn national recognition from the National Soccer Coaches Association of America.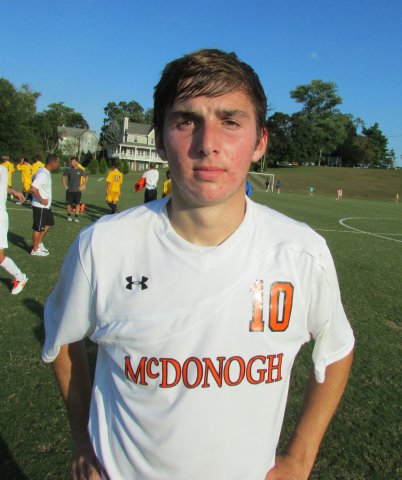 After forward George Campbell won the NSCAA High School Boys Player of the Year award last year, midfielder Connor Smith has done the same this year after a high school season in which he scored 23 goals and notched 21 assists. His efforts helped the Eagles finish with a 19-1 record, although they lost the championship game of the Maryland Interscholastic Athletic Association 2-0 to Loyola Bakerfield.
+READ: Three Baltimore Celtic players selected for High School All American Game

For the team's head coach Brandon Quaranta, Smith's honor is a real highlight and a reward for all the years of hard work he has put into his game.
"It's fantastic to see," Quaranta told SoccerWire.com. "I've been coaching Connor since he was 11 years old, and I've seen him grow up from a soccer perspective and also as a young man.
"When you do that, you get that kind of brotherly or fatherly relationship going there and you feel like one of your kids is being honored. He's well deserving, he's worked hard to improve as a player, been humble about it the whole time and really developed into a terrific kid and one of the most talented players I've ever been around."
On the field from a central midfield position, Smith has had a great deal of impact this season for McDonogh, having already earned NSCAA All-America honors as a junior and been part of the pool for the U.S. Under-18 National Team.
"He's a great distributor of the ball, and has terrific vision," Quaranta said. "He usually likes sitting a little bit deeper in the midfield, but we actually this year required him to play a little bit higher up the field for what we needed to do, and put him in a role that he can play, but probably isn't his ideal position, and obviously he responded with incredible numbers.
"He stepped up and scored a lot of big goals for us in critical moments. He's a great leader, a tireless worker, and he just does everything for us. He's the kind of guy that you can probably put in seven or eight different positions on the field and he'd still be the best player in the conference and one of the best in the country. He's ultra-talented and ultra-competitive and wants to be really good."
Off the field, in spite of the numerous individual accolades that have come his way, Quaranta says Smith has remained level-headed and focused only on the success of the team.
"He's very unassuming, he doesn't talk about himself and he doesn't worry about accolades," Quaranta said. "All he talked about all year was trying to win a championship and all he's talked about since this season, even though he's won just about every state player of the year award and now national player of the year is how he's disappointed that we didn't get that last win to finish off the undefeated season and No. 1 ranking.
"That's all he thinks about, he thinks about team awards, he thinks about his teammates around him and the school and really doesn't put those personal awards at the top of the list. He's certainly honored by it, as he should be, and it's been a lot of hard work that's culminated in that, but it's not the first thing on his mind."
+READ: 22 standouts recognized as NSCAA Players of the Year
Quaranta believes Smith will go down as one of the best players in the history of the McDonogh program, one that has had a number of very talented individuals come through.
"He's going to go down on the Mount Rushmore of great players that have come through this program," Quaranta said. "That's obviously saying something, with the history Steve Nichols achieved here and the great teams and great players that have come through these doors.
"For me, Connor is equally as talented as any of those guys, having won a couple of championships and obviously being an All-American and finishing as player of the year. He certainly belongs in the conversation of the all-time greats here."
The midfielder committed as a sophomore to the University of Maryland, where he will join up with former McDonogh teammate Campbell as part of Sasho Cirovski's perennial national contenders. For Smith, the decision to join up with the Terrapins was a very easy one indeed.
"It's one of the best programs in the country, and he wants to be able to be in that environment and pursue his goals of winning college national championships and hopefully turning himself into a pro soccer player," Quaranta said. "He wanted to stay close to home, he's very close with his family and this community and ideally him being able to stay in the area and pursue those goals while being close to his family was important to him.
"All around it was the right fit for him — school, soccer, coaching staff, everything was right for him and he made an early decision as a sophomore that that's where he wanted to be and now it's about him getting himself and his game to a point where he can contribute as a young guy and have a great four-year career. I think he'll do tremendous things there."
+READ: Baltimore club scene grows as group leaves Bays Chelsea to form Celtic SC
Smith now has plenty of time to prepare for the next stage in his development, as he will not officially become a Terrapin until August preseason before the start of the 2015 fall season. Between now and then, Quaranta says he and his staff with Baltimore Celtic — where Smith is a player and Quaranta is director of coaching — will do all they can to help their young star.

"I think this winter and spring period is important," he said. "We have to make sure he's getting the environment in his regular training, that we're pushing him. We've talked about trying to get him into some training with either some pro camps or some semi-pro camps where he can at least get some extra work.
"We have to put him around players that are older than him, stronger than him, more developed than him so that when he goes into college and tries to beat out a junior or a senior for a position on the field, it's not a stretch for him. Whenever you put him around better players or in a tougher atmosphere, he usually performs pretty well. He's talented and he can push his game.
"He's the type of guy also who's going to do work outside of that regular training on his own and get stronger and quicker and sharper. We'll work in conjunction to try to put him in that position to make sure he's ready come August preseason for Maryland."