Club Champions League teams claim 8 Fall Virginia State Cup titles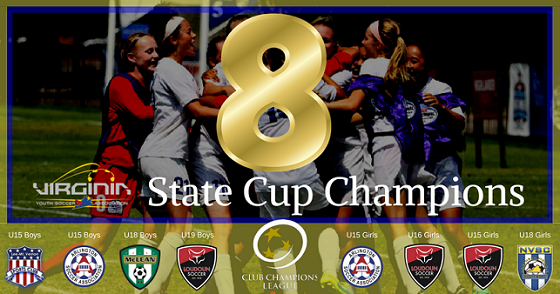 Charlottesville, VA (Via CCL) – Going into the Finals weekend, Club Champions League clubs were guaranteed at least five State Championships, as CCL clubs were matched up against each other. However, five Champions matches hung in the balance.
Ultimately, CCL teams claimed eight out of ten Fall 2017 Virginia State Cup titles, winning the championship in all but two age divisions, and six additional CCL clubs completed State Cup play as finalists.
This year's State Cup featured a dominant display from CCL teams in all age divisions, and with many tightly contested, defensive-minded matches deciding the finalists.
"The quality of so many State Cup matches is a testament to the competitive environment in which CCL clubs consistently train and compete," said CCL Executive Director Brian Kuk. "The league's iconic club-to-club matchday experience provides players an opportunity each week to prepare for higher level play, such as the National Championship Series."
Some notable results from this year's State Cup include: LMVSC 03 boys, who continued their successes after winning the league last season; Loudoun 01 girls claimed the State Cup title over Beach FC, who won their division in league play last season; Loudoun 99 boys also won their league division last year, but were challenged in State Cup semi-finals, advancing to the finals on PKs against fellow CCL club FC Richmond; Finally, the league's newest member club, NVSC, proved its mettle as the 2000 girls shutout defending State Champion SOCA to take the title.
"It's exciting and gratifying to see CCL clubs achieve such results both in league play and beyond," said CCL Ambassador Darryl Gee. "This is especially noteworthy for our older players, as it demonstrates the proven methodology of the CCL's player development pathway."
FALL 2017 VYSA STATE CHAMPIONS (click here for CCL State Cup History)
1999 Boys: Loudoun Red
2000 Boys: McLean Green
2001 Boys: Arlington
2003 Boys: LMVSC
2000 Girls: NVSC
2001 Girls: Loudoun Red
2002 Girls: Loudoun Red
2003 Girls: Arlington