Club Champions League announces 2017-2018 division winners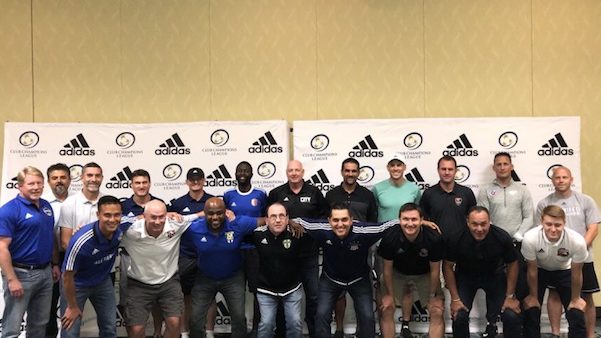 (Via CCL) – Few leagues around the nation have a title race as enduring and comprehensive as the Club Champions League (CCL). Under the CCL model, players compete for their teams, teams compete for their clubs, and thousands of matches are played to determine an overall Champion among 16 of the best youth soccer clubs in D.C., Maryland, and Virginia.
On June 7th, this race came to an end as the CCL crowned the champions for the 2017-18 season. Arlington Soccer Association earned top honors, taking home the Dave Amsler Club Champion Trophy along with the Danny Beamer Boys Overall Title. Beach FC placed a close second following Arlington in the overall club race, and took home the Peggy Borgard Overall Girls Title.
"It's an amazing feeling to be crowned the Overall Club Champion of CCL" said German Peri, Arlington Soccer Association Director Coaching. "Our club's success in the most competitive youth environment in the area is a testament to the hard work and dedication of all of our players, coaches, parents, and administrators."
8 different clubs (Beach FC, Ellicott City, VA legacy, LMVSC, Arlington McLean, SOCA, NVSC, and FC Richmond) earned first place positions in at least one age group, with a different club crowned champion in every Boys age group. This diversity in champions demonstrates the array of talent coming from clubs in the league
"Once again, the end results speak volumes about the player-centric, club-building model that defines the CCL," said Executive Director, Brian Kuk. "The fact that clubs have opportunities for success throughout all age and gender divisions illustrates why the CCL is the top regional league in the U.S."
2017-2018 CLUB CHAMPIONS LEAGUE WINNERS
CCL DAVE AMSLER CLUB CHAMPION
In honor of Dave Amsler, the league's founding father, this award goes to the club with the most cumulative points from all age group divisions:
Arlington Soccer Association
CCL PEGGY BORGARD GIRLS CHAMPION
In honor of Peggy Borgard, legendary administrator, volunteer and champion of the club-centric model, this award goes to the club with the most cumulative points from all girls age group divisions:
Beach FC
CCL DANNY BEAMER BOYS CHAMPION
This award goes to the club with the most cumulative points from all boys age group divisions:
Arlington Soccer Association
2017-2018 CCL AGE GROUP DIVISION CHAMPIONS:
U12 Girls:  Arlington
U12 Boys:  Beach FC / Potomac
U13 Girls:  NVSC
U13 Boys:  Ellicott City
U14 Girls:  Beach FC
U14 Boys:  VA Legacy
U15 Girls:  Arlington
U15 Boys:  LMVSC
U16 Girls:  Beach FC
U16 Boys:  Arlington
U17 Girls:  Arlington
U17 Boys:  McLean
U18 Girls:  SOCA
U18 Boys:  SOCA
U19 Girls:  Beach FC
U19 Boys:  FC Richmond
CCL II – Spring 2018 CLUB CHAMPION
This award goes to the CCL II club with the most cumulative points from all age group divisions:
CCL II COPA – NVSC
CCL II GLORO – Arlington Soccer Association
CCL II 16s COPA – SYA
CCL II 16s GLORO – Arlington Soccer Association
CCL II – Spring 2018 GIRLS CHAMPION
This award goes to the CCL II club with the most cumulative points from all girls age group divisions:
CCL II COPA – NVSC
CCL II GLORO – Arlington Soccer Association
CCL II 16s COPA – LMVSC
CCL II 16s GLORO – Loudoun
CCL II – Spring 2018 BOYS CHAMPION
This award goes to the CCL II club with the most cumulative points from all boys age group divisions:
CCL II COPA – LMVSC
CCL II GLORO – Arlington Soccer Association
CCL II 16s COPA – SYA
CCL II 16s GLORO – Arlington Soccer Association
Spring 2018 CCL II AGE GROUP DIVISION CHAMPIONS
U12 Girls COPA:  NVSC
U12 Girls GLORO:  Arlington
U12 Boys COPA:  LMVSC
U12 Boys GLORO:  Arlington
U13 Girls COPA:  NVSC
U13 Girls GLORO:  Arlington
U13 Boys COPA:  LMVSC
U13 Boys GLORO:  Arlington
U14 Girls COPA:  NVSC
U14 Girls GLORO:  DC Stoddert
U14 Boys COPA:  NVSC
U14 Boys GLORO:  Potomac
U15 Girls COPA:  NVSC
U15 Girls GLORO:  Arlington
U15 Boys COPA:  LMVSC
U15 Boys GLORO:  Arlington
U16 Girls COPA:  LMVSC
U16 Girls GLORO:  Loudoun
U16 Boys COPA:  SYA
U16 Boys GLORO:  Arlington
CCL II – Fall 2017 CLUB CHAMPION
This award goes to the CCL II club with the most cumulative points from all age group divisions:
CCL II COPA – LMVSC
CCL II GLORO – SYC
CCL II – Fall 2017 GIRLS CHAMPION
This award goes to the CCL II club with the most cumulative points from all girls age group divisions:
CCL II COPA – NVSC
CCL II GLORO – Arlington Soccer Association
CCL II – Fall 2017 BOYS CHAMPION
This award goes to the CCL II club with the most cumulative points from all boys age group divisions:
CCL II COPA – LMVSC
CCL II GLORO – SYC
Fall 2017 CCL II AGE GROUP DIVISION CHAMPIONS
U12 Girls COPA:  SYA
U12 Girls GLORO:  Arlington
U12 Boys COPA:  LMVSC
U12 Boys GLORO:  SYC
U13 Girls COPA:  NVSC
U13 Girls GLORO:  SYC
U13 Boys COPA:  LMVSC
U13 Boys GLORO:  Loudoun
U14 Girls COPA:  FCSC United
U14 Girls GLORO:  Loudoun
U14 Boys COPA:  Ellicott City
U14 Boys GLORO:  SYC
U15 Girls COPA:  LMVSC
U15 Girls GLORO:  SYC
U15 Boys COPA:  LMVSC
U15 Boys GLORO:  SYC