Club-centric vs. all-stars: Magicjack's Borislow remains hot topic in women's soccer
By Charles Boehm
His controversial tenure as owner of a professional club is done, at least for now, but Dan Borislow remains deeply involved – and predictably controversial – in women's soccer.
The millionaire telecommunications magnate and former owner of Magicjack, the south Florida-based Women's Professional Soccer franchise once known as the Washington Freedom, still coaches and sponsors his daughter Kylie's youth club, Palm Beach (Fla.) Magicjacks 96/97.
Now an Under-16 team, Magicjacks have proved themselves as one of the top squads in the nation. They've won elite brackets at high-profile events like the Jefferson Cup in Richmond, Va. and in May they advanced to the quarterfinals of the U.S. Youth Soccer Region III U-15 girls championships, falling 1-0 to eventual regional champs Dallas Sting 97 (Tx.).
Gotsoccer.com currently ranks Magicjacks 96/97 as the No. 1 U-16 girls team in both Florida and Region III, which encompasses the southeastern U.S. from Texas to North Carolina.
"We have good trainers, but the number one thing we look for [in] our kids is heart," Borislow told Soccer Wire after his team's final match at the WAGS Rael Vodicka Memorial Tournament in Virginia, where they went 2-1 in the event's top showcase division and drew the attention of many NCAA scouts.
"And that's hard to find, so we've got girls who want to be soccer players and that have heart. And if they have that, and have athletic ability, it's a lot easier after that."
Borislow also draws the attention of opposing coaches and players, who rue the financial weight he can bring to bear on his team's behalf. Magicjacks have their own strength and conditioning coach and routinely bring in top guest players from as far afield as California.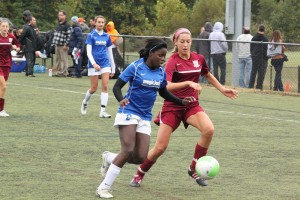 "MagicJacks is a great team. I mean, they're the best that money can buy, literally," said FC Bucks Fury (Pa.) coach Rich Finneyfrock, whose team upset Borislow's 2-1 at the WAGS Tournament on Sunday, their first win in three meetings with the Florida side. "And [when] all is said and done, it's nice to know that a little amateur team like us can still hang with the pros."
Finneyfrock explained that to defeat Magicjacks, he had to set his team up with a completely different tactical outlook than its usual possession-based approach, bypassing Borislow's athletic midfield with long balls.
While many on the U.S. youth scene are working under a "club-centric" philosophy intended to develop talent at all age levels, creating a system through which players can grow and advance from elementary-school age up to college, Magicjacks are essentially a one-off, a throwback to the "Wild West" days of old, when most teams existed on their own and were as ambitious as their parents' devotion and wealth allowed them to be.
To make a clumsy analogy to the pro game, teams like Magicjack – and there are others – are similar to England's Chelsea FC, buying success with their tycoon owner's wealth, while club-centric counterparts attempt to grow it internally in the mold of FC Barcelona (Spain) or Olympique Lyonnais (France).
So far, Borislow's approach is working, and not just in terms of results. His team's quality has made them a must-see for college coaches like the University of Maryland's Jonathan Morgan.
"He's ultra-competitive, he wants to win and he brings a lot of kids from different parts of the country," said Morgan as he watched Magicjacks defeat Massapequa SC Explosion (N.Y.) 4-0 at the WAGS Tournament on Monday. "I don't really know what the motivation is, but he seems like he's giving kids an opportunity to play, and putting a collection of good players together, which is great for these players. They get to play with other good talent.
"I don't know if it's because they don't have it in their area, that they can put together a team like this. But for his local kids to be able to play with some of these kids from California and different places, it's pretty cool."
Penn State coach Erica Walsh also attended the match, and chatted with Borislow at length afterwards.
"There's different ways to skin a cat, right?" she told Soccer Wire. "What Dan Borislow has done with MagicJack is created an environment where the best players play together. There are plenty of examples of clubs like that – we've got one in Philadelphia [FC Pennsylvania Strikers] that does the same thing.
"And then there's other clubs that develop the kids from young, and you see that around the world, too … So I think you're going to see a hybrid of those models from now until the end of soccer, because they both work. There's proven examples of both systems working."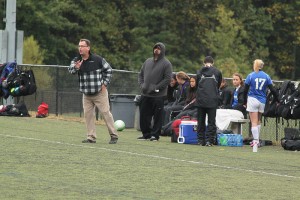 Borislow also coaches Magicjacks and can be a loud, forceful presence on the sidelines – "We didn't come here to tie the game, we came here to win the game!" he shouted to his team after they had drawn level against FC Bucks on Sunday – but the following day, he spent much of the match speaking with college coaches instead.
"They played well without me, so that's a good thing, right?" he later said with a chuckle. "We always bounce back. I've been around this team a long time. We never have two bad games in a row. I don't have to talk to them the next game because they're pretty hard on themselves…They just did their own thing today."
Borislow says he's pursuing the same end goals as the vast majority of elite youth parents and coaches: connecting his players with opportunities at the NCAA level.
"There's a lot of college coaches out there," he said, "and we're here to get the girls in school."
The majority of licensed elite youth coaches believe the nation's player-development system needs to be run in a dramatically different way. But Borislow, while its most prominent flag-bearer, is only one of many who are taking a more direct route to success and visibility.
Additional reporting for this piece contributed by Jimmy LaRoue.