City of San Jose, Earthquakes move forward on new youth fields complex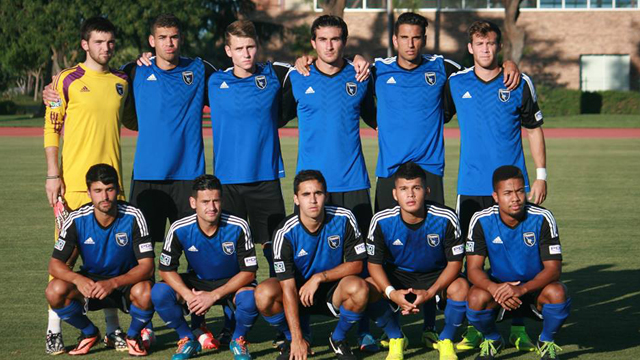 The San Jose Earthquakes are poised to move forward with their local government on an ambitious new fields complex for their youth academy that might someday become a major West Coast tournament venue as well.
On Friday the City of San Jose reached agreements with the Earthquakes, the Guadalupe River Park Conservancy, Federal Aviation Administration officials and other stakeholders to formally pursue a seven-field project at the Guadalupe Gardens site near the Mineta San Jose International Airport.
Plans for the 44-acre, $37-million complex along the Guadalupe River (see purple box on map below) would include three grass pitches prioritized for the Quakes' academy and four lighted synthetic-turf fields primarily for public use, along with an academy headquarters building, parking, nature trails and green space, some of which would be set up for use as overflow parking for Earthquakes matches at Avaya Stadium, located about a mile down Coleman Avenue.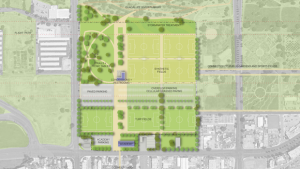 The Quakes academy's use of the grass fields would be limited to 12 hours a day, allowing for civic use in off hours, according to club officials.
"We are excited that we now can officially pursue this this opportunity to build an outstanding public amenity together with our partners," said city manager Norberto Duenas in the memorandum explaining the city's decision to pursue the Guadalupe Gardens project and set aside previous plans for a smaller fields complex adjacent to Avaya Stadium (see blue marker on map below). "The larger seven-field complex in Guadalupe Gardens will be a premier location that will significantly enhance the recreational opportunities for our community."
The new complex, the land for which is currently controlled by the airport, would also be capable of holding a range of tournaments, potentially "making San Jose a global destination for youth soccer," in the Earthquakes' words. The MLS club's youth teams are presently based in Danville, California, some 40 miles northwest of the senior squad's home stadium.
The Quakes have committed to footing most of the project's cost, much of which hinges on a tentative land-sale agreement with airport and FAA officials on a cost of $17 per square foot. But the city plans to chip in $12 million, the amount already budgeted for new fields construction, which will only go towards construction of the four public turf fields. Like much of the country, in recent years Northern California has suffered from a chronic shortage of field space for soccer and other youth sports.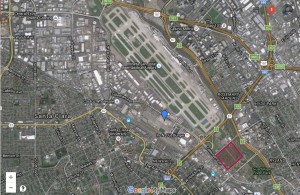 "We're moving forward on a transformative opportunity for our city and for generations of our kids," said San Jose Mayor Sam Liccardo in a statement. "The Guadalupe Gardens site provides an ideal location for this project, with space to accommodate seven fields and a soccer academy that will serve the growing number of soccer-crazed kids in our community.
"The proposed development of a 6-acre park alongside the soccer fields will also enhance the overall beauty and amenities offered in the larger Guadalupe River Park, and ensure that this park serves as a recreational destination for people of all ages and interests."
Some hurdles remain. Airport regulations limit the number of people who can gather in zones affected by the noise of jets on takeoff and landing paths, which in this case run directly overhead of the proposed fields.
Ample commercial activity, including a home-improvement store and fast-food restaurant, already exists in similar proximity to the airport grounds, but it's unclear whether the high traffic levels of a typical day hosting a major tournament would trigger additional bureaucracy.
"If we can get more people parking a little farther from the stadium, it allows for easier ingress and egress," Earthquakes president Dave Kaval told the San Jose Mercury-News with regards to the project in January. "But the No. 1 benefit is the size of the complex. We'll go from having four fields to actually building a soccer complex that will enable us to attract regional, national and international tournaments."