Cirovski to Mullins – 'I love ya, kid' a fitting closure to Maryland's ACC dominance
By Nick Cammarota
Special to SoccerWire.com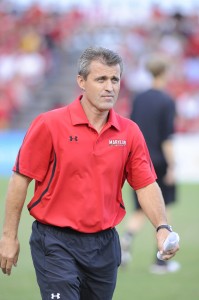 BOYDS, Md. – University of Maryland men's soccer coach Sasho Cirovski and junior midfielder Dan Metzger already were sitting at the podium waiting to address the media when senior forward Patrick Mullins walked in.
The imposing forward took a step toward the stage and was met with Cirovski's open palm. The two shook hands and briefly hugged as Cirovski told the ACC tournament's back-to-back Most Valuable Player, "I love ya, kid."
Chances are, so do a lot of people in Maryland right now.
Mullins' strong run down the near flank in the 88th minute of Sunday's ACC championship match — Maryland's last before they move to the Big 10 next season — against the University of Virginia at the Maryland SoccerPlex led to an own goal off the foot of Virginia's Kevin McBride and helped the Terrapins to a 1-0 win in a gritty, defensive contest.
It was the third shutout in as many matches by Maryland in this year's tournament as the Terps secured back-to-back ACC titles. They've also won four of the last six and three of the last four tournament championships.
"Well, it's an amazing feeling to beat our biggest rival on this stage in our last season in the ACC," Cirovski said. "After Friday's [semifinal] games, we thought this would be tough on both teams. I knew our game took a lot out of us and this was going to be a mental and physical challenge for us.
"It was going to take a moment of brilliance by an individual to create something," he added, "and obviously the best individual in the land found the will and the skill to create something and we won."
Mullins, who leads Maryland with 14 goals and seven assists this season, was held in check for a majority of the contest, which featured only three shots on goal and 11 shots total. In fact, the powerful forward's first shot didn't come until the 84th minute. Shortly before that effort, he whiffed on a half-volley attempt in the box. But when it mattered most, his daring sprint along the end line was enough to lead the Terrapins into the NCAA tournament on a high note. Cirovski's club is expected to receive a first-round bye when the draw is announced Monday.
"I've seen it happen so many times just from my soccer-playing days, if you put the ball in some good spots and you play it in there with some pace, good things happen," Mullins said. "It's a tough way to go down, obviously, for them. They worked very hard and were a very capable opponent. But sometimes it's the little inches like that. … As a forward, you live for that one."
Cirovski, who has led the Terrapins for 21 seasons and is the longest-tenured coach in the ACC, was reflective when asked about his time competing in the standout soccer conference and hinted that some of the rivalries Maryland has developed won't die with the shift in conference.
"We respect all of the schools we've played," Cirovski said. "And trust me, we're going to continue to play some of the top ACC teams throughout because we have the ability to schedule some very good teams and I think they're willing participants."
En route to the title, Maryland recorded clean sheets against Boston College (2-0) and Clemson (1-0) as their defense displayed incredible wherewithal throughout the tournament. On Sunday the Terrapins were without injured midfielder Schillo Tshuma, who Cirovski expects to be ready for next weekend's tournament action, but still managed to consistently shut down Virginia's attack.
"Like Sash said, the back line has grown a lot," Metzger said. "We've become more connected with the back four and myself and it showed in the tournament. We got three shutouts. I think it comes down to just working for each other and the people working in front of you."
Maryland has now won seven in a row (outscoring opponents 10-2 in the process) as they prepare for the tournament, which begins Thursday.
"I'm just so proud," Cirovski said. "This is a special moment. One of the great moments in my coaching career to walk out of here as the last team smiling."