Change the reward: Play Better initiative helps kids play for more than just wins
Soccer is all about scoring more than the other team and winning, right?
Not so fast.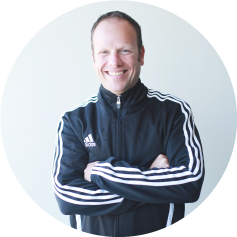 One Canadian youth coach has changed his teams' goals, emphasizing personal improvement and helping others instead of winning, and he hopes others do the same.
Willie Cromack of Vancouver, a volunteer coach with North Vancouver Football Club, has created Play Better, an initiative aiming towards completing technical development achievements that result in financial contributions to various charitable efforts.
As a result of reaching those goals, family and friends make small monetary donations that go towards causes like cancer research. Each team has its own set of goals which it sets at the start of a season. They can range from a young team trying stepover moves on the field or an older team maintaining 60 percent of possession.
The program's motto is "Change the reward system. Change the game."
Cromack has come up with various goals in the two years of existence of Play Better, and a range of causes from animal shelters to after-school engagement efforts have benefited. While he's a soccer specialist, the program is open to all sports.
Cromack stresses the importance of teaching kids the value of giving back and thinking of others, and sees Play Better as a simple way to do so.
"It is a huge part of sports," he told SoccerWire.com last week. "In my humble opinion, there's a vast number of highly skilled athletes that are missing that component of holistic development as a person."
In his younger days Cromack was a youth soccer player on the national team and provincial (state) levels in Canada. He also started his first business at the age of 19 – and he now helps coach teams with NVFC, where his son and daughter play.
+READ: Creating an early engagement model in North American youth soccer
His passion for business and the world's most popular game combined in his current project.
"It developed in my mind a little bit around the idea how can you quickly and efficiently build a culture of team," Cromack said. "It was quite organic. I have an eclectic background of business, sport and charity experience. When one of my own teams bumped up against a situation that had team member families dramatically impacted by disease, we rallied together.
"My gut told me that we could still teach them to play really solid, developmentally-sound football if we collided the two situations. Play out of the back and do what you need to do to become a better player, and we will reward your cause, so we can all support our teammates. Then we evolved it and learned more about how we could refine it."
Play Better from Greg Sawers on Vimeo.
In Play Better's two years of existence, Cromack said about $25,000 in charitable giving has been raised by the teams involved. Those who donate can contribute whatever amount they would like, but Cromack recommends small donations weekly if the team hits their goals, instead of one big donation.
"As a parent it has been wonderful to watch our son and experience it with him, his dedication towards getting better as a player so he can make a difference to his team cause," said Mark Pelesh, a parent of a NVFC Surge player. "We have really loved the idea behind Play Better. It has made our son's soccer experience mean so much more."
Cormack, who calls himself a "crazy, obsessed soccer coach trying to work on the development game in Canada and North America," learned about the real, human impact of charity after starting one that went into schools and took people on massive bike and running events across Canada a few years back.
"This is how Play Better was born," he said. "All my experiences went into its development."
+READ: U.S. Soccer quietly weighing youth development overhaul as USWNT eye future
About 300 teams are involved in the project so far, and Cromack has set the goal of having 1,000 teams involved by the end of 2015. It's a free program, with a technology partner taking a percentage of the donations to cover a low transaction fee. Every donation gets a tax receipt.
"The program is now North America-wide," said Cromack. "Teams across Canada are engaged and we are just opening the U.S. We basically tell people we will do whatever is needed to support them. We don't know how far we will go.
"We are not telling technical directors what to do. We have opinions on every age group and gender-based conversation."
It's been a positive experience that has given participating kids a sense of pride.
"I like to see them when they get that 'light bulb moment,' where they truly know they are actually getting better because of the effort and practice they put in. I love helping them witness their own power, on and off the field," Cromack said.
Next, he hopes to get some Major League Soccer teams or players involved, to raise awareness and promote a project dedicated to helping others.
For more information, visit Play Better's website: goplaybetter.com.