Championship matches set at Region IV Presidents Cup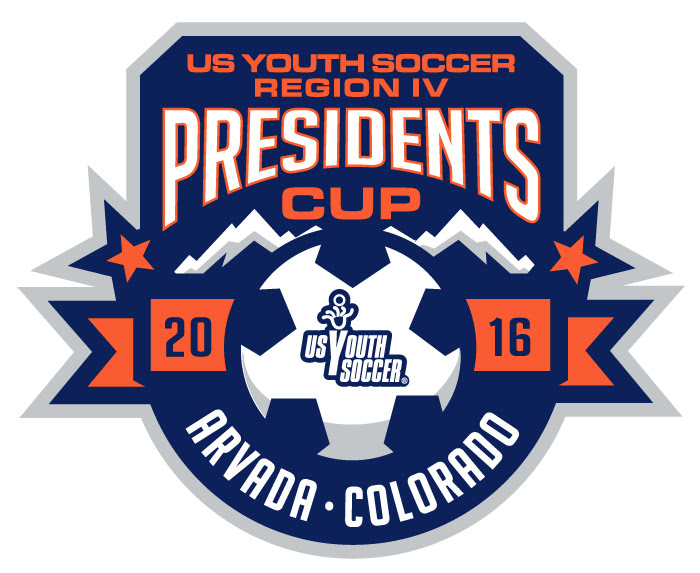 Day 5 of 6
Schedules, Scores and Standings
ARVADA, Colo. (Via US Youth Soccer) – After five days of preliminary, quarterfinal and semifinal play, championship matches are set at the 2016 US Youth Soccer Region IV Presidents Cup in Arvada, Colo. Twenty teams remain in the Boys and Girls teams in the  Under-13 through Under-17 age groups hoping to obtain a regional title and a berth to the 2016 US Youth Soccer National Presidents Cup, July 14-17 in Tulsa, Okla. Under-12 Boys and Girls teams in the 2016 US Youth Soccer Region IV Championships are also playing at the Region IV Presidents Cup.
The US Youth Soccer Presidents Cup is designed for teams seeking additional challenges to play for a national title against teams of similar abilities. The cup provides a progressive, competitive experience to teams that might not otherwise get the opportunity to participate in a series of unique experiences highlighting competition, camaraderie and community from the state to regional to national levels of US Youth Soccer.

2016 Region IV Presidents Cup Match Highlights
Under-13 Girls
There was very little to separate Wasatch Elite SP (UT) and LA Galaxy Bakersfield (CA-S) after kicks from the mark were required to determine who would advance to the finals. Both teams scored goals in the first half as Galaxy's Cynthia Flores opened the scoring in the 29th minute, only for Wasatch's Grace Nicol to equalize four minutes later. Wasatch took its first lead at the beginning of extra time when Ruth Wright found the back of the net, but Flores forced another tie with her goal in the second period of extra time. Wasatch would ultimately triumph in kicks from the mark and advance to the finals.
Morgan Witz's last-minute goal broke a 2-2 tie between Hawks Academy (CA-S) and San Juan SC Nevada (NV) and punched the Southern California side's ticket to the finals. San Juan's Lauren Tanner broke the scoreless stalemate eight minutes into the match, but Kylie Mayer would equalize for Hawks just two minutes later. The 1-1 draw did not stand for long as Nicole Goodman gave the Hawks its first lead in the 13th minute. San Juan's Taya Matt's goal in the 31st minute knotted the match at two. Things looked to be heading to extra time, but Witz's 70th minute goal ended that notion as the Hawks advance to the finals.
Under-13 Boys
CYSA La Laja (CA-S) edged out Visalia Galaxy Strikers (CA-N) 1-0 to punch its tickets to the finals. Maximiliano Vazquez would score the match's lone goal, and CYSA would complete its second clean sheet to claim the 1-0 win.
PacNW 02 Blue (WA) defeated VK Cobras (UT) in a semifinals match that featured nine goals. PacNW would score the match's opening three goals as Benjamin Lapchis, Lomeri Torujo, Finley Pond all found the back of the net within the first 25 minutes. Jose Torres Estrada would get the Cobras on the board in the 27th minute, but Torujo completed his hat trick in the second half, and Corey Apreza would finish off the scoring for the Washington side, while Estrada would add a second goal for VK to go with Antony Galindo James' goal.
Under-14 Girls
Mia Sousa-Wilson's goal was the difference in Pateadores Irvine White's 1-0 victory over Pacific Northwest 01 Blue (WA). Sousa Wilson scored in the 51st minute, and the Southern California side's defense held strong for the clean sheet.
Pateadores will take on Utah Storm Premier Loreen (UT) in the finals as a result of Storm's 2-1 win over Arizona Hammers 02 (AZ). Storm began the scoring in the 21st minute with Brielle Anderson's goal, but Arizona would level the score thanks to Alysia Rochin's goal. Ciena Woods net the eventual game-winner in the 39th minute to grab a spot in the finals.
Under-14 Boys
Defenses were on full display in the match between AVSC Storm (CA-S) and Sagebrush SC United Red 01 (NV), where a scoreless regulation and overtime, required kicks from the mark to decide who would play in the finals.
Oscar Quintero's hat trick combined with Orrin Flores' brace and a goal from Garrett Lewis helped FC Fire Premier 02 MH (UT) to defeat CASA Thunders (CO) 6-1. The Colorado's side goal came courtesy of Samuel Benitez Tovar.
Under-15 Girls
West Coast FC Murphy (CA-S) punched its ticket to the finals with a 4-1 win over Heat FC 01 BM (NV). Jenna Sentman began the scoring just five minutes into the match, and Meagan Rowlett would net a hat trick with goals in the 22nd, 50th and 72nd minute to put her at six for the tournament, while Heat's goal came courtesy of Kennedy Warnick.
The other semifinals match between Colorado Storm South Select (CO) and SoCal Rush (CA-S) provided a bit more drama as the match was scoreless up until the last minute, when Rush's Acsa Reyes beat the keeper to send to her team to the finals.
Under-15 Boys
Players Elite AP (NV) advanced to the finals after a 2-0 win against Snohomish United (WA). Alfredo Robles started off the scoring in the 17th minute, and Efrain Mayorga doubled the Nevada side's in the 77th minute.
Joining Players in the final will be Antelope Valley Predators (CA-S) after a 1-0 win over Gremio (UT). Just 11 minutes into the match, Daniel Arce broke through for Antelope Valley, and the Southern California's defense would hold on for the 1-0 win.
Under-16 Girls
After a third place finish in Group B, California Elite Soccer Club Black (CA-S) advanced to the finals with a 3-1 win over Colorado Rush Nero 2031 (CO). California Elite capitalized off an own goal and a Kaitlyn Briones brace, while Rush's goal was scored by Skylar Alward.
Joining California Elite in the finals is Utah Storm Premier Lake (UT) after Storm also defeated its semifinals opponent 3-1. Storm used first-half goals from Chloe Martin, Amy Botcherby and Sami Nobuhara to build a 3-0 lead. Lilly Thompson would put LVPSA 00 Red (NV) on the board in the 48th minute, but that would be as far as the comeback attempt would go as Storm advances to the finals.
Under-16 Boys
Corning NCU Manchester United (CA-N) will meet Agave la Raza (AZ) in the finals after both teams secured 3-0 wins in the semifinals. Jaime Martinez's goal was sandwiched in between a Manuel Blanco Arreola brace that gave the Northern California team the 3-0 win against Oxnard United SC (CA-S), while Agave used goals from Pedro Preito Eswuivel, Remijio Ramos Vazquez and Sebastian Gutierrez Alvarez to defeat LVSA 00 Red (NV).
Under-17 Girls
2014 Region IV and National Presidents Cup champions Crush Blue (UT) secured its third straight spot in the finals with a 4-0 win over Helmet Juventus (CA-S). Crush would get goals from four different players as Jaclyn Edwards, Kambri Curtis, Emma Barnes and Markell Freeman all found the back of the net for the Utah side.
FC Warriors also put forth an impressive semifinals win as they defeated Seattle United 98 Tango (WA) 3-0. Janis Martinez and Joey Wright scored goals in quick succession in the 10th and 13th minutes to put the Nevada side up 2-0 early. Alyssa Abby Nunez would add an insurance goal in the 65th minute to complete the 3-0 win.
Under-17 Boys
West Covina FC Elite (CA-S) used goals from Diego Virgen, Daniel Lopez, Gabriel Vera and Guillermo Camacho to defeat Real Colorado Olympico (CO), who received goals from Mason Gueller and Raghav Thapa.
Rampage 99 Black SC/TL (UT) defeated Fire FC Blue 99 (UT) 1-0 in an instra-state semifinals match. Eric Satterthwaite scored the match's only goal in the 36th minute, and Rampage recorded its fourth clean sheet in five days to secure the win.
2016 Region IV Presidents Cup Match Highlights:
Under-12 Girls
LVPSA 04 Red (NV) and CO Storm South 04 Select (CO) traded goals twice in regulation as extra time was required to determine a winner. LVPSA's Michelle Madrid scored four minutes into the match, only for Clara Heistermann to respond for Storm five minutes later. LVPSA took the lead again in the 49th minute with Victoria Peterson's goal, but Storm equalized again eight minutes later off a goal from Peyton Parsons. Peterson would add her second goal late in the second period of extra time to give LVPSA its third and final lead of the game, as a third equalizer was not in the cards for Storm.
Scottsdale Soccer 04 Blackhawks Chapman advanced to the finals with a 1-0 over previously undefeated Arsenal FC Elite (CA-S). Kate Faasse's fourth minute goal was the first Arsenal conceded in the tournament, and it was enough to advance to the finals.
Under-12 Boys
The Under-12 Boys finals of the 2016 Region IV Championships will be an all-Cal South affair with SD Surf Academy Select (CA-S) and Albion SC White (CA-S) advancing to the finals. Surf defeated Seattle United 03 Copa (WA) 2-1 thanks to Vismay Manoj's brace to give him seven goals for the tournament. Seattle's goal came courtesy of Claudio Vaughn.
Albion SC would need extra time to defeat hometown Colorado Storm Select (CO) 2-1. Albion captains Evan Rotundo and Jack Bowers would join Manoj in a tie for the most goals in the age group with seven after each scored against the Storm today, with Bowers' goal being the game-winner. Daniel Garcia found the back of the net for Storm.