Champions crowned at US Youth Soccer ODP Championships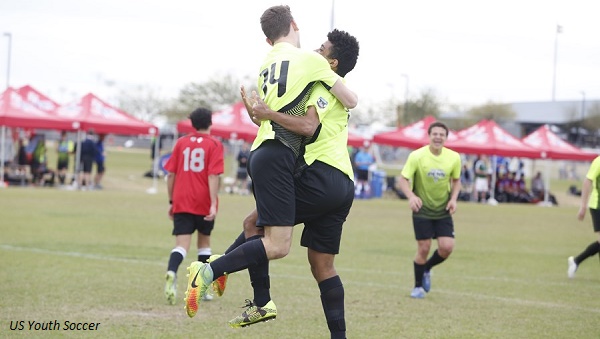 PHOENIX, Ariz. (Via US Youth Soccer) — Winners were crowned Sunday at the 2017 US Youth Soccer ODP Championships at the Reach 11 Sports Complex in Phoenix, Arizona. Cal South took home two national titles, while Eastern Pennsylvania and Florida each added one apiece.
2017 US Youth Soccer ODP Champions:
| | |
| --- | --- |
|    2000 Girls Champion – California South |    2001 Girls Champion – Florida  |
|    2000 Boys Champion – Eastern Pennsylvania |    2001 Boys Champion – California South |
Players try out for the high-level US Youth Soccer Olympic Development Program through a series of trials at their US Youth Soccer State Association. Those selected are exposed to some of the nation's best coaches, trainers and facilities.
+READ: Championship pairings set at US Youth Soccer ODP Championships
Match Highlights:
2000 Girls
Cal South 2000 Girls conquered Florida 00 in a 6-0 victory. In the fourth minute of play, Zoe Hasenauer scored, and four minutes later, teammate Jacqueline Bruder added another for Cal South. To close out the first half, Sara Jayne Affleck added the third Cal South goal. Cal South was aggressive offensively in the second half as well, with goals from Amber McCorkle, Helen Burke and  Affleck to give Cal South the 6-0 win and a 2001 Girls ODP Championships title.
2000 Boys
Eastern Pennsylvania had its foot on the pedal for the entirety of its 7-0 match against Oregon. In just the 8th minute of play, Nicholas Brison had his first of three goals scored. Eastern Pennsylvania's Darryl Longdon doubled the score in the 22nd minute and his teammate, Aaron Tylicki, scored two goals in 5 minutes. Heading into halftime, Eastern Pennsylvania was leading 4-0. The second half was the same story for Eastern Pennsylvania with two goals from Brison and another by Matthew Pron. With the win, Eastern Pennsylvania was crowned 2000 Boys ODP Champions.
2001 Girls
Florida 01 Girls were victorious over Cal South in the ODP Championships final with a 4-1 win. Molly Stetsma got the scoring going early for Florida with a goal in the 10th minute of play. Cal South evened up the score in the 25th minute with a goal from Sarai Zedingil. In the second half, Florida and its relentless attack was able to score three goals. Nicole Vernis found the back of the net in the 53rd minute and Alexis Hiltunen netted two goals in the 80th minute.
2001 Boys
Cal South won the 2001 Boys title with a 3-0 win over Minnesota. Opening up the scoring for Cal South was Brandon Garcia, who found the beck of the net in the 20th minute. Angel Franco added to Cal South's lead in the 40th minute with a goal just before halftime. Cal South rounded out scoring with another goal from Franco in the 61st minute. Cal South had a strong defensive presence to hold onto a clean sheet for the entire match, earning the championship medals.