CCL advances 15 teams to Regionals via Virginia State Cup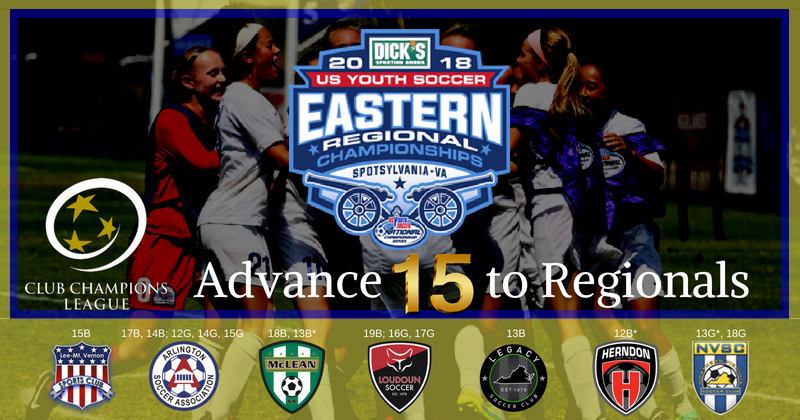 (Via CCL) – Following the weekend, Club Champions League (CCL) advanced seven (7) more teams to the US Youth Soccer Eastern Regional Championships, bringing the total number of CCL teams advancing to Regionals from VYSA State Cup to 15.
The teams are listed below:
19 Boys – Loudoun 99 Red
18 Boys – McLean 00 Green
17 Boys – Arlington 01 Red
15 Boys – LMVSC 03 Red
14 Boys – Arlington 04 Red
13 Boys – Virginia Legacy
13 Boys – McLean Green 05 (via Wild Card)
12 Boys – Herndon Estudiantes Black (via Wild Card)
18 Girls – NVSC 00 Majestics
17 Girls – Loudoun 01 Red
16 Girls – Loudoun 02 Red
15 Girls – Arlington 03 Red
14 Girls – Arlington 04 Red
13 Girls – NVSC 05 CCL (via Wild Card)
12 Girls – Arlington 06 Red
CCL will send a team to regionals in every age group except 19 Girls and 16 Boys. Of these 15 teams, Arlington Soccer Association boasts an exceptional 5 champions.
Technical Director, German Peri had the following to say about the club's success, "It was a very exciting weekend for Arlington Soccer Association with three teams competing in the VYSA State Cup Finals. (Arlington SA 06G, 04G & 04B Red). It is a huge accomplishment for a team to make the final, but to have three teams advance is amazing. We are extremely proud of and happy for our teams, and believe it is a good representation of the quality of our players, and the hard work and dedication they put in all year. These 3 teams join our 2001 Boys & 2003 Girls who advanced in the fall to the Region 1 Championship in Fredericksburg, Virginia"
"The USYS National Championship Series is the most competitive pathway available in youth soccer. To win the VYSA State Cup is extremely difficult. In the 12-14 boys and girls, CCL teams made up 19 of the 24 Semifinals spots available. In the 15-19 boys and girls, CCL teams made up 32 out of 40 Semifinals spots available. That is quite remarkable. Last year we sent 14 teams to Regionals, this year we will send 15. Hats off to those teams," commented Brian Kuk, CCL Executive Director.
Maryland State Youth Soccer Association (MSYSA) State Cup Finals are set for June 2-3 with FC Frederick 16 Boys, Potomac 14 Boys, Ellicott City 13 Boys, Potomac 12 Boys, FC Frederick 17 Girls, and DC Stoddert 15 Girls vying for a State Championship.