Carli Lloyd joins NJ Youth Soccer in ambassador role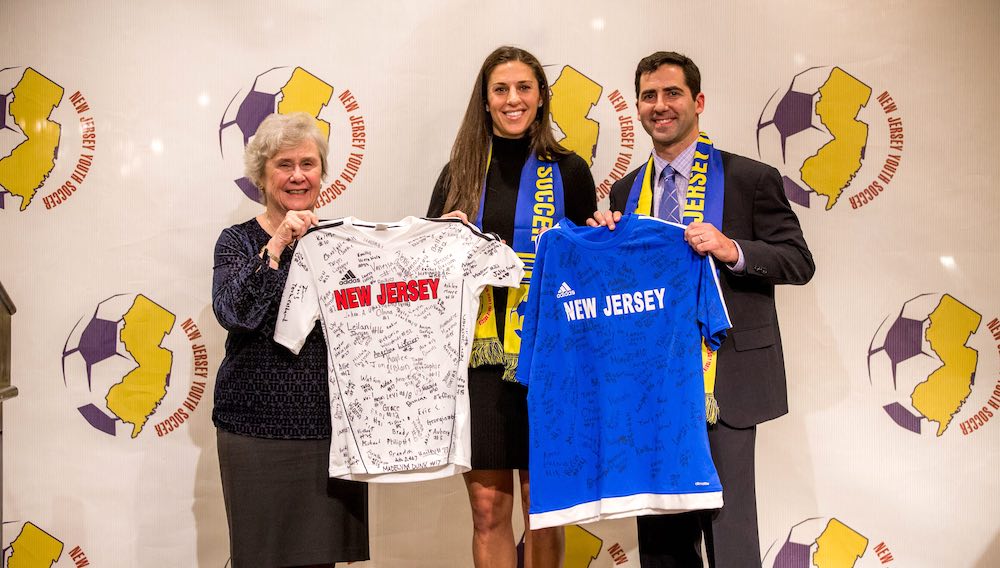 East Windsor, N.J. (July 16, 2019) ― Fresh off winning the 2019 FIFA World Cup in France, New Jersey Youth Soccer announced today that two-time FIFA Women's Player of the Year, two-time FIFA World Cup champion, two-time Olympic Gold Medalist, Olympic Development Program (ODP) star and New Jersey native Carli Lloyd will support the state association as an ambassador.
As the NJYS Ambassador, Lloyd fulfills her desire to give back to the New Jersey soccer community and support growth of the game at the grassroots level.
"Playing this great sport in New Jersey provided me more opportunities than I ever could have imagined," said Lloyd.  "I am eager to contribute and encourage young players to develop a similar love for soccer."
Lloyd grew up in Delran, N.J., before playing her college soccer at Rutgers University. She made her debut for the U.S. Women's National Team in 2005, and she has since accumulated 113 goals and 52 assists over 281 international appearances. Historically, Lloyd has been known to rise tallest on the grandest of stages, scoring the game-winning goal in the Gold Medal Match of both the 2008 and 2012 Olympics. She was also responsible for one of the most phenomenal performances in FIFA World Cup history when she registered a hat trick in the opening 16 minutes of the 2015 Final against Japan. She finished the competition with six goals and received the Golden Ball as the best player of the tournament, which was the first FIFA World Cup championship for the U.S. Women's National Team since 1999. She capped off 2015 by being voted the FIFA Women's World Player of the Year, again winning FIFA Women's World Player of the Year accolades in 2016. She was also voted the runner-up to the award in 2017. Most recently, Lloyd helped captain the U.S. Women's National Team to its second consecutive FIFA World Cup championship this summer in France, recording three goals during the overall competition.
"In the history of sport, there are a few who compare to what Carli has achieved," said Evelyn Gill, NJ Youth Soccer President. "She is the consummate role model from which any young girl or a boy can learn, and we are forever grateful for her desire to support youth soccer in her home state."
In addition to her early roots as a player, Lloyd also shares another direct connection to NJ Youth Soccer. For the past 16 years, her personal coach has been James Galanis, who is Technical Director of the New Jersey Olympic Development Program (ODP).
"Having Carli as an ambassador is a monumental development for all the of NJ Youth Soccer members," said James Galanis, NJYS ODP Technical Director. "Carli is a world renowned athlete, and having such an extraordinary person promote and endorse our evolving programs can only help the game continue to grow in New Jersey."
Lloyd is currently playing her professional club soccer back in the Garden State for Sky Blue FC, where she is in her second season with the National Women's Soccer League (NWSL) club.