Capital Fall Classic: Shenandoah Valley United '94 Blue turn heads
By Charles Boehm
MIDLOTHIAN, VA. – Let's be honest: The Blue Ridge Mountains of western Virginia are not typically known for their scintillating soccer scene.
But Shenandoah Valley United '94 Blue did their part to change that perception at the Capital Fall Classic in Richmond, Va. over the weekend, displaying a fluid, attractive style on their way to a strong showing in the Mens Under-18 High School Premier division.
Coached by Nora Maguire White, a member of the National Soccer Coaches Association of America's National Academy Staff, SVU '94 Blue featured hard-working midfielders, an organized defense and a front line boasting speed and Latin flair.
"We know we don't get much respect. That's OK, we're not out of a big area," explained Maguire White in a conversation with Soccer Wire on Saturday. "So our goal is to show people in bigger areas that we can play good soccer."
"That's the way we built all season long, to play that style of play," she added. "We can do it – we're very athletic, we're very fast, so our goal with that speed is to play really indirect soccer, not to try to play over the top."
The veteran coach's squad kept possession well, created chances and offered enough individual talent to suggest that many of her players will continue their careers at the university level.
"We've had a lot of these kids in the club for four or five years," explained Maguire White, who previously served as director of coaching at SVU (which was formerly known as the Harrisonburg Soccer Association). "So I've coached them on and off since they were 12, 13 years old, and we built a small pack of new kids in this year.
"I think these guys know, coming from the local high schools, that this team has the potential to show well for us. Our goal is to try to place these kids collegiately and I think they're along for the ride hoping they can make that happen."
Maguire White is well-equipped to assist in that effort. She was a standout for both the soccer and lacrosse teams during her own college career at James Madison University and her husband Kevin is the Associate Athletic Director for Sports Programs at JMU.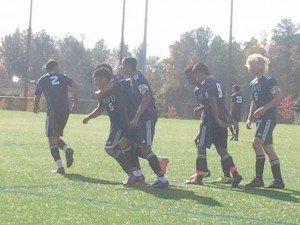 She's trained the team well in terms of technique, tactics and teamwork. Given the limitations of their regional location, now the pressing task is attaining exposure through entry in high-profile tournaments and showcases. The Capital Fall Classic offers a route to qualification for just such an event in the Jefferson Cup, the massive event put on by host club Richmond Strikers in March.
"Our goal, definitely, is to compete for the title here, because our goal is to get to Jeff Cup and that gives us a draw in automatically," said Maguire White.
"We play in Skyline league out of Charlottesville, so we don't play in the top league and most of our kids are juniors and sophomores. We play up in a U-18 league, obviously we play in a high school division here. We're not winning all our games, but our goal is to play good soccer and show well at our tournaments."
SVU '94 Blue looked sharp in wins over Powhatan Fury, Heart of Virginia Thunder Burgundy U19 and Richmond Kickers U18 B North over the weekend, scoring 11 goals and allowing none en route to the bracket's championship final on Sunday. But there they were edged by North Carolina side Liberty FC MSF U18s in a 4-3 shootout.
So entry into the Jefferson Cup isn't assured yet, but we likely haven't seen the last of Shenandoah Valley United '94 Blue and their players.