Capital Fall Classic: Constant improvement a common thread during girls weekend
RICHMOND, Va. – Some won, some lost and some drew on day one of the Capital Fall Classic's girls weekend. But seemingly every team competing under Saturday's damp, gray conditions in Virginia's capital region was determined to impart useful lessons to their players at the tail end of the fall club season.
Whether it was a chance to have fun, impress college scouts in attendance, earn a slot in next year's Jefferson Cup, simply to end their season on a positive note or even all of the above, CFC participants of all ages had plenty to play for.
Especially those who might not take the field again with their teammates for several months, as in cases where league play has wrapped up for 2013 such as the Washington Area Girls Soccer League to the north.
"We came here last year and we had a really good time. Of course, the competition level is right where you need it to be, especially if you want to end the season right and tweak a few things before the season ends," said Jonita Hooker (pictured at left), coach of the Stafford Revolution 00G Blue (Va.) Under-13 squad, who lost their Saturday games to out-of-state adversaries Century United East Knights (Pa.) and Pasadena Madness (Md.).
"It's always good to see the girls end on a good note with a nice tournament, [before] going on vacation with the holidays coming up," she added. "It's good to get away and get a fresh look at other talent, and to keep the girls thinking and on their toes!"
The cool, moist weather – around a quarter-inch of rain fell on central Virginia overnight, but it did not disrupt the match schedule – provided a backdrop reminiscent of the English Premier League or the MLS Cup Playoffs.
"We've got a bunch of showcases coming up, so the more we can play together and get ready for that stuff, the better," said Tim Fetner, coach of the Fredericksburg Area Soccer Association's Impact Elite 97 U-16 squad. "The conditions have been great. We had a little rain this morning but the fields are [fine].
"Coaches hate it, players love it, right?" he said of the conditions with a laugh.
Fog and cloud cover combined with air temperatures in the 50s for a day just clammy enough to chill stationary spectators – but perfectly mild for plenty of running and crisp ball movement on slick playing surfaces, with most natural-grass fields holding up under the additional stress.
Many of the Capital Fall Classic's participants are eager to vie for the automatic qualification spots in the Jefferson Cup, the host club Richmond Strikers' feature event in March, offered to CFC Premier division winners. But for others, it's equally important as an occasion to meet rugged competition from outside their own local areas and transition from fall high-school play into winter showcases and/or fall club play, or vice versa.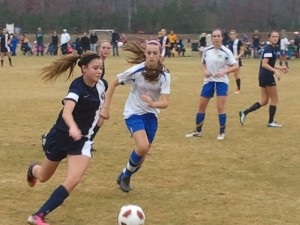 "We certainly see the difference when our kids go back and play high school [soccer] – these kids are the most technical, most tactical players on their high-school teams," said Shenandoah Valley United '95 Elite coach Jon McClure, whose squad will hunt for a U-18 Premier division trophy on Sunday thanks to a late comeback on Virginia Rush 95G that earned them a vital draw. "But then as we've gotten together, we've been playing longer, we now see better results, with usually better clubs. So it's fun to see those results.
"They're all good players," McClure said of his team, which is based in the Harrisonburg region of western Virginia, "but now they have to find something to be great at. They're used to winning games by a couple or three or four goals. Now we have to know what it's like to play from behind, or play at a tie, and we also just have to know how to play a full match and not get down on ourselves. And they're developing that skill, they really are."
Most CFC brackets wrap up with semifinal, final and consolation matches on Sunday morning and early afternoon.