Capital Fall Classic Boys Weekend: Day 1 Showcase Recap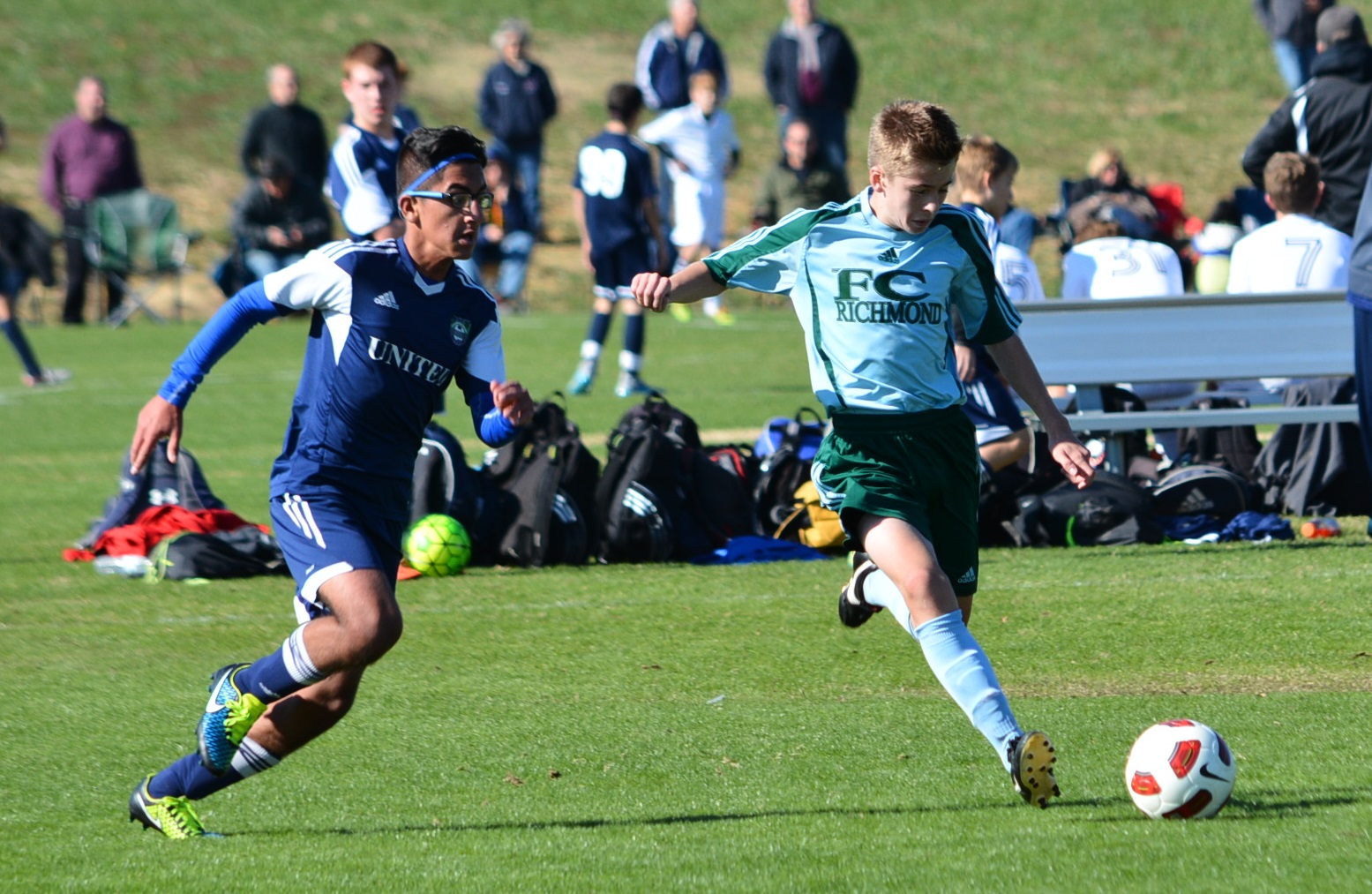 Originally published on StrikersTournaments.com
The 2015 Capital Fall Classic kicked off Saturday at field locations throughout the greater Richmond, Virginia area as 266 boys teams from nine states competed in the first two rounds of group play.
Saturday featured close competition throughout the 37 brackets across the U-9 to U-18 age groups. Premier Division squads remain in close contention for 2016 Jefferson Cup qualification, with the final group matches and championship rounds coming up Sunday.
See below for a recap of the top flight college showcase action at River City SportsPlex, the central recruiting venue for the Capital Fall Classic.
U-16
Richmond Kickers Elite locked up a spot in the U-16 Premier Orange Final with back-to-back victories over Stafford Revolution 99 Blue and Shenandoah Valley United 99 Blue. Cameron Smith had a brace for Richmond in a 3-0 shutout of Stafford in their morning match, netting two goals within the first five minutes of the second half. While Smith's speed caused problems for the opposing defense, Maletic Vahdet also found the net as the Kickers attack clicked throughout the day.
During the same timeslot, the Herndon Youth Soccer Hawks' offense was firing on all cylinders in a win over Shenandoah Valley United. Luis Argueta-Vega, Nicholas Castillo, Christian Vasquez and Elliot Ray were among the leaders of a Herndon attack which racked up nine goals to open the tournament.
However, Stafford rallied for a 3-1 win over Herndon in their afternoon battle, which puts the sides in close contention for the second spot in the final, with the deciding round of group play coming up Sunday morning.
Virginia Rush (1-1-0) and FC Richmond Metro 99 (2-0-0) earned the top seeds for the semifinals in the Premier Black Division. Rush will take on Group B runner-up Saint Mary's Soccer Impact while FC Richmond plays Group A runner-up VISTA CFC 99 Black for a spot in the final on Sunday.
U-17
Olney Rangers Blue and Beach FC 98 Black have put themselves in position to meet in the Premier Division Final on Sunday with a Jefferson Cup slot on the line, both jumping out to 2-0-0 starts in group play.
Olney took charge of Group A, defeating Virginia Rush and PAC Elite 98 Navy in its first two games. Ronald Little and Jared Dove, two of the team's top playmakers, each showed flashes of brilliance throughout the day while the back line allowed just one goal in two games. In one of the highlights of the day, Dove threaded a long-range lead pass through the defense to Little, who beat the Rush goalkeeper on a nice hesitation move and buried a shot to extend his team's lead.
Rush rebounded with a 4-1 win over FC United Orange in the nightcap, brining both teams to 1-1-0 heading into Sunday. FC United Orange earned a 3-2 win over PAC to open the tournament, scoring a late game-winner and holding tough defensively in the final minutes.
Group A comes to a close with PAC taking on Rush and Olney facing FC United.
In Group B, Beach FC doubled up VIP United FC Vipers 4-2 to open the tournament before blanking McLean Youth Soccer 98 Green 1-0 in their evening match, maintaining their unblemished record. Beach has a significant lead entering their last group match on Sunday morning against Baystars FC Riptides.
Prior to their narrow loss to Beach, Kidus Lemma and Oscar Cruz helped McLean dominate possession in a 5-0 win over win over Baystars FC in their morning match, while the back line preserved the shutout.
VIP United battles McLean on Sunday in a meeting of Group B's second and third place sides.
U-18
Vienna United Black and Richmond Kickers Elite grabbed the top seeds in Group A and Group B respectively, heading into Sunday's U-18 Premier Division Semifinals with 2-0-0 records.
A dominant defensive effort by Vienna led the team to shutout victories over FC United Orange 97 and Valley AFC Xpress 96 Green, taking control of Group A. After starting the tournament with an overpowering win over FC United, Vienna found itself in a physical battle with Valley AFC in its second match. With a relentless Valley AFC attack creating scoring chances throughout the second half trailing 1-0 and trying to find an equalizer, the Vienna back line continuously made stops when they needed to most. Among the most critical defensive plays was made by center back Andi Garcia, whose sliding save at the goal line prevented an empty net score for Valley AFC in the game's waning minutes.
Vienna will play McLean Youth Soccer 97 Green in the Semifinals on Sunday morning. McLean earned the second seed in Group B thanks to a hard fought 2-1 win over North Carolina side Liberty 97 Elite to open the tournament.
Richmond Kickers, the top seed in Group B, knocked off McLean 4-1 in their second game after defeating Liberty 2-1 earlier in the day. The Kickers got in a rhythm early against McLean, with midfielders Severin Velasco and Tucker Collins orchestrating the offense very efficiently. Velasco and Collins both showed tremendous range within the offense, covering ground throughout the midfield and deep into the attacking zone, helping create scoring chances for the team's other playmakers including Miguel Pacheco and Donald Vest.
The Kickers will face Valley AFC, the second seed in Group A, on Sunday in the other Semifinal match.