Arena and Dorrance elected to United Soccer Coaches Hall of Fame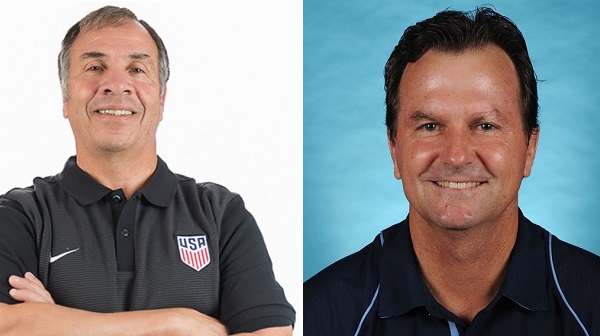 KANSAS CITY, Mo. (Via United Soccer Coaches) – Bruce Arena and Anson Dorrance are the newest members of the United Soccer Coaches Hall of Fame, the association announced on Wednesday. Both individuals will be inducted as the Class of 2018 on Friday, January 19 during the annual Awards Banquet at the United Soccer Coaches Convention inside the Pennsylvania Convention Center in downtown Philadelphia.
Dorrance, currently in his 41st season of coaching at the University of North Carolina, has led the Tar Heels women's soccer program to 22 national championships, becoming the first coach in NCAA history to win 20 titles in a single sport. In addition to 172 wins as the UNC men's soccer coach for 12 seasons from 1977-1988, Dorrance has amassed 822 wins – the most by any coach in college soccer history – in 39 seasons since founding the women's soccer program at his alma mater in 1979. U.S. Soccer hired Dorrance to simultaneously lead the United States Women's National Team from 1986-1994 and under Dorrance's direction, the U.S. won the first FIFA Women's World Cup in 1991.
+READ: ECNL, United Soccer Coaches launch education and awards partnership
A member of United Soccer Coaches since 1975, Dorrance is a five-time national Coach of the Year honoree and has received numerous other accolades from the association: 1992 Honorary All-American, 2001 Mike Berticelli Excellence in Coaching Education Award, 2006 Women's Soccer Award of Excellence, 2006 Bill Jeffrey College Long-Term Service Award and the 2010 Honor Award. In addition, Dorrance was inducted into the National Soccer Hall of Fame in 2008 and received the prestigious Werner Fricker Builder Award from U.S. Soccer last year.
Arena's legendary coaching career in the sport began at the University of Virginia, where he won five national championships in 18 seasons from 1978-1995 with a 295-59-31 record. With the launch of Major League Soccer in 1996, Arena moved into the professional ranks and began an MLS career highlighted by 11 major titles in 14 seasons with five MLS Cup championships and three Supporters' Shield trophies, along with Lamar Hunt U.S. Open Cup, CONCACAF Champions' Cup and Copa Interamericana titles. A three-time MLS Coach of the Year, Arena's 234 wins (including postseason) are second most in league history behind Sigi Schmid.
+READ: FC Barcelona announces plan to launch Barça Academy in New York
At the international level, Arena has twice served as head coach of the U.S. Men's National Team (1998-2006, 2016-2017) and his 81 wins are most of any manager in U.S. MNT history. Arena, who also led the U.S. at the 1996 Summer Olympics, guided the U.S. to a third-place finish at the 1999 FIFA Confederations Cup and the quarterfinals of the 2002 FIFA World Cup in addition to winning the CONCACAF Gold Cup on three occasions. He was inducted into the National Soccer Hall of Fame in 2010 and is a past recipient of the Werner Fricker Builder Award, Walt Chyzowych Lifetime Achievement Award and United Soccer Coaches Letter of Commendation.
The United Soccer Coaches Hall of Fame was established in 1991 to honor achievement in coaching, work on behalf of the association and lifetime contributions to the game of soccer. Each year, up to three inductees are elected into the association's Hall of Fame based on selections made through balloting of the Hall of Fame Committee. Click here for list of United Soccer Coaches Hall of Fame members.