Brian Johnson names 48-player U-14 Boys National Team roster for Oct. 11-19 camp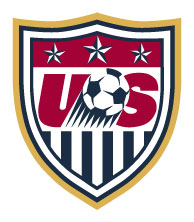 CHICAGO (Via U.S. Soccer) – U.S. Under-14 Boys' National Team head coach Brian Johnson announced a 48-player roster for an eight-day training camp from Oct. 11-19 at U.S. Soccer's National Training Center in Carson, California.
Throughout training camp, the players will train twice a day in the morning and evening on either side of an afternoon break to focus on their academics. The October training camp will mark the first one for the U-14s in the new 2014-2015 cycle.
The group will play a pair of intrasquad games on Oct. 15, and a third one on Oct. 18 at 3 p.m. Following the third intrasquad contest, the group will go against Academy club team Arsenal FC's U-13/14s at 5 p.m. PT.
Of the 48 players named, 46 were born in 2001, with midfielder Efrain Alvarez and forward Frank Gonzalez rounding out the group as the only two born in 2002. Defender Togo Nakamura, 13, is the oldest participant, while 12-year-old Gonzalez is the youngest.
Hailing from all over the country, 14 states will have representatives at the training camp, with California topping the list at 13. New York and Texas claim six each; four are from Maryland; three apiece from Colorado, Florida and Illinois; Georgia, North Carolina and Virginia boast a pair of players each; while Kansas, Michigan, New Jersey and Utah will each have one representative.
More than half of the roster has ties to the Development Academy as 27 of the players on the group are currently on an Academy club roster.
Roster by Position:
GOALKEEPERS (4) : Logan Kowalczyk (Crew Soccer Academy Wolves; Pinckney, Mich.), Cole McNally (Celtic; Mt. Airy, Md.), Alex Rando (New York Red Bulls; New York, N.Y.), Duncan Wegner (Capital Area RailHawks Academy – CASL; Apex, N.C.)
DEFENDERS (17): Davide Clarkson (Met Oval, New York, N.Y.), Jackson Conway (Georgia United; Marietta, Ga.), Cameron Duke (Sporting Kansas City; Olathe, Kan.), Paul Elliott (Colorado Rapids; Denver, Colo.), Nick Fernandez (Chicago Fire; Downers Grove, Ill.), Theodore Gunter (San Antonio Scorpions; San Antonio, Texas), Luke Hansen (Colorado Rush; Littleton, Colo.), John Hilton (Unattached; Long Beach, Calif.), Julian Hinojosa (FC Dallas; Garland, Texas), Togo Nakamura (LA Galaxy; Torrance, Calif.), Kevin Ramos (PWSI; Woodbridge, Va.), Canvas Reeves (Solar Chelsea SC; Keller, Texas), Cesar Rivera (Chivas USA; Los Angeles, Calif.), Jose Ruvalcaba (TFA Barcelona, Los Angeles, Calif.), Sebastian Serpa (Weston FC; Miami Beach, Fla.), Leonardo Supelveda (Empire SC; Corona, Calif.), Cole Turner (Philadelphia Union; Churchville, Md.)
MIDFIELDERS (13): Efrain Alvarez (Chivas USA; Los Angeles, Calif.), Timothy Bielic (Sockers; Arlington Heights, Ill.), Taylor Booth (La Roca Utah; Eden, Utah), Ethan Bryant (San Antonio Scorpions; San Antonio, Texas), Roberto Hategan (San Juan; Roseville, Calif.), Oliver Larraz (Colorado Rapids; Denver, Colo.), Lincoln Lillwitz (Chicago Fire; Aurora, Ill.), Marcelo Palomino (Houston Dynamo; Houston, Texas), Michael Pellegrino (Philadelphia Union; Wenonah, N.J.), Veljko Petkovic (Met Oval; Ridgewood, N.Y.), Matteo Ritaccio (BW Gottschee; Westbury, N.Y.), Gabriel Segal (Bethesda-Olney; Bethesda, Md.), Simon Vasquez (Weston FC; Weston, Fla.)
FORWARDS (14): Angel Ariza (West Coast FC; Costa Mesa, Calif.), Luis Arriaga (Santa Rosa; Santa Rosa, Calif.), Kyle Davis (D.C. United; Bowie, Md.), Gabriel Findley (Capital Area RailHawks Academy – CASL; Cary, N.C.), Frank Gonzalez (FC Golden State; South Gate, Calif.), Alan Hernandez (PWSI; Woodbridge, Va.), Ulysses Llanez (Chivas USA; Lynwood, Calif.), Salvatore Rasizzi (Met Oval; Whitestone, N.Y.), Bryan Reynolds (FC Dallas; The Colony, Texas), Jose Rivas (Weston FC, Weston, Fla.), Jacob Silva (Nomads; San Diego, Calif.), Travian Sousa (Ballistic United SC; Lathriop, Calif.), Indiana Vassilev (Storm SA; Savannah, Ga.), Kejiel Watt (New York Red Bulls; Springfield, N.Y.)