Breaking down Red Bulls academy starlet Amando Moreno's Mexico move
Moving up through the ranks of the New York Red Bulls academy, Amando Moreno signed a Homegrown player contract with the club in 2012. He appeared to be set for a big future with his hometown club, but in a surprise move opted to head south and join Mexican side Club Tijuana last week.
Although he was seen as "third or fourth in the depth chart" by head coach Mike Petke, he was a player the Red Bulls didn't want to lose.
"I'm a big fan of Amando's and I'll always be. He'll be the first one to say that, because he knows that," Petke said on a conference call on Monday afternoon.
However, Moreno spurned a chance at staying with the Red Bulls to make the move to Mexico. The Red Bulls were in discussions with Moreno, but couldn't come to an agreement. It was a decision that Petke could tell wasn't an easy one for the young forward to make.
"I know it was very tough on Amando, I saw it in his eyes when we had the one-on-one talk," said Petke.
Moreno had recently spent time with the U.S. Under-20 national team during their January camp before taking part in the Red Bulls preseason. Before making the move to Tijuana, the forward from Perth Amboy, N.J. consulted with U-20 head coach Tab Ramos.
"I spoke with him a couple times. He let me know what he was doing because he wants to make sure he stays a part of the team and all of those things," Ramos told SoccerWire.com via telephone. "All I can tell you is he's a very good player. He has been and will be a part of the U-20 pool."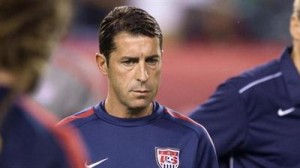 The Red Bulls, who had plans for Moreno to be a long-term player for the club, are left to rue what Petke called the "now mentality" with young players in soccer and sport in general. He also mentioned Graham Zusi and Chance Myers as two examples of players benefiting from patience.
"When they joined [Sporting] Kansas City, people who knew them were probably like 'Where the heck are they, are they still on the roster?'
"They had two years, they understood they had to be patient, work hard and now look what players like that are – and there are countless players like that around the league."
Moreno will now join the growing corps of "estadounidenses" led by Herculez Gomez, Joe Corona, Edgar Castillo and Paul Arriola in trying to earn first team minutes with Tijuana. The Mexican club also has US U-20 players like Greg Garza and Alejandro Guido.
Although the path into the Tijuana first team won't be easy, breaking into the Red Bulls first team presented an equally tough task, if not harder, for Moreno, admitted Petke and Ramos.
If he had chosen to stay he – like other young players from the RBNY academy system that have shown promise – would likely continue to find it hard to get significant minutes with the club's first team.
With 36-year-old megastar Thierry Henry heading an aging, expensively-built roster, the Red Bulls are in "win now" mode with the intent to have two established players on the depth chart at almost every position.
"The best thing to do is to keep doing the things we expect at practice," said Petke, "make us notice that, and in that way, we would have to find a way of finding these players minutes or we have to let them go and continue their career somewhere else."
Ramos added, "Red Bulls has a great academy, but they also have a great first team. It's not like you're going to be taking out Henry and putting Amando in the game, not yet."
Both coaches believe that Moreno has a bright future ahead of him. Tijuana is a club that has done well with American players thus far and Ramos expects that out of Moreno's experience south of the border.
And with Moreno's talent, even though he still has much to learn as a young player, he should be able to eventually work his way into the first team. It certainly wouldn't be a surprise to Ramos.
"I expect that Amando is going to do really well. He has all the tools to be a really good player," said Ramos. "The important thing is that Amando really cares about the type of soccer he plays, he really cares about how important the fitness is going to be in terms of where he needs to be to get to the next level and he's doing his homework on that."
One club that will keep the door open for Moreno in the future: the New York Red Bulls. Petke would gladly welcome Moreno back into the fold, if he ever wished to rejoin the club.
"I still believe in you," Petke said he told Moreno. "I have high hopes for you and I would love for nothing more than at some point in the next couple of years for you to wind up back here as a better player and be the No. 1 or No. 2 on the depth charts."