Brackets, schedule released for Potomac Memorial Tournament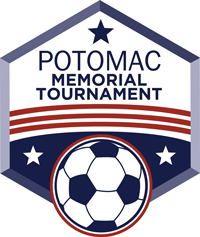 Schedule | Brackets | College Coaches
A total of 395 elite level boys teams will compete in the Potomac Memorial Tournament from May 27-30, the 37th running of the Maryland-based event hosted by the Potomac Soccer Association.
Clubs representing 18 U.S. states and Canada will send teams ranging from the U-9 through U-19 age groups. Attending teams will travel from throughout the East Coast and Midwest, representing clubs from Connecticut, Delaware, Florida, Illinois, Indiana, Maine, Massachusetts, New Hampshire, New Jersey, New York, North Carolina, Ohio, Pennsylvania, Rhode Island, Vermont, Virginia, West Virginia and the host state of Maryland, along with five Canadian clubs.
College coaches from more than 150 programs have already registered to attend, three weeks ahead of the tournament. The list includes major athletic and academic programs, representing major Division I conferences including the Big East, Big 10, Atlantic 10, Mountain West, Patriot League, Colonial Athletic Association and Ivy League among others, along with top Division II, III and Junior College programs from throughout the nation.
+Read: Around the U.S. Soccer Development Academy: Week 23
The field of competing teams includes 19 reigning US Youth Soccer State Cup champions from 10 different state associations, as well as three Region I champions and one 2015 US Youth Soccer National Championship age group winner. Fifteen more attending teams were finalists in their most recent US Youth Soccer State Cup competitions, while 30 others advanced to the semifinals. The field also includes a Region III semifinalist and two semifinalists from the 2015 National Championships.
Reigning US Club Soccer state, regional and national champions will also be in attendance, as well as top finishers in some of the nation's most competitive leagues.
State Cup Champions & Finalists
U-13
Bethesda SC Blue 02
Maryland | Champions
U-14
Century V 01/02 Gold
Pennsylvania West | Finalists
DFC/FSCI Vasquez Academy 01
Virginia | Finalists
Millennium Soccer Academy 02 Indy
Indiana | Finalists
PWSI Courage 01 Red
Virginia | Champions
U-15
Bethesda SC Blue 00
Maryland | Finalists
McLean Youth Soccer Hotspur Green
Virginia | Champions
U-16
Arlington Eagles Red
Virginia | Finalists
Dix Hills Hurricanes
New York East | Champions
Lockport FC Buffalo Academy
New York West | Champions
Loudoun 99 Red
Virginia | Champions
Mountaineer United SC
West Virginia | Champions
Penn Fusion SA 99 Elite
Pennsylvania East | Finalists
Revolution United FC Revolution 99
Connecticut | Champions
Syracuse Development Academy
New York West | Finalists
U-17
Baltimore Celtic SC 98/99
Maryland | Champions
Black Watch Burlington
Vermont | Champions
CASL 98 Red
North Carolina | Champions
Connecticut FC United 98/99
Connecticut | Champions
Delaware Rush 98
Delaware | Champions
Fury Pro Performances Select
West Virginia | Champions
Loudoun SC 98 Red
Virginia | Champions
Massapequa SC Aces
New York East | Champions
Penn Fusion SA 98 Elite
Pennsylvania East | Champions
Rochester Futbol
New York West | Finalists
Smithtown Kickers SC Galaxy
New York East | Finalists
Yardley Makefield Soccer Premier 98
Pennsylvania East | Finalists
U-18
Connecticut FC United 97/98
Connecticut | Champions
FC Frederick 97
Maryland | Finalists
Montgomery SC Falcons
Maryland | Champions
Regional Champions & Finalists
Baltimore Celtic SC 98/99
Region I | Finalists
Bethesda SC Blue 02
Region I | Champions
Dix Hills Hurricanes
Region I | Finalists
McLean Youth Soccer Hotspur Green
Region I | Champions
Penn Fusion SA 98 Elite
Region I | Champions
National Champions & Finalists
Baltimore Celtic SC 98/99
Champions
Attending Clubs
Canada: Brampton East Soccer Club, International FC, Power FC, Sigma FC Academy, Vaughan
Canada: AC Connecticut, Beachside SC, CTCFC United Boys, CFC West, Everton America CT, Revolution United FC, Shoreline FC
Delaware: Delaware Rush
Florida: Coral Gables Soccer, FC Florida, FUTSOC, Miami Juve FC, Real Miami, Team Boca
Illinois: FC Chicago
Indiana: Millennium Soccer
Maine: Seacoast United Maine SC
Maryland: A3, Alliance, Arundel Soccer Association, Baltimore Bays, Baltimore Celtic SC, Barca FC, Bayshore Soccer Club, Calverton, Dundalk Football Club, Ellicott City Soccer Club, ESSA, FC Frederick, Freedom, Future Soccer Club, Laurel Soccer Club, LTSC, Maryland United FC, MD Rush Montgomery, Montgomery Soccer Inc. Next Level Soccer, OBGC, Pachuca FC USA, Pipeline SC, Potomac Soccer Association, Real Rockville Football Club, Severna Park, St. Mary's Soccer, Takoma Park Soccer Club, Toca Juniors FC
Massachusetts: FC Boston, GPS-MA
New Hampshire: GPS-NH
New Jersey: (NJCSA) Marlboro SA, AC Milan Club of NJ, Excel FC, FC Copa Academy, FCUSA New Jersey, Greater Flemington SC, Ironbound SC, Jersey United, Meraki F.C, .New Jersey Force Soccer Academy, NJ Stallions Academy, North Brunswick SC, Northern Valley, Parsippany SC, Pasco SC, PDA, Princeton FC, Princeton SA, South Jersey Elite Barons, STA Morris, Stafford SC, Stronghold SC, TSF Academy, Westfield SA
New York: Albertson Soccer Club, Alleycats Soccer Club, Asphalt Green Soccer Club, Auburndale SC, Black Watch Premier, Brentwood SC, Commack Soccer Club, Dix Hills Soccer Club, DUSC, Empire United SA, FC Dynamo ROC, FC Long Island, FC Somers Soccer Club, GBUFC, Hauppauge Soccer League, HBC, Intense Socer Academy, Lake Grove Newfield SC, Lockport FC, Manhattan SC, Massapequa SC, New York SC, Northport Cow Harbor, NRFC, NY Elite FC, Oceanside United SC, Rochester Futbol Club, Smithtown Kickers SC, Soaring Capital Soccer Club, Southampton Soccer Club, Stony Brook SC, Syracuse Development Academy, White Plains Youth Soccer
North Carolina: CASL
Ohio: SYSA
Other: FC Toro
Pennsylvania: Allegheney Force FC, Arsenal FC of PA, Beadling SC, Capital Area Soccer Association, Carlisle Area YS, Century V, FC Europa, FC York, FCUSA Philadelphia, HFC, LDC United, Lehigh Valley United, LYSC, Montgomery United SC, Northern Steel Select Soccer, PA Classics, Patriot FC, Penn Fusion SA, Philadelphia SC, Pittsburgh Riverhounds, South Central PA Soccer Academy, St. Thomas More SC, Yardley Makefield Soccer
Rhode Island: Bayside FC Bolts
Vermont: Black Watch Burlington, Synergy Football Club
Virginia: Anandale United FC, Arlington Soccer Association, Bethesda SC South, Barca FC, Chantilly Youth Association, DC Stoddert, DFC/FSCI, FC Virginia/SYC, Fairfax Police Youth Club, Lee Mt. Vernon SC, Loudoun SC, McLean Youth Soccer, PWSI Courage, Richmond Strikers, Southwestern Youth Association, SYC, Virginia Legacy SC
West Virginia: Epic SC, Fury, Mountaineer United SC, TCSC