Boys wrap up US Youth Soccer National League opening weekend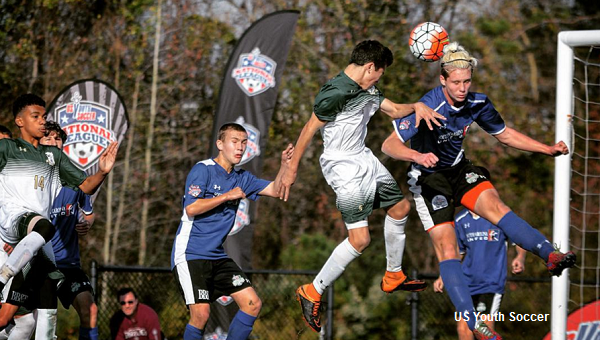 Day 4 of 4 complete
Scores and Standings | Video | Live Broadcast Replays
WILSON, N.C. (Via US Youth Soccer) — After four days of play, the US Youth Soccer National League Under-14, 15, 16, 17 and 18 Boys have solidified their spots in the standings until nearly half the field meets again Dec. 27-29 in Orlando, Fla., where they will continue competing for a league title and a ticket to the 2016 US Youth Soccer National Championships in Frisco, Texas.
The National League brings together some of the best teams in the country, all of which have had to earn their place in the league through success in US Youth Soccer regional and national competition. Hundreds of collegiate coaches attended the National League matches in North Carolina to scout some of the top talent in the country. Player evaluation is enhanced by the competitive level and importance of each game, as teams compete for a berth in the National Championships.
"The competition is fantastic and is only going to get better," said Houston Express (TX-S) coach Eric Johnson, whose team sits in third in the Under-17 Blue Division. "Most of these kids have been in the club since they were eight. They believe in the club, believe in the system, and to see them get these rewards is what we're in this game for."
"We are delighted from a coaching staff point of view to be able to play in a league like this, and these kids definitely deserve to be in this league. We are proud to see them here and representing us so well."
The competition within each age group has been very close, and multiple teams are still very much alive for every division title. The first place team's lead is two points or less in seven of the 10 divisions, and six divisions have ties at the top of the standings. No team in the competition has a lead larger than three points.
Meanwhile, eight teams came away with a win in each of their four games, and only two sides have yet to concede a goal— Under-14 Valparaiso United Futbol 02 JG (AZ) and Under-18 Lehigh Valley United 97 (PA-E). Under-16 La Roca South CS 99/00 Premier (UT) led all teams with 16 goals scored.
National League teams earn their place in the league based on a proven track record of success in US Youth Soccer regional and national competitions and are among the nation's best. Competing for a league title and a spot in the US Youth Soccer National Championships, each and every game will play into who represents the National League this summer in Frisco, Texas.
The National League is an extension of the US Youth Soccer Regional Leagues (US Youth Soccer Region I Champions League, Midwest Regional League, Southern Regional Premier League and Far West Regional League).
National League Boys action continues when 32 of the teams meet Dec. 27-29 in Orlando, Fla., alongside the Disney Soccer Showcase, while the remaining 48 squads play March 11-13, 2016 in Las Vegas, Nev., alongside the Players College Showcase. Complete standings, scores and schedules, including goal scorers and match information, can be found at the results page here. Click on the score of each game for more information.
Some highlights from Sunday's matches…
Under-14
After four days of play in the Under-14 age group, Baltimore Celtic Darby 01/02 (MD), Valparaiso United Futbol 02 JG (AZ) and Concorde Fire Central Elite (GA) remain perfect with twelve points. Baltimore leads the Blue Division followed by SCUFC 01 Elite (SC) with nine points. Third place in the Blue Division is CASL 01 Red (NC) who picked up a 1-0 win against Team Challenger FC 01 Black (OH-N).
In the Red Division, Solar Chelsea sits behind the top point Arizona and Georgia sides, with eight points, after they defeated SLSG Elite 01/02 (MO) 3-1 today.
Under-15
In the Under-15 Red Division, GSA 01 (GA) Premier stayed within striking distance of second place Sparta 01 JK (UT) after defeating West Coast FC Armour (CA-S) 2-0. GSA opened the scoring in the 22nd minute when a cross was chipped in to Kendall Edwards. Edwards slotted his shot back post to give his side the 1-0 lead. Edwards' teammate Thomas Toney added the lone goal of the second half in the 51st minute to bring the final score to 2-0 for GSA.
CFA Raiders (IL) sits in first place of the Red Division claiming a perfect 12 points during the week after the day four 3-2 victory over FPYC Fury (VA).
The Blue Division is a total toss up, with four teams totalling seven points after the last day. McLean 00 Green (VA), Tennessee SC 19 (TN), United FA 01 Premier (GA) and CUP Gold 00/01 (OH-S) all sit tied in points and are closely trailed by the rest of the division.
Under-16
United FA Premier (GA) played Dallas Texans (TX-N) to a 0-0 draw on the final day of Under-16 National League play to keep both teams tied with eight points at the top of Red Division. Dallas had a handful of attempts in the second half that were all thwarted by United FA's Jonathan Rushton. Rushton's best save came early in the second half when he pushed a point blank header wide of his net to keep the teams level.
Elsewhere in the Under-16 Red Division, Dix Hills Hurricanes (NY-E) defeated LA Galaxy South Bay Gold (CA-S) 1-0 to move into third place in the group with seven points, just one point behind the two leaders. Dix Hills' Samuel Steinberg scored the match's lone first half goal in just the 6th minute of play. In the second half, both teams had opportunities with LA hitting the post and Dix Hills having a shot saved on the line. LA pressed for the equalizer but couldn't find the back of the net and the game finished 1-0 in favor of the Eastern New York side.
La Roca South CS 99/00 Premier finished perfect in the Blue Division scoring 16 goals while allowing just one. Closely behind the Utah side sits Fullerton Rangers White (CA-S) with 10 points, which has also only allowed one goal all week.
Under-17
In Under-16 Blue Division Play, Houston Express (TX-S) defeated Scottsdale Blackhawks 99 Davidson (AZ) 3-1.The win gives them seven points on the week, just three points behind Baltimore Celtic 98/99 (MD) and Sporting St. Croix (MN) who sit at the top of the division. Houston put the pressure on early with goals from Samuel Adeniron and Peter Prentice in just the first six minutes of the game. A Houston own goal in the 74th minute brought the game to 2-1 and gave Scottsdale hope of a comeback. Just eight minutes later, Adeniron had the ball poked away from him as he danced around the top of the Scottsdale box. The loose ball fell to Houston's Saul Amaya who smashed his chance passed the Scottsdale keeper to bring the final score to 3-1.
Solar Chelsea Red 99 (TX-N) and CESA 98 Premier (SC) sit at the top of the Red Division table with 10 points each. Loudoun 98 Red (VA) and Penn Fusion 98 (PA-E) sit closely behind with eight points, each picking up a win on the last day of play.
Under-18
Lehigh Valley United 97 (PA-E) sits on top of the Blue Division after a 3-0 victory over DMS11 Academy (CA-S) finishes off its perfect week. During its four game run, LVU didn't allow a single goal against. Arlington Impact Red (VA) are close behind in second with nine points, with FC Dallas 98 Premier (TX-N), Dix Hills Elite (NY-E) and Ohio Premier Green (OH-S) trailing with six points apiece.
Dix Hills Elite defeated FC Dallas 98 Premier 1-0 in Under-18 Blue Division play for its second win of the week. A back and forth game saw both teams with chances early, but the only first half goal came when Dix Hills' Taylor Kaczynski got on the end of a through ball in the 32nd minute and finished his chance passed the sprawling FC Dallas keeper. FC Dallas couldn't find an equalizer in the second half and the score remained 1-0 at the final whistle.
In the Under-18 Red Division, Santa Barbara SC White defeated SAC Premier Blue 4-1 to remain undefeated. SAC took the early lead just eight minutes in when Luca Fazio got on the end of a long through ball. His initial shot was saved, but he tapped in his own rebound to put SAC up 1-0. Santa Barbara didn't wait long to respond and, just seven minutes later, Matthew Bautista equalized with a shot to the upper corner. Dennis Cole brought the score to 2-1 as he danced behind the SAC defense and around its keeper before he slotted home his game winner. Santa Barbara's Christian Lopez and Brandon Sanchez each added goals in the second half to bring the final score to 4-1.
The win sits Santa Barbara at the top of the division tied in points with FC Golden State Platinum (CA-S) who also finished perfect on the week with a final 2-0 day victory over South Huntington Lightning (NY-E).