Boys ECNL welcomes Minnesota Thunder Academy as member club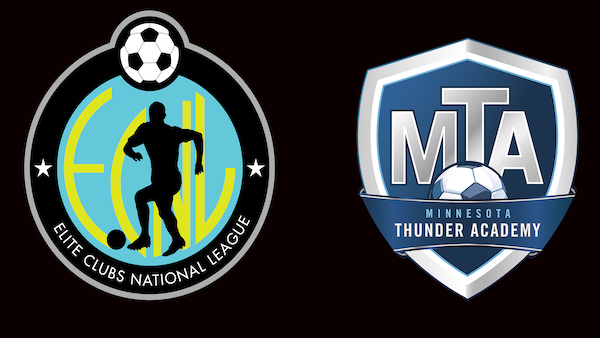 RICHMOND, VA (Via Boys ECNL) – The Boys ECNL has announced that Minnesota Thunder Academy will be joining the league in the 2019-2020 season as a new member club, as part of the Midwest Conference.
MTA was founded in 2008 through a merger of two of the top clubs in Minnesota (Bangu Tsunami and Wings SC), and is the legacy of the former professional club Minnesota Thunder. MTA has developed more collegiate, national team, and professional players than any club in the Upper Midwest, and currently includes more than 600 players. MTA has been a member of the Girls ECNL since its founding in 2009, and a member of the US Soccer Boys Development Academy since 2010. Beginning in the 2019 season, MTA's top male players and teams will be competing in the Boys ECNL.
"This is a wonderful development and opportunity for our club, players and staff," said Steve Bellis, MTA Boys Director of Coaching. "ECNL gives the boys the freedom to compete at a high school level and also in a national club league with great competition and huge collegiate exposure."
+READ: ECNL Alums account for two-thirds of 2019 NWSL Draft class
The Boys ECNL was provides a top level, club-based development, training, and competition platform for youth male soccer players, with conference competition in five age groups (U14, U15, U16, U17, and U18/19) and collegiate exposure through multiple Boys ECNL National Events. In addition to the competition platform, the Boys ECNL offers player identification and development opportunities for top players, as well as unique coaching education and club development programs. Top teams from every Boys ECNL conference qualify for the post-season ENPL Playoffs, along with top teams from US Club Soccer's NPLs.
"We are very excited to welcome MTA into the Boys ECNL, and to have them as an 'All-In' ECNL club," said Christian Lavers, Boys ECNL President. "The club's history speaks for itself, and their addition to the Midwest Conference will make the conference better and stronger on the field and in many other ways."
MTA will begin formal competition in the Boys ECNL in August 2019. Additional new clubs will be announced in the Boys ECNL in the coming months.