Bethesda tournament teams up with Claudio Reyna Foundation to gear up less fortunate young players
Between the girls edition last weekend and the boys brackets that kick off on Friday, it's been a busy stretch for the Bethesda Soccer Club in Washington, D.C.'s Maryland suburbs and their Thanksgiving Tournament, featuring just shy of 1,000 Under-9 through U-19 teams taking the pitch in search of glory.
Everyone knows how important equipment is to the world's game. Sure, it doesn't give you speed or more talent, but there is something to said about feeling comfortable on the pitch. Be it a beautiful kit with a crest you wear with pride or your favorite cleats and shin guards, equipment is an essential part of the game.
+READ: Bethesda tournament unfolds with chilly temps, intense matches at girls weekend

That's why Bethesda is doing what they can to make a positive contribution to those less fortunate, while giving their tournament-goers a platform to do the same.
The Bethesda tourney is running an equipment donation drive in partnership with the Claudio Reyna Foundation. All of the equipment donates to BSC is going to underprivileged inner-city kids in Washington, D.C. and Baltimore. And it's just the start of what the club has planned with the foundation run by the former U.S. Men's National Team captain which aims to teach kids the sport, promote exercise and nutrition and much more.
Things have gone well in the first year of this project, according to Stefan Triandafilou, club board member, BSC's vice president of youth development and the man heading up the partnership with Reyna's foundation.
"We have two full truck loads [of equipment already], 60 pairs of shoes, 30 soccer balls, tons of bags, uniforms, sweatshirts. But we always need more," Triandafilou told SoccerWire.com this week.
At the end of March, the next phase of the project will take place, as the club will host a footgolf tournament, welcoming 60 kids from D.C. to participate in the fast-growing new sport, a mix between soccer and golf. It will also provide another chance for people to continue to donate items, which will then be handed out to the kids.
"They have been great," Triandafilou said of the donors. "We asked for 'lightly used gear.' But we have almost brand-new shoes, uniforms, bags. It's been very great to see the response that we are getting."
Next fall, the program's participants will link up with Bethesda SC teams on a weekly or bi-weekly basis as the club's players will serve as big brothers or sisters to mentor, guide and establish a positive relationship with the kids they are matched up with.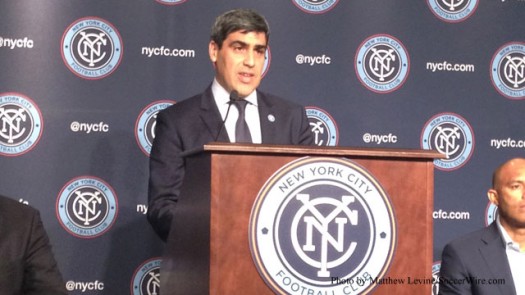 "Our partnership with Bethesda Soccer Club (BSC) has the potential to have a positive impact on thousands of children in the Bethesda-D.C. area," Reyna told SoccerWire.com in a statement.
"The first step in our collaboration is the equipment drive. The equipment drive is a simple way to help underserved kids get the necessary equipment needed to play the game, to get them more excited about playing, and to let them know there are people out there that care."
+READ: Bethesda Tournament Boys Weekend kicks off Friday

Those unable to visit the Bethesda tournament who nonetheless wish to contribute equipment can drop off their gear donations at 9107 Gaither Road, Gaithersburg, Md. 20877.
"It is kind of a win-win for both. We want to help the inner-city kids, have them be a part of something different. And we want to teach our kids to give back," Triandafilou said.
"It would be great to double what we have [collected to this point] for sure," he added, noting that "shoes, soccer balls and bags" are the most needed items.