Baltimore Celtic gets tactical for PKs, wins U16 boys US Youth Soccer National Championship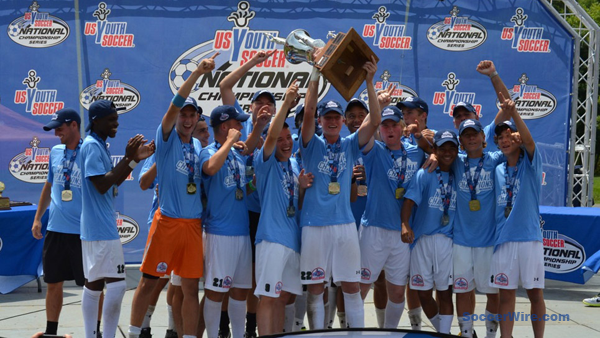 Penalties were the name of the game in the U16 boys National Championship between Baltimore Celtic 97/98 and Ohio Premier Eagles Green on Sunday morning. The match ended 1-1 in regular time, and with nothing going past either keeper in the two extra periods, it was on to PKs where Celtic emerged victorious by a 4-2 margin.
+ READ: 2014 US Youth Soccer National Champions crowned in Germantown, Md.
Celtic used their backup keeper for the penalty shootout, with rest and instincts on his side.
"Carson Hunt is our usual starting goalkeeper, who played four out of the five days. Dakota Harich played the other day, but he's fantastic on penalty shots, and he's got a mentality going into that game where he came off the bench and made a couple of plays," said Celtic head coach Brandon Quaranta.
Those two plays were two big saves in the shootout. On the first shot, Harich dove to his left to knock the shot away with ease. The final penalty he saw knocked off his hands, off the post, and trickled along in front of the mouth of the goal, just staying out.
+ READ: Q&A with Kieran McCarthy, PDA Harkes U19 Boys goalkeeper
"You have to do it for the family," said Harich. "That's what it's all about. You have to go up there and show up and make two saves. That's all it takes. Every single moment I was thinking about my family, my team, and make sure what I had to do to win the national title and how they relied on me and had the trust that they had for me."
Celtic practiced penalties for weeks to prepare for this moment. It paid off, as every penalty shot went in the back of the net to seal the victory.
"We do [practice penalties], especially when it comes to this time of year," Quaranta said. "Late in the year, when you're talking about really good teams like Ohio Premier, and all the other teams that were in this national championship series, games are tight. And the reality is, if you're going to win one of these things, it's probably going to come down to penalties at some point,"
Even Celtic's lone goal in regular time came from the 11 meter spot late in the first half. Aquinas Akinlosotu, Celtic's No. 10, knew what to do when he went up to take the shot.
"I was looking at the keeper for both PK's. He dove early and I put it the other way," said Akinlosotu.
What is probably the most heated discussion in all of soccer today is the way matches could end in penalty kicks. After two hours of running, kicking, screaming, jumping and tackling, the game could be decided by a few kicks from 12 yards away from goal. Proponents see it as a necessary element in order to prevent a game from lasting far beyond players' physical capabilities, while others see it as a cop out.
As for the Celtic opinions on whether matches should end in penalties, their thoughts were mixed.
"Personally, no. I was a player, and a coach. I understand the reason is for the time and the way games run on. I would hope we could find a way to decide it. Obviously, we were on the good end today, but I've been on that other end, and realize how hard it is to take. I hope at some point that we find some way to decide those games," Quaranta said.
"The better teams don't always win in PK's. I think the better team did win today. But it just comes down to shots. I don't think that's how it should be. It's a team sport, not a one-man sport," said Harich.
"It keeps everyone interested. It keeps everyone on edge. It was a good ending," said Akinlosotu.
Thed win for Baltimore Celtic wrapped up an undefeated run through the State, Regional and National Championships that saw the team score 38 goals and only concede six. The team posted a total record of 12 wins and three draws.