Baltimore Celtic players Keegan Kelly, Nicolas Brown commit to in-state schools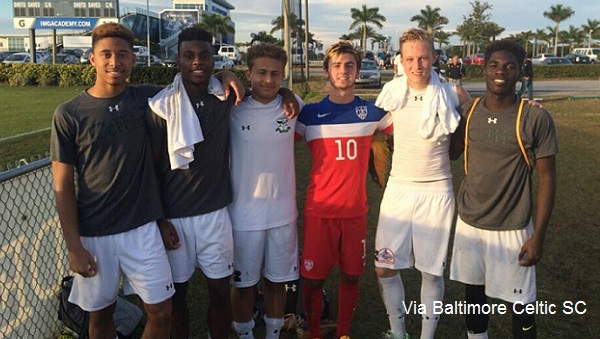 Baltimore Celtic SC teammates Keegan Kelly and Nicolas Brown have committed to play Division I soccer in their home state, with Kelly headed to the University of Maryland and Brown to Loyola University in 2016.
[player_box id=49294 leftright=left]Kelly announced his decision to sign with Sasho Cirovski's Terrapins today via Twitter, while Brown's commitment to Loyola was first reported yesterday by the Baltimore Sun. The two forwards helped Baltimore Celtic 97/98 capture the 2014 US Youth Soccer U-16 National Championship in July at the Maryland SoccerPlex, and led McDonogh to the Maryland Interscholastic Athletic Association A Conference championship during their sophomore season in 2013.
[player_box id=49283 leftright=right]Kelly and Brown compete on the international level as well. The forwards are members of the U.S. and Jamaican U-17 Men's National Teams, respectively. Brown recently completed a training camp with the Jamaican U-17 National Team which ran from Dec. 27 to Jan. 8 in preparation for the 2015 CONCACAF U-17 Championship which begins on Feb. 27.
+Read: U.S. U-16 BNT roster set for Aegean Cup in Turkey
Kelly bypassed his junior season at McDonogh to take part in the U.S. Soccer U-17 Residency Program in the fall, where he seems to have established himself as a mainstay on the U.S. roster. In December, he competed against the Baltimore Celtic U-18 squad at the IMG Cup Boys Invitational in Bradenton, Fla. as a member of the U.S. U-17s. He scored two goals against his home club in a wild 3-3 draw during group play.
"We're very proud of Keegan Kelly at our club, he's doing great things for the program," Baltimore Celtic and McDonogh High School coach Brandon Quaranta told SoccerWire.com. "I told him if he scores against us not to celebrate the goal, and instead of scoring one he scored two. The good thing is after the game they were taking pictures together and were happy, they really care about each other."
Both the U.S. and Jamaica U-17 National Teams have drawn Group A of the 2015 CONCACAF U-17 Championship, along with Cuba, Trinidad & Trobago, Honduras and either El Salvador or Guatemala, depending on which side earns a spot as a UNCAF qualifier.
Brown and Kelly will suit up as opponents when the U.S. faces Jamaica in the final group match on Wednesday, March 11 at 6 p.m. ET. All Group A games are held at Francisco Morazan Stadium in Honduras.