Ayo Akinola nets four for U.S. U-15 BNT in 6-2 win over Croatia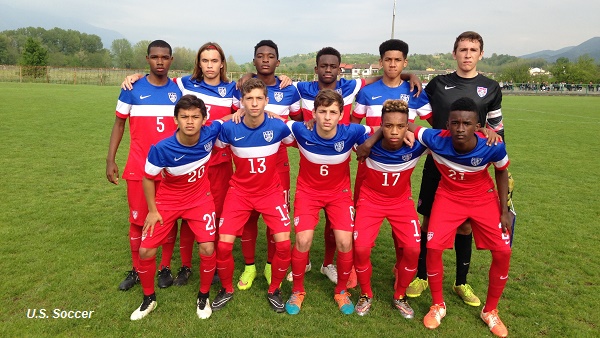 VIPOLZE, Slovenia (Via U.S. Soccer) – The U.S. Under-15 Boys' National Team continued its strong run at the 12th Tournament Delle Nazioni with a 6-2 win over Croatia on Sunday, April 26 in Vipolze, Slovenia.
Ayo Akinola scored four goals and Andrew Carleton added a brace – he also had one a day before against Costa Rica – to help the U.S. to six points in Group C. All six goals for the USA came with an assist, as Adrian Villegas recorded three, George Acosta two and Akinola added a final one. The U.S. U-15 BNT has now scored 10 goals in the tournament while only allowing three.
+Read: Lucas del Rosario, Andrew Carleton lift U.S. U-15 BNT in 4-1 win over Costa Rica
The USA will play its last group stage match against Slovenia on April 27 and will advance in the tournament based on seeding following play from all three groups competing.
Scoring Summary:

USA – Ayo Akinola (George Acosta), 31 minute: Acosta won a challenge at the half way line and played a ball immediately in behind to Akinola. Akinola was able to get a step on the final defender and finished for the USA's first goal of the game. USA 1, CRO 0
CRO – Leon Pretovic (David Colina), 34 minute: The USA turned the ball over the middle third of the field and Croatia played it wide to Colina who served the ball into the back post and found Pretovic, who was left unmarked and equalized the match. USA 1, CRO 1
USA – Ayo Akinola (George Acosta), 42 minute: The USA played a deep ball from its defending half down the right side to Acosta who was able to get in behind the Croatian defense. Acosta proceeded towards the goal and served a ball back across to Akinola, who tapped it in for the USA's second goal. USA 2, CRO 1
USA – Ayo Akinola (Adrian Villegas), 45 minute: The U.S. built its attack through a combination into the final third and Villegas slipped the ball into Akinola, who was able to beat the Croatian defender to the ball scored for the hat trick in the match. USA 3, CRO 1
CRO – Bartol Franjic, 57 minute: Croatia was able to notch its second goal in the game from a free kick from 20 yards out. USA 3, CRO 2
USA – Ayo Akinola (Adrian Villegas), 60 minute: Chris Durkin won a challenge at the halfway line and found Villegas right away in the attacking third; he then immediately turned to find Akinola slipping through a seam, allowing him to knock-in his fourth tally of the match. USA 4, CRO 2
USA – Andrew Carleton (Ayo Akinola), 63 minute: The U.S. built again through the middle third and after a couple different combinations, Villegas finds Akinola once again. Akinola received the ball and ran at the defense where Carleton is making a run from the left side. Akinola then slipped him the ball, allowing Carleton to send it to the back post. USA 5, CRO 2
USA – Andrew Carleton (Adrian Villegas), 65 minute: Carleton picked off a ball in Croatia's defensive third and then played a combination with Villegas, who gives the ball back to Carleton and finished within 6-8 yards. USA 6, CRO 2. FINAL
– U.S. U-15 Boys' National Team Match Report –
Match: U.S. U-15 BNT v. Croatia
Date: Sunday, April 26, 2015
Competition: Tournament Delle Nazioni, Group Play
Venue: Renje, Slovenia
Kickoff: 5 p.m. local
Attendance: 65
Weather: 69 degrees 
Scoring Summary:       1 2 F
USA                             1 5 6
Costa Rica                    1 0 1
USA – Ayo Akinola (George Acosta)                  31 minute
CRO – Leon Pretovic (David Colina)                   34
USA – Ayo Akinola (George Acosta)                  42
USA – Ayo Akinola (Adrian Villegas)                  45
CRO – Bartol Franjic                                          57
USA – Ayo Akinola (Adrian Villegas)                  60
USA – Andrew Carleton (Ayo Akinola)                63
USA – Andrew Carleton (Adrian Villegas)            65
Lineups:
USA: 22-Alex Budnik, 19-Jaylin Lindsey (2-Bryan Perez, 53), 5-Rayshaun McGann, 3-Kelee Cornfield-Saunders, 21-Chandler Vaughn (8-Chris Durkin, 53), 18-Chris Goslin, 6-Blaine Ferri (15-Carlos Anguiano Diaz, 60), 20-Adrian Villegas, 13-George Acosta (11-Andrew Carleton, 60), 16-Ayo Akinola, 17-Zico Bailey
Subs not used: 1-Eric Lopez, 7-Tim Weah, 9-Lucas Del Rosario, 10-Nicholas Taitague, 4-Jake Arteaga
Not dressed: none
Head Coach: John Hackworth
CRO: 12-Ivor Pandur, 11-Dino Kapitanovic, 5-Luka Jelenic (6-Ante Palaversa, 36), 4, Stipe Radic, 3-David Colina (2-Martin Krizmanic, 36), 14-Tomislav Dumlijan, 13-Di Mateo Lovric (10-Bartol Franjic, 36), 8-Luka Pavlak, 16-Leon Petrovic (7-Leon-Habib Ernst, 36), 19-Roko Baturina, 15-Matej Vuk (20-Antonio Marin, 18)
Subs not used: 9-Michele Sego, 17-Jozef Kuqi, Josip Sutalo
Not dressed: 1-Dominik Kotarski
Head Coach: Mladen Ivancic
Stats Summary: USA / CRO
Shots: 11 / 5
Shots on Goal: 11 / 3
Saves: 3 / 6
Corner Kicks: 3 / 4
Fouls: 9 / 2
Offside: 3 / 2
Misconduct Summary:
USA – Kelee Cornfield-Saunders (caution)          46 minute
USA – Bryan Perez (caution)                              56 minute
Officials:
Referee – Dzvzdanovic Jasmin
Referee Assistant No. 1 – Primoz Stoken
Referee Assistant No. 2 – Iztok Lozar