NCAAW: Atlantic 10 preseason poll, all-conference team announced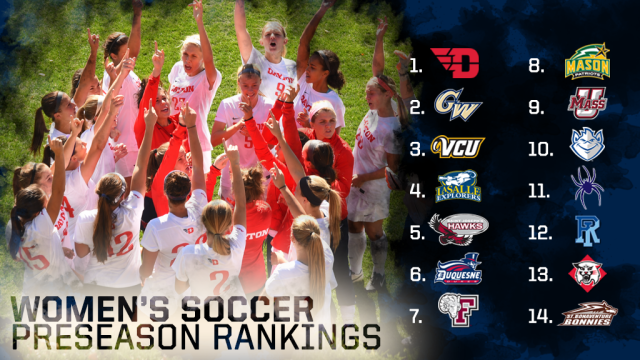 NEWPORT NEWS, Va. (Via Atlantic 10 Conference) – For the eighth consecutive year, the Dayton women's soccer team has been chosen as the Atlantic 10 Conference preseason favorite in a vote conducted by the league's 14 head coaches.
The Flyers earned 185 votes and eight first place votes to take the top spot in the rankings. UD was eliminated from the 2015 Atlantic 10 Women's Soccer quarterfinals by eventual champion Duquesne in a shootout.
George Washington ranked second in the predicted order of finish with five first-place votes, followed by VCU rounding out the top three.
Dayton (10-9-1; 8-2 A-10) will look to remain among the top teams in the league, despite graduating Ashley Campbell and Nicole Waters, the A-10's Offensive Player and Midfielder of the Year from last season. The Flyers return nine starters, including Alexis Kiehl, Nicolette Greisenger, Sidney Leroy, Libby Leedom, Meghan Blank and Beth Kamphaus, who contributed 19 goals and 14 helpers offensively. Dayton finished second in the regular season standings in 2015, and will aim to clinch a 12th regular-season title and 10th A-10 championship crown.
+Read: North Carolina picked No. 1 in ACC men's soccer preseason poll
Predicted to finish second, the Colonials (15-5; 10-0 A-10) are coming off of a perfect A-10 regular season, and a top-seed in last year's championship. GW also took home three of the five major awards including Coach of the Year, Sarah Barnes. Returning for GW are top scorers McKenzie Cowley (10 goals) and Rookie of the Year, Sofia Pavon, who added six goals and one assist in the Buff and Blue's historic season, including four game-winners.
The Rams (8-9-3; 6-2-2 A-10) finished fourth in last season's regular season standings, and return top goal scorer, Julia Suarez, who netted eight goals and five assists in the 2015 campaign. VCU graduated all-conference selections Gabby Dyer and goalkeeper Emma Kruse and will rely on senior leadership from Natalie Robles and Dallas Smith.
The league's head coaches also voted for a thirteen-member* Preseason All-Conference Team.
The top eight teams will compete in the 2016 Atlantic 10 Women's Soccer Championship, which will be held Nov. 3-6 at Rhode Island's Soccer Complex in Kingston, R.I.
2016 Atlantic 10 Preseason Team
Forwards
Alexis Kiehl, Dayton
Katie O'Connor, Duquesne
Julia Suarez, VCU
Midfielders
Linnea Faccenda, Duquesne
Alex Myers, George Mason
Sofia Pavon, George Washington
Emily Gingrich, Saint Joseph's
Defenders
Nicole Bates, Fordham
Ally Doyle, Fordham
Deja Davis, La Salle
Paige McDowell, La Salle
Kacey Bright, Saint Louis
Goalkeeper
Miranda Horn, George Washington
*a tie in the voting resulted in a thirteen-member team
| | |
| --- | --- |
| 2015 Overall Record, A-10 Record | Total Points (1st Place Votes) |
| 1. Dayton (10-9-1; 8-2) | 185 (8) |
| 2. George Washington (15-5; 10-0) | 173 (5) |
| 3. VCU (8-9-3; 6-2-2) | 153 |
| 4. La Salle (9-9-3; 5-4-1) | 134 |
| 5. Saint Joseph's (13-7; 7-3) | 133 |
| 6. Duquesne (12-10-1; 5-5) | 132 |
| 7. Fordham (13-7-2; 6-3-1) | 112 |
| 8. George Mason (9-9-2; 4-5-1) | 111 |
| 9. Massachusetts (6-8-4; 3-5-2) | 82 |
| 10. Saint Louis (8-9-2; 2-6-2) | 76 |
| 11. Richmond (5-12-1; 3-6-1) | 73 |
| 12. Rhode Island (3-15-1; 0-10) | 46 |
| 13. Davidson (7-12; 3-7) | 32 |
| 14. St. Bonaventure (6-11-2; 3-7) | 28 |