Atlantic 10 men's preseason poll, all-conference team announced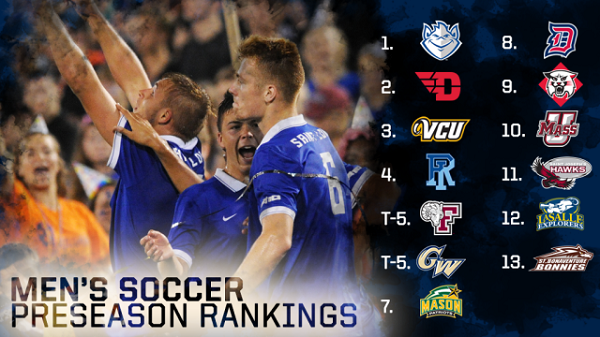 NEWPORT NEWS, Va. (Via Atlantic 10 Conference) – For the fourth straight season, the Saint Louis men's soccer team has been voted first in the 2016 Atlantic 10 Conference Men's Soccer Preseason Poll, which was announced by the league on Wednesday.
SLU tallied a total of 153 points and five first- place votes to take the top spot in the poll, while Dayton, the 2015 A-10 Champion, earned a total of 150 points to place second, also grabbing five first- place votes. VCU, collected 147 votes from the poll to finish third.
The Billikens (8-7-2; 4-2-2 A-10) seek to make their third NCAA appearance in five years. Saint Louis welcomes twelve newcomers, including Saadiq Mohammed and Leo Novaes, both of whom were voted to the Preseason All-Rookie Team. Saint Louis finished third in the regular season standings in 2015, and are vying for fifth regular-season title and third A-10 championship crown.
+Read: Div. I men's college coaches propose Academic Year Season Model
Dayton (13-5-5; 5-1-2 A-10), will look to defend their title, leaning on senior defender Lalas Adubaker, who was named to the 2015 First Team All-Conference, and was selected for the 2016 Preseason All-Conference Team.
VCU (7-10-4; 3-2-3 A-10), which was the runner-up in the 2015 A-10 Championships. The Rams return 10 starters, including Jorge Herranz, Rafael Andrade Santos, who were voted to the Preseason All-Conference team, and also add eight newcomers.
Rhode Island was picked to finish fourth with 126 points, followed by Fordham, the 2014 A-10 Champion, and George Washington who tied for fifth with 110 votes. George Mason, Duquesne, Davidson, and Massachusetts finish out the top ten. Saint Joseph's, La Salle and St. Bonaventure round out the poll.
The league's 13 head coaches voted in the poll and for the Preseason All-Conference and All-Rookie Team, which are listed below.
The 2016 A-10 men's soccer season kicks off Friday. The top eight teams will compete in the 2016 Atlantic 10 Men's Soccer Championship, which will be held Nov. 10-13 at Alumni Soccer Stadium in Davidson, N.C.
Preseason Poll Votes (First Place Votes in Parenthesis)
1. Saint Louis (5) 153
2. Dayton (5) 150
3. VCU (2) 147
4. Rhode Island (1) 126
T-5. Fordham 110
T-5. George Washington 110
7. George Mason 101
8. Duquesne 76
9. Davidson 71
10. Massachusetts 45
11. Saint Joseph's 40
12. La Salle 37
13. St. Bonaventure 17
2016 Atlantic 10 Preseason All-Conference Team
Forwards
Janos Loebe, Fordham
Henning Dirks, George Mason
Jorge Herranz, VCU
Midfielders
Jannik Loebe, Fordham
Garrett Heine, George Washington
Dominik Richter, Rhode Island
Rafael Andrade Santos, VCU
Defenders
Lalas Abubaker, Dayton
Matt Lewis, Fordham
Tobi Adewole, George Washington
Goalkeeper
Nils Leifhelm, Rhode Island
2016 Atlantic 10 Preseason All-Rookie Team
Bennett Lehner, Dayton
Daniel Dos Santos, Dayton
Dantae Greer, Fordham
Tunde Akinlosotu, George Mason
Raheem Lawal, George Mason
Grant Robinson, George Mason
Andrew Barrowman, Massachusetts
Saadiq Mohammed, Saint Louis
Leo Novaes, Saint Louis
Petros Agiasiotis, VCU
Gerald Vargas, VCU