As USWNT leave for Winnipeg and Women's World Cup, many questions remain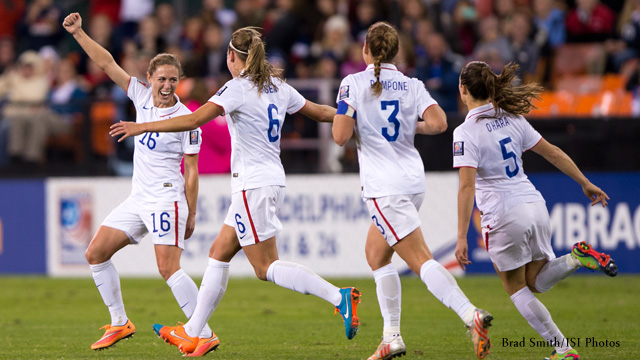 We're now less than a week out from the start of the Women's World Cup. Next match counts.
+READ: USWNT plays Korea Republic to scoreless draw in World Cup send-off
Unfortunately, as anybody who watched this weekend's goalless sendoff draw with South Korea could tell you, the U.S. Women's National Team heads off to Winnipeg and a June 8 date with Australia (7:30 p.m. ET, broadcast live on FOX Sports 1, NBC Universo) with many unanswered questions.
Left Back
Meghan Klingenberg may have locked down the starting spot at left back, but that hasn't been matched by lockdown defending on the field. Does she have the defensive nous to cope with top attackers, and the pace to keep up with the speedy wide players that Australia (among others) can bring to bear? And will she get defensive help from her wide midfielder?
Defensive Midfield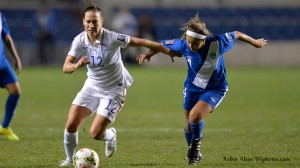 It's been said before, it will undoubtedly be said again: Lauren Holiday is a brilliant player, one to build a team around–but she is not a defensive midfielder. Never mind the question of why Jill Ellis insists on playing one of her most talented players dreadfully out of position, will the U.S. midfield in the World Cup be structured to give Holiday some defensive help? And will it be structured to give her passing options in possession other than booting it long?
Central Midfield
As the World Cup has approached, the U.S. has reverted back to its favorite old-school 4-4-2. But can the WNT maintain possession and build attacks consistently with only two starting in central midfield? Is maintaining possession in fact the game plan? And if there is a different, more "direct" (longball) gameplan, will it work against more tactically sophisticated sides?
Wide Midfield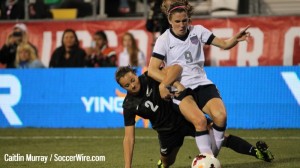 The oddity of the current USWNT 4-4-2 is that it is built to allow wingers to get wide, get to the endline, and put it in the mixer in fine English style – and yet the best old-school winger the U.S. has (Heather O'Reilly) is largely warming the bench. And of late the wide midfield positions have been filled by players for whom that is not their normal (or best) role. Christen Press, for example, is a forward; Morgan Brian a No.10. And yet they are being deployed nominally as wingers. Will that continue once Megan Rapinoe returns to the starting lineup? Whoever is playing out wide, will they be instructed to track back and provide additional cover for Holiday, Klingenberg and right back Ali Krieger? And will they actually do so?
Forward
For all that one hears about the strength of the USWNT at forward, the position is surprisingly unsettled at the moment. Alex Morgan hasn't played a match in seven weeks, and it remains unclear when (if?) she will see action in the World Cup. Sydney Leroux started against South Korea; is her pace and power, however unsubtle, what Ellis is looking for in a forward? And if she starts against Australia, who will partner her?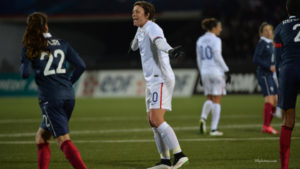 That brings us, of course, to Abby Wambach. Put aside her absence from NWSL this year, and the remarkable recent interview she gave to the New York Times; her on-field showings over the last six months have done little to affect my view that at 35, she is now strictly a flat-track bully. But she is a flat-track bully with unmatched clout within the WNT, and indeed the USSF. How much is her single-minded determination to win a World Cup for herself dictating team planning and decision-making? Will she start during the group stage? Will she start in the opening match against Australia? And if she does, how long will it take Ellis to sub her out?
Chemistry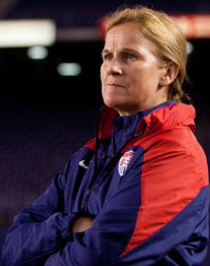 The WNT's performance against South Korea exhibited many of their typical failings under Ellis, but above all they looked tired and flat. Is that simply a function of a brief lack of focus and a long week of media outreach, or a symptom of broader problems of coaching, spirit, and chemistry?
Let's not forget that four years ago the U.S. was lackluster in the run-up to the World Cup, and then look what happened. But can Ellis reprise Pia Sundhage's feat in 2011 of getting the most out of her squad when it really counted? And is that the way to bet?
There have been questions swirling about the course taken by the USWNT since former coach Tom Sermanni was unceremoniously sacked a year ago; and there are still many questions remaining. Now is the time for those questions to be answered – one way or another.