As "Fan Tribute Tour" rolls on, uncomfortable realities await USWNT
By Charles Boehm
The U.S. Women's National Team enters the advanced stages of its 10-game "Fan Tribute Tour" of exhibition matches with two friendly matches against Germany starting tonight at Toyota Park in Bridgeview, Ill. tonight (6:30 pm ET, broadcast live on Fox Soccer) and continuing in Hartford, Conn. on Tuesday (7:30 pm ET, NBC Sports Network).
The series is designed to celebrate – and monetize – the nationwide adoration for the USWNT following their gold-medal run in the London Summer Olympics. Appreciative audiences have steadfastly flocked to venues in Rochester, N.Y., Carson, Calif. and Commerce City, Colo., with more than 18,000 expected tonight and similar crowds expected for visits by Ireland in Portland, Ore. and Glendale, Ariz. later this fall. Three more events are yet to be announced.
And all the while, difficult decisions and the opening stages of a generational transition await a team with uncertainty in its future.
The U.S. Soccer Federation finds itself in an awkward situation as it attempts to balance the financial necessities of showcasing its established superstars with the less-glamorous process of advance preparations for the 2015 FIFA Women's World Cup.
At what point does the glow of Olympic victory give way to the morning-after reality wherein a new coach challenges veterans with the introduction of young bucks who are statistically far more likely to be the nation's best players in three years' time?
"It's very difficult for somebody to go in on the victory tour when they're trying to bring a new squad in, and you've got all the old players there. You need to start fresh," observed Paul Riley, the veteran women's coach who looks to be one of the short-list candidates for Pia Sundhage's successor as the USWNT boss. "The air's gone out of it. It's done with.
"I think it was good for August and September, but now at this point, everybody's moved on. Everyone's into college mode or whatever, and I think it just needs a finish now. Do the Germany games and move on."
Federation president Sunil Gulati and the rest of the decision-makers who are presently mulling a range of candidates have not stressed speed as a priority in the process, citing the absence of pressing events facing the team in the near future. Youth technical director Jill Ellis is leading the team in the Germany matches and offers a safe pair of caretaker's hands if the search drags on. But there are those who believe there's actually no time to spare.
"Whomever they hire needs to get it right, because we are right at the brink of greatness, but we are toeing a fine line right now," Penn State head coach and former USWNT assistant Erica Walsh told Soccer Wire earlier this month.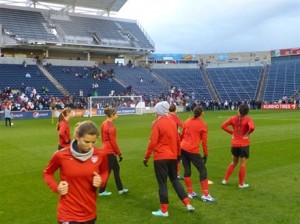 "We don't have a month to spare in order to prepare for the World Cup in Canada in 2015. We've got to get to work. I think celebration tours are great, we want to honor the wonderful successes of our Olympians, but we've got work to do right now. I think we can do both, I think we can honor these wonderful women past and present, and I think we could potentially use it to look at some young players as well."
The youth club and collegiate systems continue to churn out promising talents, and the U-17 and U-20 national teams are loaded with prospects. The combined effect of no new head coach and no new professional league (another pivotal initiative being mulled by the federation) threaten to leave a new generation in limbo, however. The Women's United Soccer Association and Women's Professional Soccer pro leagues once offered a ready-made proving ground for up-and-coming US stars, but are now shuttered.
Riley even expresses fears that Germany's visit could expose the current US landscape's deficiencies in embarrassing fashion. The US boasts superlative talent and battle-tested chemistry. But the Germans, who did not take part in the London tournament, are in the midst of their domestic league's home stretch and have been difficult opponents for years.
"Thank God the new coach won't have to coach the two Germany games, because who the hell would want to coach against them?" he said. "They're going to be fit as fiddles. Our girls haven't been training [at full speed], obviously – it's an offseason, they finished the Olympics.
"Germany's gung-ho – 'It's America we're playing in two games.' They're going to come in super-fit [during the] end of their season in the Bundesliga and they're going to be flying. So Jillian's got her work cut out – good luck to Jillian, it's going to be two tough games. But they [the USWNT] have got enough experience where they'll probably hang in the games."
Without a few jarring changes to the status quo, it will be quite difficult to sustain that level of quality for years to come.