Arizona hosts final US Club Soccer id² Training Camp of 2016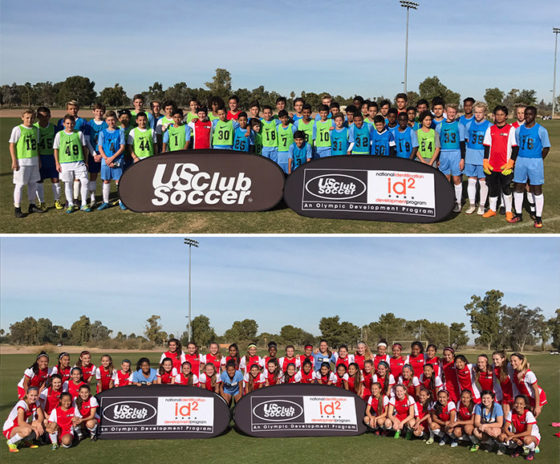 Video | Photos
Rosters – Boys / Girls
CASA GRANDE, Ariz. (Via US Club Soccer) – The id² age group cycle targeting 2003 boys and 2002-03 girls came to a close this past weekend in Arizona with the fourth and final id² Training Camp of the year. A total of 106 players from 68 clubs across the country participated in a competitive, high-energy atmosphere at Grande Sports World in Casa Grande, Ariz., Dec. 8-11.
Players competed in various training sessions, scrimmages and off-the-field presentations – all under the watchful eye of id² staff and U.S. Soccer Federation scouts.
id² directors Gerry McKeown (boys) and Tricia Taliaferro (girls) were on-site to implement id² curriculum, along with nine staff coaches. Coaching the boys this weekend are: Matt Bernard (Sacramento United), Eddie Henderson (Issaquah SC), Rene Miramontes (San Diego Crusaders), Carlos Parra (Weston FC), Tyler Stakiwicz (Rutgers University) and Mike Stauber (Pateadores). On the girls side are: Tom Amick (Heat FC), Mike Kelly (Mustang SC), Doug Landefeld (Michigan Hawks), Hideki Nakada (Stanford University). Jane Campbell, of Stanford and the U-23 U.S. Soccer women's national team, assisted the girls' goalkeeper training.
At the conclusion of camp, players received instruction from their camp coaches for improvement. "We want to empower them to be decision makers on their own," McKeown said. "We give them information about specific positions. We give them information about what went well and certainly opportunities for improvement."
Alex Zotinca and Bobby Puppione were on-site to scout boys and girls players, respectively, on behalf of U.S. Soccer for potential future invitations to youth national team programming.
US Club Soccer's id2 Program provides an opportunity for the country's elite youth players to be identified and developed, and scouted for inclusion in U.S. Soccer's national team programs. A comprehensive national scouting and recommendation program is used to form a pool from which top players are invited to attend an id2 Training Camp.
"Each year has gotten better and better," Taliaferro said. "We've been able to attract some players that may not be on the big club team or may not be going to the big tournaments but we've created an opportunity for them to come together and get exposed on a more national level. We've had success with it."
While this camp was the final training camp of the cycle, the cycle officially concludes after National Selection programming in 2017. A team of top boys players will travel abroad for the 2017 id² National Selection International Tour early next year – more details will be announced soon. On the girls side, the id² Program and ECNL continue to work together to provide a world-class experience at annual ECNL/ id² National Training Camps in the summer.