Midwest United FC U-14 Girls claim Super Y League championship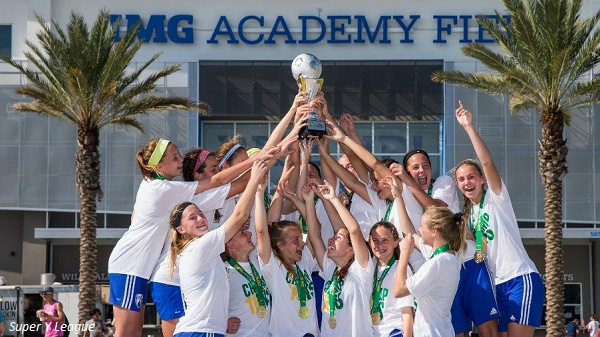 BRADENTON, Fla. (Via Super Y League) – Midwest United FC's U14 Girls enjoyed a quick start and responded well after conceding a second-half equalizer, earning a 2-1 victory against Chicago Inferno at the 2016 Super Y League North American Finals on Tuesday at IMG Academy Stadium.
Jenny Dear led the way with the game-winning goal and an assist on Rylee Vruggink's score approximately five minutes into the match.
"It was a good match – both teams were evenly matched," Dear said. "We were aggressive and we wanted the goals and then win, and we came out on top."
Vruggink's tap-in early in the first half set the tone for United, which worked the bull up quickly from an Isabelle Gilmore throw-in. Dear crossed in from the right side as Chicago's defense was heavy-footed during this sequence. That set the table for Vruggink, who was in prime position to redirect for the 1-0 lead.
+Read: Midwest United FC U-18 Girls take Super Y League title
"It was just a great team effort," Dear said of the sequence. "The team was thinking on the same page, and that's great."
Nina Nicosia was one of Chicago's strongest attacking players, and she found a second-half equalizer thanks to a strong run behind the United defense off of a Julia Simon dish. It appeared to turn the tide in the Inferno's direction, but within just a couple minutes Midwest regained the lead.
Dear lofted a shot over Chicago's goalkeeper and just inside the right post for a 2-1 lead that held up.
"Like most times when you concede a goal, another goal comes five minutes after," Head Coach Lewis Robinson said. "We managed to get that one when they switched off a little bit on the counterattack."
Perhaps Midwest United's strongest element Tuesday was the club's midfield play, forcing the Inferno into some turnovers and springing in the offensive direction.
"We knew that was important," Robinson said of the midfield advantage. "We won that 3-on-3 battle, 4-on-4 battle, and we did a good job of that I thought. The girls worked very hard working first balls and second balls, which then allows us to set up those counterattacks and see the game out."
Midwest United's work rate ultimately led the way to a tournament crown.
"This team is very determined," Robinson said. "They work very hard, and that's what they did today and all summer. They have a lot of grit and defended really well."