All-Star teams announced for ODP Boys Thanksgiving Interregional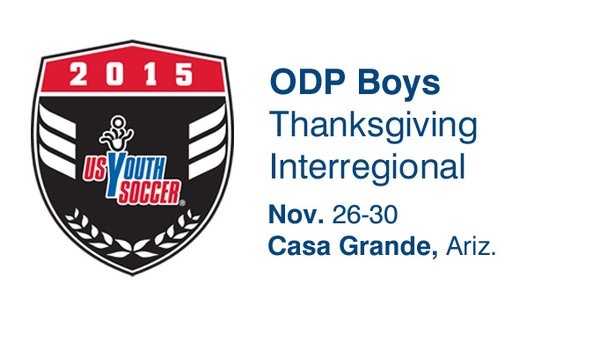 Scores, Schedule and Standings
FRISCO, Texas (Via US Youth Soccer) – US Youth Soccer has announced the US Youth Soccer ODP All-Star teams for the 2015 US Youth Soccer Olympic Development Program (ODP) Boys Thanksgiving Interregional, which recently took place Nov. 26-30 at Grande Sports World in Casa Grande, Ariz. Of the nearly 150 players that participated in the event, two rosters were constituted based on outstanding performance – one for 2001 and 2002 age groups.
Region I's Dennis Mensah led all scorers in the tournament with three goals in the 2001 age group. Region I and Region III tied for the most wins with three across the two age groups. In the 2001 age group, Region III finished at the top by winning two games and tying a third. Region II edged out Region I and Region IV by one point in the 2002 age group as the difference between first and fourth place was just two points.
The US Youth Soccer ODP Boys Thanksgiving Interregional featured players that were selected from US Youth Soccer State Association and Regional level evaluations. Throughout the event players attended training sessions and competed in matches in front of U.S. Soccer national staff and collegiate coaches for the opportunity to be selected to a higher level of play.
2015 US Youth Soccer ODP Boys Thanksgiving Interregional All-Star Teams
2001 All-Star Team
Player
Region
Position
Club
Hometown
Aidan
 Bates
Region II
Forward
Sporting KC
Leawood, KS
Andrew
 Bliss
Region II
Midfield
Metro United Soccer Club
Maize, KS
Hunter
 Kochiss
Region I
Keeper
Shelton, CT
Francis
 Nardiello-Smith
Region I
Midfield
Bristol, VT
Eric
 Smits
Region II
Midfield
Minneapolis United
Edina, MN
Garrett
 Socas
Region I
Midfield
McLean, VA
Jayson
Baca
Region IV
Forward
Rio Rapids
Albuquerque, NM
Tyler
Baughcome
Region III
Defender
CESA
Piedmont, SC
Taylor
Booth
Region IV
Midfield
La Roca FC
Eden, UT
Liam
Butts
Region III
Midfield
Gol SA
Loganville, GA
Rian
Jamai
Region III
Midfield
FC Florida
Port St. Lucie, FL
Jackson
Jolley
Region III
Defender
Rockdale Youth SA
Mansfield, GA
Natnael
McDonald
Region III
Midfield
Gol SA
Lilburn, GA
Aris
Muthra
Region III
Defender
Mirimar United
Mirarmar, FL
José
Quintero
Region III
Forward
Global Premier Soccer
Orlando, FL
Kris
Shakes
Region III
Keeper
FC Florida
Coral Springs, FL
Tanner
Tessman
Region III
Midfield
Birmingham United SA
Birmingham, AL
Thomas
Toney
Region III
Defender
Gol SA
Suwanee, GA
2002 All-Stars
Player
Region
Position
Club
Hometown
Joshua
Atencio
Region IV
Midfield
Crossfire Premier
Bellevue, WA
Liam
Carpenter-Shulman
Region I
Midfield
Amherst, MA
Thomas
Corral Chavez
Region I
Midfield
Manassas, VA
Ghandi
Cruz
Region II
Keeper
Chicago Magic
Aurora, IL
Liam
Elliott
Region IV
Defender
WPFC
Tacoma, WA
Zackery
Farnsworth
Region IV
Forward
Park City SC
Park City, UT
Jahlane
Forbes
Region III
Defender
Florida Rush
Clermont, FL
John
Franks
Region III
Midfield
Concorde Fire SC
Atlanta, GA
Kirezi
Freddy
Region II
Forward
Dynamo FC
Indianapolis, IN
Donovan
Hesselmeyer
Region III
Defender
North Fort Meyers SC
N Ft. Myers, FL
Theodore
Ku-DiPietro
Region I
Midfield
Oakton, VA
Andres
Labate
Region IV
Midfield
Westside Timbers
Salem, OR
Danny
Luis Flores
Region IV
Midfield
Juventus Jaguars
Half Moon Bay, CA
Diego
Olivares
Region II
Forward
DC Bulls
Dodge City, KS
Ethan
Russell
Region I
Keeper
Gore, VA
Joseph
Scally
Region I
Midfield
Lake Grove, NY
Tomas
Silva
Region IV
Defender
Tanque Verde SC
Tucson, AZ
Thai
Wichienwidhtaya
Region IV
Forward
Seattle United
Seattle, WA