All-Star teams announced for ODP Boys Florida Interregional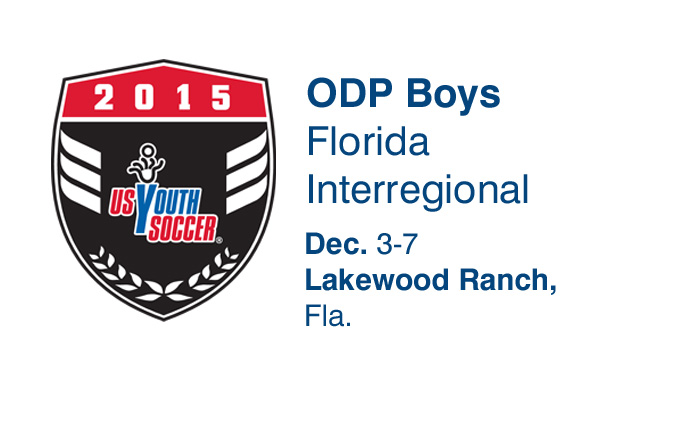 Daily Recaps
Scores, Schedule and Standings
FRISCO, Texas (Via US Youth Soccer) – US Youth Soccer has announced the US Youth Soccer ODP All-Star teams for the 2015 US Youth Soccer Olympic Development Program (US Youth Soccer ODP) Boys Florida Interregional, which recently took place Dec. 3-7 at Lakewood Ranch High School in Lakewood Ranch, Fla. Of the nearly 150 players that participated in the event, two All-Star rosters were named based on outstanding performance – for the 1998 and 1999 age groups.
The leading scorer of the tournament with three goals for Region IV, George Sanchez, is featured on the 1998 All-Star team. Sanchez also claimed the 2015 US Youth Soccer ODP Region IV and National Championship title with California South 98. Five other members of the All-Star teams have ODP Championships experience as Antonio Sanchez, Leroy Enzugusi and Ryan Johnston reached the finals of the 2015 ODP Championships with Iowa 98, only for Sanchez to score the game-winner in the 84th minute. Trey Jackson has twice qualified to the ODP Championships with Florida 98, and Kyle Robbins qualified to the 2015 ODP Championships with Georgia 99. Chad Morgan and Devin Cornejo won the 2014 ODP Region IV Championship title with Cal South 99.
+Read: All-Star teams announced for ODP Boys Thanksgiving Interregional
Five other members of the All-Star teams have advanced out of the group stage in recent US Youth Soccer Regional Championships. Ryan Mackey reached the quarterfinals of the 2015 Region III Championships with Liverpool 98 (TX-N), while Daniel Malki's SC del Sol 98 Colavecchia (AZ) team took two-time US Youth Soccer National Champion Santa Barbara SC White (CA-S) to the brink, but ultimately came up short in the finals of the 2014 Region IV Championships. Whitney Golsalves advanced to the quarterfinals of the 2013 Region III Championships with TSC Hurricane 99 Bedwell (OK), Garrett Opperman reached the semifinals of the 2014 Region II Championships with MPLS United Premiere (MN) and Samuel Steinberg narrowly missed out on the 2015 National Championships as Dix Hills Hurricanes (NY-E) finished second at the 2015 Region I Championships.
A few All-Stars also have competed in the US Youth Soccer National League as Cole Spofford and his Arlington Impact Red (VA) team currently is second in the 2015-16 National League Blue Division after a 3-1 start. Blake Aronson is a member of the South Huntington Lightning (NY-E) that squad currently sits sixth in the National League Red Division, while Erik Sigman placed fourth in the 2013-14 National League Blue Division with CUP Gold 99/00 (OH-S).
The US Youth Soccer ODP Boys Florida Interregional featured players that were selected from US Youth Soccer State Association and Regional level evaluations. Throughout the event players attended training sessions and competed in matches in front of U.S. Soccer national staff and collegiate coaches for the opportunity to be selected to a higher level of play.
2015 US Youth Soccer ODP Boys Florida Interregional All-Star Teams
1998 All-Star Team
Player
Region
Position
Club
Hometown
Jordan
Broadwater
Region III
Midfielder
FC Dallas Tri
Kingsport, TN
Brandon
Clegg
Region I
Midfield
 
Manassas, VA
Michael
Gibbons
Region II
Defender
Michigan Wolves
Canton, MI
Jacob
Gruber
Region II
Keeper
Indiana Fire Juniors
Fishers, IN
Trey
Jackson
Region III
Forward
Leg AZ
Ocala, FL
Jacob
Lyon
Region II
Defender
Rush Lansing/TNT
Holt, MI
Ryan
Mackey
Region III
Defender
Liverpool FC
Parker, TX
Daniel
Malki
Region IV
Midfield
SC Del Sol
Pheonix, AZ
Antonio
Sanchez
Region II
Forward
Iowa Soccer Club
Coralville, IA
George
Sanchez
Region IV
Forward
California Rush
Long Beach, CA
James
Scasserra
Region III
Defender
Ft. Lauderdale Select
Lighthouse Point, FL
Cole
Spofford
Region I
Defender
 
Broad Run, VA
Andrew
Thomasson
Region II
Defender
Indiana Fire Jr
Columbus, IN
 
 
 
 
 
 
1999 All-Stars
 
 
 
 
Player
 
Region
Position
Club
Hometown
Blake
Aronson
Region I
Defender
 
Huntington Station, NY
Devin
Cornejo
Region IV
Midfield
Legends
Placentia, CA
Leroy
Enzugusi
Region II
Forward
Cedar River SA
Marion, IA
Whitney
Gonsalves
Region III
Midfielder
Tulsa United
Tulsa, OK
Ryan
Johnston
Region II
Defender
Sporting Iowa
West Des Moines, IA
Tyler
McElhinney
Region I
Keeper
 
Jericho, NY
Chad
Morgan
Region IV
Defender
North Valley SC
Northridge, CA
Matthew
O'Connell
Region I
Forward
 
Little Egg Harbor, NJ
Garrett
Opperman
Region II
Defender
Minneapolis United
Minneapolis, MN
Kyle
Robbins
Region III
Defender
Rockdale YSA
Fayetteville, GA
Erik
Sigman
Region II
Midfield
CUP
Cincinnati, OH
Samuel
Steinberg
Region I
Midfield
 
Dix Hills, NY