About face? Heinrichs says Girls DA will allow high-school play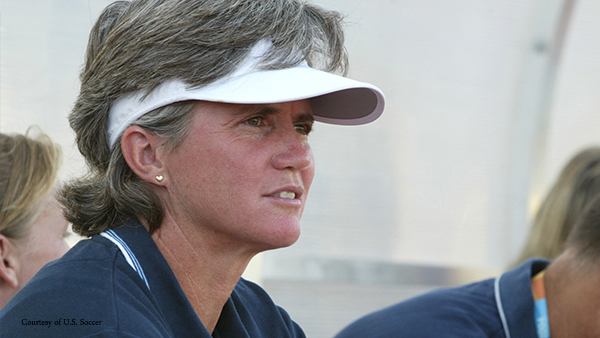 U.S. Soccer emphasizes the importance of a full-time, professional-inspired academy model for elite youth players – one that does not include participation in high-school soccer, generally perceived to harbor chaotic, uneven standards of play.
Abstaining from high-school play was presented as a founding principle of the federation's new Girls Development Academy when that league, set to kick off in fall 2017, was announced, just as the boys DA has mandated since 2012.
+POLL: Four questions on U.S. Soccer's Girls DA and ECNL's future
But USSF's women's technical director April Heinrichs opened the door to a substantial loophole in that policy in a conversation with SoccerAmerica's Mike Woitalla this week.
"Girls can play high-school soccer," said Heinrichs when asked if she was "still 100 percent confident" that the Girls DA's "no-high-school rule" was the right course of action. "They just can't do both at the same time."
When Woitalla followed up, Heinrichs suggested that players could step away from their GDA clubs to participate in their high-school seasons and then return, apparently without penalty.
"The club can roster them. They can spend those two months out of the Development Academy, and then come back later in the season. The Girls Development Academy will be a 10-month season," said the former U.S. Women's National Team head coach. "We're saying girls have to make choices. There's the Girls Development Academy. There's high school soccer, ECNL, other leagues – girls cannot do it all."
Heinrichs went on to echo the customary critiques of high-school play in no uncertain terms. But the sum of her remarks in the detailed Q&A are a striking moderation of what was originally framed as a Girls DA platform that would largely mirror the established boys competition.
Since 2012 players in the federation's boys Development Academy league have been barred from taking part in high-school play, with the exception of a small handful of waivers handed out to top players whose academic scholarship or enrollment is contingent on playing for their school's team. The rule – which also applies to other outside activities like ODP – is intended to ensure a quality, consistent training environment, optimize practice-to-game ratios and reduce wear and tear on young bodies and minds.
+READ: High-school dropouts – Will U.S. Soccer's new girls Development Academy bar school play?
"Clubs will be expected to train a minimum of four times a week. The players in the Girls' Development Academy clubs will play exclusively within the Academy program and will not play in any outside competition, such as ODP or high school," read U.S. Soccer's press release officially announcing the formation of the GDA in February.
"No one is talking about high-school soccer as a player development environment," Heinrichs told Woitalla. "It's a social environment. A 'my daughter gets her name in the local newspaper' environment. It's not a player development environment. In fact, it develops bad habits and complacency. For any player who wants to play in college, the best environment is going to be club soccer.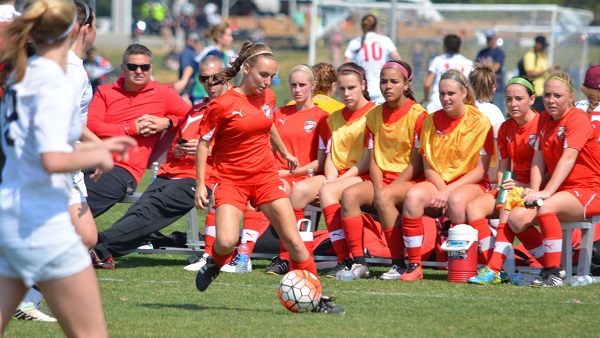 "We know from research and from leagues around the world and our own experiences in this country that the rate of injuries is tremendous in girls soccer, and largely it's an overuse issue … In soccer, there's been no moderation. We've been asking our players to play on high-school teams, club teams, ODP, state teams … The Development Academy puts standards in place that are player development standards."
Woitalla's full Q&A also touches on the Girls DA's relationship to the ECNL, teenage USWNT star Mallory Pugh, the Under-17 Women's National Team's recent World Cup failure under coach B.J. Snow and more. It is packed with useful insight on the federation's development policies, which Heinrichs takes a lead role in shaping.
+READ: SoccerWire Q&A – April Heinrichs dishes on Girls DA, Mallory Pugh and more
A more pragmatic federation policy towards high-school participation – which remains significantly more central to the typical girls soccer experience than it is for boys – would be welcomed by many coaches and parents across the United States. Yet it remains to be seen how the system outlined by Heinrichs would play out in practice.
"Our model will be player-centered," she told Woitalla. "We will try to create the very best environment for a player on a daily basis. There will be coaching standards, from licenses to methods of coaching to coaching behavior. There will be a competitive standard. We know from the Boys Development Academy, that over time girls will gravitate toward the Girls Development Academy, whether it's in one year or three years."