Abby Wambach breaks Mia Hamm's goals record as U.S. Women whip South Korea 5-0 in N.J.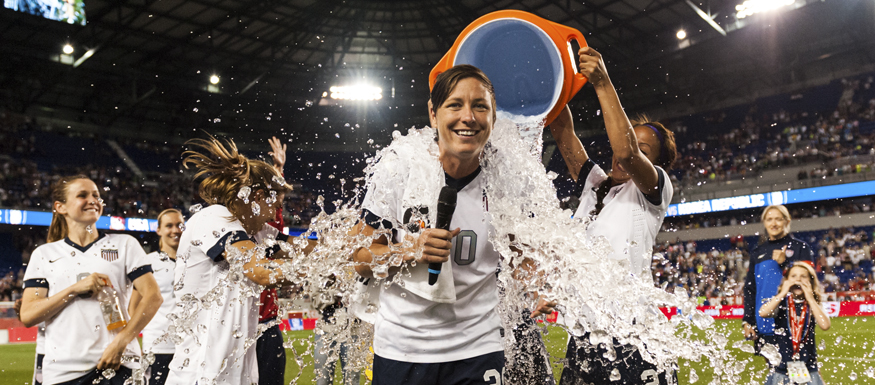 On a magical and historic night for the U.S. Women's National Team, forward Abby Wambach needed less than half an hour to pass Mia Hamm and become the top goalscorer in women's international soccer history during a 5-0 rout of South Korea in front of 18,961 spectators at Red Bull Arena in Harrison, N.J.
Wambach scored four goals, all in the first half. But it was the third strike in the 29th minute that gave her 159 for her career and moved her past USWNT legend – and her old teammate – Mia Hamm to become the all-time leading leader in career international goals.
Fittingly, she scored the record-breaking goal on a trademark diving header off a perfect corner kick from Megan Rapinoe, who famously sent her the cross that she headed home in the 2011 FIFA Women's World Cup quarterfinal against Brazil.
Wambach's teammates engulfed her as the players and the staff on the U.S. bench sprinted out onto the field to join them in a joyous celebration.
"It's surreal to begin with," said Wambach. "I'm so thankful and my teammates were trying to get me those goals. I can't thank them enough. As a competitor you want to be done with the things that put me at the forefront of conversations. This team is too good to be talking about one person."
Wambach got goal No. 157 in the 10th minute after showing strength inside the penalty area with a powerful spin move in front of the net amongst six surrounding Korean players. She smacked her low shot into the left corner from 10 yards out and the crowd of almost 20,000 fans could sense that it would be a special night.
She then tied the record with goal 158 off a spectacular redirected diving header in the 19th minute. Lauren Cheney wiggled free on the left wing and sent a perfect cross into the middle for Wambach to power home. Of Wambach's 160 career goals, 69 have come with her head.
Wambach took the first steps to putting some distance between herself and Hamm with a goal in first-half injury time on a low cross that Alex Morgan could have shot, but instead rolled across the goal mouth to her history-making teammate. Wambach slid to stretch the net from close range and now leads all players past and present with 160 career international goals.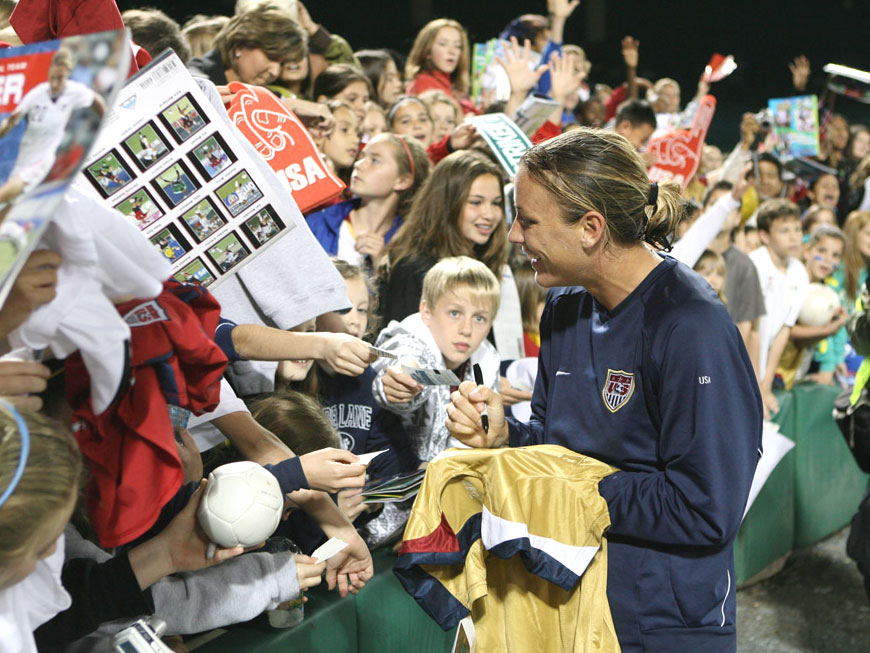 Wambach was subbed out in the 58th minute for Christen Press to cheers of "Abby" from the crowd, and received congratulatory hugs from teammates.
After starting her first match since returning from injury, USWNT goalkeeper Hope Solo didn't see much action in the 45 minutes she played, and gave way to Jill Loyden for the second half.
Cheney, who picked assists on the first two Wambach goals, scored her second goal in two games with a 64th-minute tally from a point-perfect cross from 52nd minute substitute Kelley O'Hara.
The WNT had a flurry of chances in the game, outshooting the Koreans 25-2, and only allowing one shot on goal, while earning 11 corner kicks.
This was the final U.S. Women's National Team match during the current NWSL season. The U.S.-based players will now return to their clubs and will not come together again until September, after the inaugural NWSL champion is crowned.
The USA's record moves to 8-0-2 in 2013, with the draws coming against Germany and Sweden and will not return to action until a match in early September. The USA is riding a 34-game unbeaten streak since their last loss, which came to Japan (1-0) on March 5, 2012 at the Algarve Cup in Portugal. Over those 34 games, the U.S. has scored 110 goals while allowing 26 in 29 wins and five ties.
Tom Sermanni's side is also riding a 72-game home unbeaten streak. Those 72 games have included just nine ties and 63 wins. The last loss for the USA on home soil came on Nov. 6, 2004, a 3-1 setback to Denmark in Philadelphia. It was one of just two losses the USA has suffered when Abby Wambach scores a goal; the Americans are now 101-2-8 when she finds the net at least once.
– U.S. Women's National Team Match Report –
Match: U.S. Women's National Team vs. Korea Republic
Date: June 20, 2013
Competition: International Friendly
Venue: Red Bull Arena; Harrison, N.J.
Kickoff: 7:30 p.m. ET
Attendance: 18,961
Weather: 75 degrees, sunny
Scoring Summary: 1 2 F
USA                        4 1 5
KOR                        0 0 0
USA – Abby Wambach (Lauren Cheney) 10th minute
USA – Abby Wambach (Lauren Cheney) 19
USA – Abby Wambach (Megan Rapinoe) 29
USA – Abby Wambach (Alex Morgan) 45+1
USA – Lauren Cheney (Kelley O'Hara) 64
Lineups:
USA: 1-Hope Solo (21-Jill Loyden, 46); 6-Crystal Dunn, 3-Christie Rampone (capt.) (4-Becky Sauerbrunn, 48), 14-Whitney Engen, 22-Meghan Klingenberg (5-Kelley O'Hara, 52); 9-Heather O'Reilly, 10-Carli Lloyd, 12-Lauren Cheney (16-Yael Averbuch, 71), 15-Megan Rapinoe; 13-Alex Morgan (2-Sydney Leroux, 49), 20-Abby Wambach (23-Christen Press, 58)
Substitutions Not Used: 17-Tobin Heath
Head coach: Tom Sermanni
KOR: 1-Kim Jungmi, 4-Shim Seoyeon (capt.), 6-Lim Seonjoo, 20-Kim Hyeri, 5-Lee Sejin (13-Lee Mina, 56), 8-Cho Sohyun, 15-Kim Narae, 17-Park Heeyoung (14-Kwon Hahnul, 60), 10-Ji Soyun (19-Shin Jiyoung, 86), 12-Yoo Younga, 18-Jeoun Eunha (16-Kim Sangeun, 76)
Substitutions Not Used: 2-Kim Jihye, 3-Jeong Younga, 7-Lee Eunhye, 9-Park Heeyoung, 11-Lee Jangmi, 21-Yoon Younggeul, 22-Lee Jungeun
Head coach: Yoon Dukyeo
Stats Summary: USA / KOR
Shots: 25 / 2
Shots on Goal: 14 / 1
Saves: 1 / 9
Corner Kicks: 11 / 0
Fouls: 4 / 5
Offside: 3 / 10
Misconduct Summary:
none
Officials:
Referee: Margaret Domka (USA)
Assistant Referee 1: Veronica Perez (USA)
Assistant Referee 2: Suzanne Morisset (CAN)
4th: Christina Unkel (USA)
Woman of the Match:
Abby Wambach