Capital Fall Classic 2022
The 38th Annual Soccer Blast is presented by Iron Valley United Soccer Club. All games are played at one large 15 field complex in Hershey PA, ideal for clubs and coaches looking for a tournament where every team is at the same location!
The East Coast Showcase will partner with the ECNL Boys to host one of the best Memorial Day events on the East Coast.
Partnering with the ECNL Boys Memorial Day Event will ensure hundreds of college coaches in attendance for college recruiting.
Featuring some of the top natural grass field complexes in the country. Top Brackets of each age group and U15-U19 Showcase games will continue to be played on some of the nation's finest natural grass complexes, including Striker Park and West Creek.
The main sponsors of the East Coast Showcase are Markel Corporation, NIKE, Richmond SportsBackers, Richmond Metropolitan Convention and Visitors Bureau, and the Richmond Strikers Soccer Club.
By partnering with the ECNL Boys Memorial Day Event, the East Coast Showcase will quickly become associated with tournaments such as the Jefferson Cup, Dallas Cup, San Diego Surf Cup, WAGS Women's Tournament, and Disney College Showcase as one of the five premier North American tournaments in the country.
THE SHOWCASE WILL INCLUDE 3 GAMES ACROSS 2 DAYS AT THE FOLLOWING HIGH-QUALITY FACILITY:
BOYS & GIRLS TEAMS:
Dates:
Girls tournament dates (2006-2002): April 24 – 25, 2021
Boys tournament dates (2006-2002): May 1 – 2, 2021
Team Cost: $850
Payments will be collected starting March 15, 2021.
Prince William Soccer is pleased to invite all travel select teams to the 2021 Icebreaker Tournament in support of the US Soccer Foundation's Passback Program.  The Icebreaker is the largest preseason tournament on the East Coast.  It is a USYSA sanctioned tournament through the Virginia Youth Soccer Association (NOTE: US Club Soccer teams are permitted to play).  The tournament will be played in Prince William County in Northern Virginia. Our goal is to provide the best possible youth soccer competition for the teams entered.
The tournament supports the US Soccer Foundation Passback Program.  Every player is encouraged to used soccer equipment to registration or any game site for collection.  At the end of the tournament, the equipment will be collected and sent to those who need it.  Your kind support is greatly appreciated.
Prince William Soccer is proud to be affiliated with a charitable cause with each of its three tournaments.  We feel a tremendous responsibility to give back to the community through our events.
Welcome to the 2021 VDA College Showcase, the showcase is now entering its 8th year!
We had a great event with more than 90 Colleges & University Divisions 1, 2, & 3 represented.
With several top-level National program (ECNL, GAL, & MLS Next) teams & State and Regional Champions attending, this event is kept small to attract the top teams in the region with as much exposure as possible for each team & player. We look forward to another year of expansion!
This event is open to 13U-19U teams that wish to participate.
This event is a limited field of two divisions per age group with a max of 16 teams per age group, for both boys and girls. The format will be one game a day with each team receiving 2 games. All games will be played on Saturday & Sunday.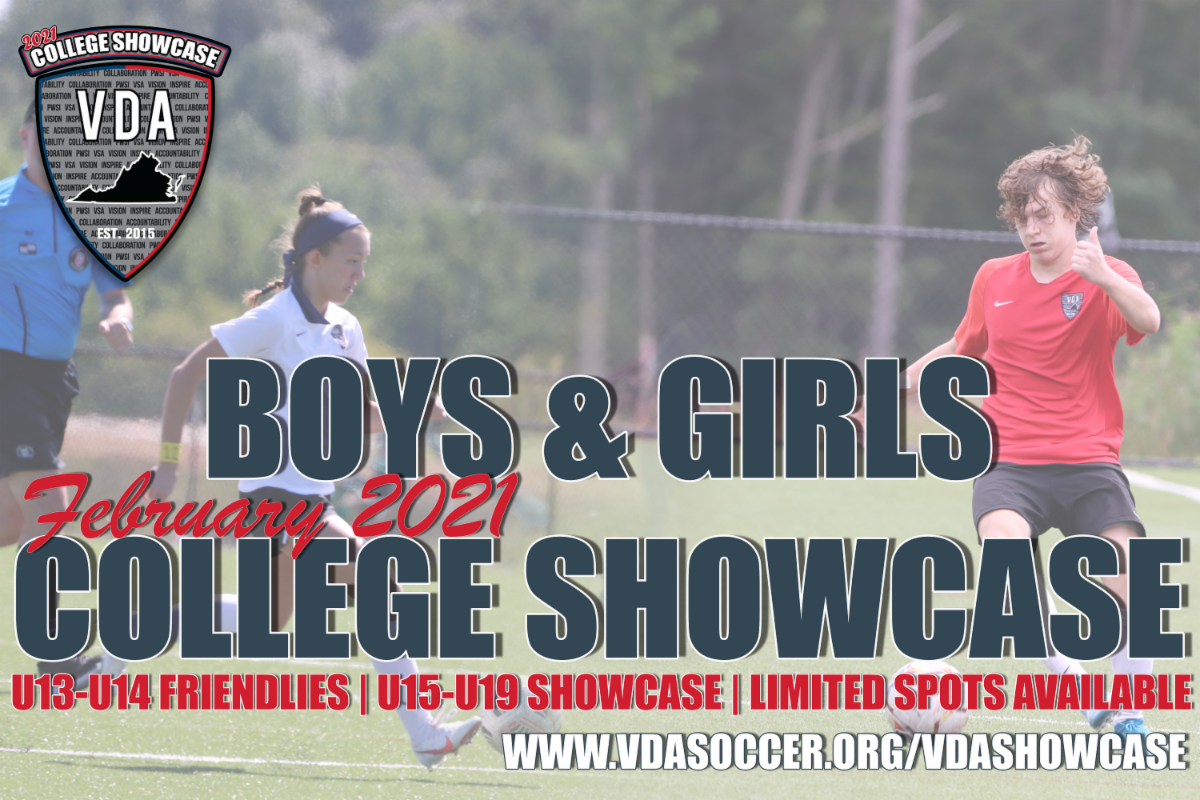 The adidas NATIONAL CUP. FEBRUARY 13-15, 2021 – RICHMOND, VIRGINIA. A NATIONAL YOUTH SOCCER TOURNAMENT FOR TEAMS, 11-19, Boys & Girls. ALL MATCHES PLAYED ON 22 LIGHTED, TURF FIELDS!