West-Mont United College Showcase
THE SHOWCASE WILL INCLUDE 3 GAMES ACROSS 2 DAYS AT THE FOLLOWING HIGH-QUALITY FACILITY:
BOYS & GIRLS TEAMS:
Dates:
Girls tournament dates (2006-2002): April 24 – 25, 2021
Boys tournament dates (2006-2002): May 1 – 2, 2021
Team Cost: $850
Payments will be collected starting March 15, 2021.
Prince William Soccer is pleased to invite all travel select teams to the 2021 Icebreaker Tournament in support of the US Soccer Foundation's Passback Program.  The Icebreaker is the largest preseason tournament on the East Coast.  It is a USYSA sanctioned tournament through the Virginia Youth Soccer Association (NOTE: US Club Soccer teams are permitted to play).  The tournament will be played in Prince William County in Northern Virginia. Our goal is to provide the best possible youth soccer competition for the teams entered.
The tournament supports the US Soccer Foundation Passback Program.  Every player is encouraged to used soccer equipment to registration or any game site for collection.  At the end of the tournament, the equipment will be collected and sent to those who need it.  Your kind support is greatly appreciated.
Prince William Soccer is proud to be affiliated with a charitable cause with each of its three tournaments.  We feel a tremendous responsibility to give back to the community through our events.
Welcome to the 2021 VDA College Showcase, the showcase is now entering its 8th year!
We had a great event with more than 90 Colleges & University Divisions 1, 2, & 3 represented.
With several top-level National program (ECNL, GAL, & MLS Next) teams & State and Regional Champions attending, this event is kept small to attract the top teams in the region with as much exposure as possible for each team & player. We look forward to another year of expansion!
This event is open to 13U-19U teams that wish to participate.
This event is a limited field of two divisions per age group with a max of 16 teams per age group, for both boys and girls. The format will be one game a day with each team receiving 2 games. All games will be played on Saturday & Sunday.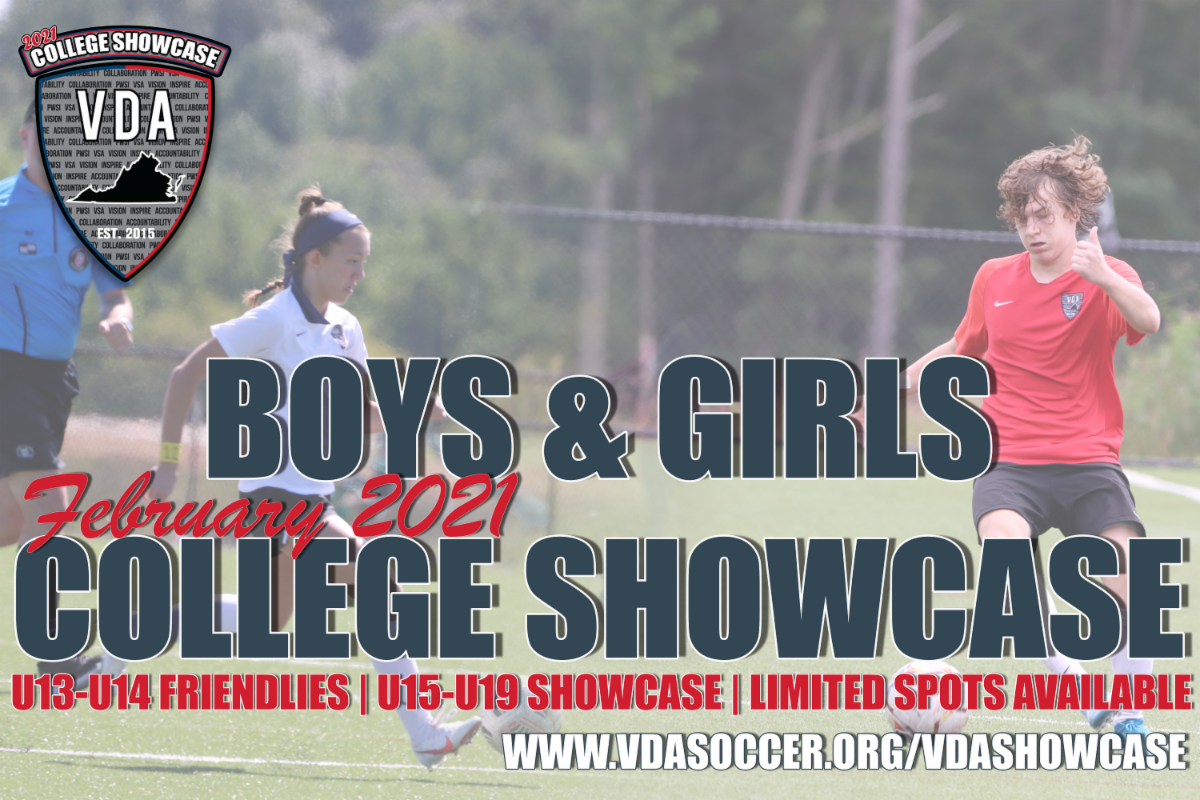 The adidas NATIONAL CUP. FEBRUARY 13-15, 2021 – RICHMOND, VIRGINIA. A NATIONAL YOUTH SOCCER TOURNAMENT FOR TEAMS, 11-19, Boys & Girls. ALL MATCHES PLAYED ON 22 LIGHTED, TURF FIELDS!
Presented by the United Soccer Coaches & Under Armour, this event is one of the top all girls event in the nation! Since 1975, this annual tournament brings teams from all across the United States and Canada to play in U09 to U19 brackets. There will be National, Regional, and State Champions in attendance! Striving to be the top of their brackets, and competing for awesome Champion and Finalist medals, girls on U09 to U15 teams play only on turf fields in a championship format. Girls on U16 to U19 teams will play at multi-field complexes throughout the tournament where they can highlight their talents on the field in showcase games, giving over 200 attending college coaches the opportunity to scout for their next collegiate superstar!