WAGS Tournament Players That Impressed (Showcase Divisions)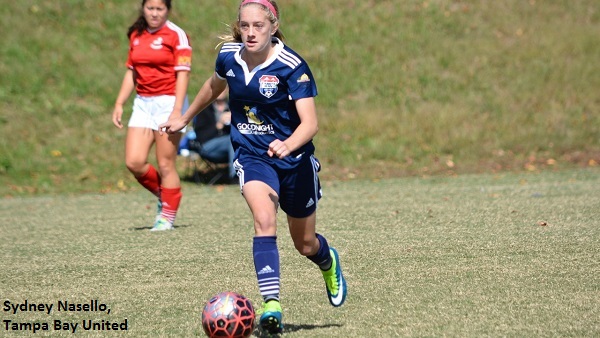 Below is a list of Players That Impressed compiled from the Showcase Divisions of the 2015 WAGS Tournament, with nominations provided by coaches, technical directors and SoccerWire.com staff.
The list is by no means comprehensive, and is simply a sampling of the premier level talent featured at the tournament, which was attended by college coaches from all over the country.
WAGS Tournament Daily Photos & Recaps: Photos |  Day 1 | Day 2 | Day 3
U-15
Ally Cook
Defender, PWSI 00 Red
Ally was extremely consistent for 00 Red, keeping the ball away from PWSI's opponents and not turning it over a single time. She was the anchor of the defense in the last match of the weekend as PWSI earned a 1-0 clean sheet victory over Coral Gables Storm 00/01.
Abby Groff
Foward, Harleysville FC Fury
Abby scored two game winning goals, leading HFC to the finals. The hard-working, technical forward is a team player who has strong communication and chemistry with her teammates in the midfield.
Candice Kasahara
Defender, Western New York Flash Academy
Candice was skilled and composed with the ball, showing very good speed with great anticipation. She showed the ability to carry and distribute the ball, and to shoot accurately from long distance.
Valerie LaMore
Forward, Severna Park Lasers
Valerie controlled the attacking portion of the field and scored both of her team's goals in a hard fought 2-0 win against one of the top-ranked teams from Florida to open the tournament. She provided possession, composure and scoring opportunities for her team. Her effort was relentless throughout the tournament even when her team was down in the final game.
Alyssa Minnick
Goalkeeper, Premier Strikers
Alyssa displayed elite level athleticism and competitiveness, earning clean sheets against AZ Arsenal 01 Premier Teal and TFCA 00 Alliance. She made several fearless saves on close range shots even in 1v1 and 2v1 situations.
Hannah McLaughlin
Goalkeeper, Richmond Strikers Elite
Hannah recorded three shutouts to lead the Strikers to a first place finish in their group (9 points) and a semifinal appearance, where the team narrowly lost in penalty kicks.
Payton Moore
Defender, FC Virginia
Payton not only shut down virtually all attacking chances that came her way at center back, she often turned her defensive takeaways into opportunistic runs for FCV's offense. Her vision and quick decision making from the back line is a perfect fit for FCV's technical style of play, as the team's counterattacks are one of its most valuable weapons.
Emily Moxley
Forward, TUSA Wake FC 00 Blue
Emily is an explosive, skillful and powerful forward. She scored or created the majority of her team's goals throughout the tournament, showing dominant 1v1 abilities.
Cara Norlin
Midfielder, BRYC 00 Elite
Cara showed blazing speed and exceptional strength which makes her a match-up nightmare for defenses. She netted the game-winning goal for BRYC on Saturday against TFCA, a sure-footed finish after breaking through the back line.
+Read: WAGS Tournament Referee Mentor Program developing next generation of officials
Mackenzie Roach
Defender, TFCA 00 Alliance
As center back and team captain, Mackenzie's technical skills, calm demeanor and communication skills – with a guest player in goal – were relied upon against strong opponents from Arizona, Maryland and Virginia. Her team allowed only two goals during the weekend, both of which came on set pieces.
Morgan Rees
Forward, Lower Merion SC
Rees is simply too much to handle for most defenses that face her. Deceptively fast but also agile with the ball at her feet, she chews up ground fast and doesn't stop fighting until the ball is in the back of the net. When she passes near goal, she's the first to follow her teammate's shot to poke home the rebound. And when her team doesn't have the ball, she's hunting it down like her life depended on it.
Bridget Ross
Defender, SYC Lions Black
Bridget is a lock-down center defender with quality technical skills and confidence taking balls out of the air.
Keira Shoup
Midfielder, Calvert Elite Rangers White
Keira was dynamic throughout the weekend constantly beating players off the dribble. She was able to set up multiple opportunities both for herself and her teammates. She had a goal and an assist while still doing the necessary work on the defensive side of the ball in a critical win over NJ Wildcats Fury.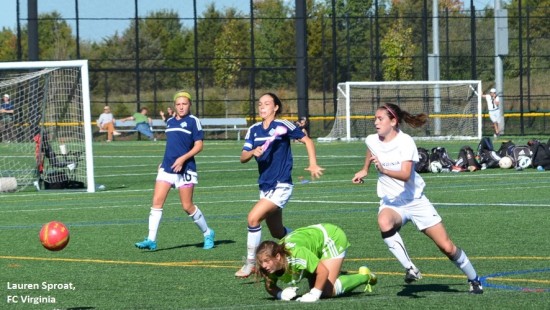 Lauren Sproat
Forward, FC Virginia ECNL 00
Facing semifinal elimination after a slow start to their Sunday game, Sproat completed took the game on her shoulders, and with the help of teammate Madeleine Hayes, sparked a comeback late to win 2-1 over a determined and dangerous, but technically outmatched Premier Strikers. Sproat scored again in the final and was key in her team's comfortable 3-0 over Lower Merion.
U-16
Mackenzie Christensen
OPSA Magic
Mackenzie was she solid in every 1v1 situation and she displayed a sound feel for positioning at center back, providing support for her teammates. She showed great patience and came in strong on every tackle. Her physicality and vocal leadership went unmatched.
Tiye Gallagher
Defender, Weston FC
Tiye played outside back and forward during the tournament, recording three goals and one assist in three games. She not only created opportunities in the attacking half but also shut down all players on the defensive end.
Zari Hayes
Forward, Premier Thunder
Zari's tenacious attacking style is a consistent threat to opposing defenses. She finished a difficult goal off a free kick in Monday's game.
Katie Hoffman
Midfielder, Arundel Premier 99
Katie scored a set piece goal vs. East Islip that proved to be the game winner with a blistering upper 90 shot. She had two assists in the win vs. Storm SA (GA) in a come-from-behind win, and scored a volley from 30 yards out vs. Piedmont Triad (NC) to tie the game.
Jade Mallea
Goalkeeper, Weston FC
Jade played every minute in all three games for Weston FC with a goals against average of one per game. She endured 6-8 shots per game and had to come out several times to shut down forwards 1v1. She also played out of the back substantially with her feet, and recorded an assist on Saturday.
Morgan McCamie
Midfielder, Baltimore Bays
Played in the center of the field tirelessly winning balls and creating scoring chances. She drew several fouls, including one resulting in a PK which she converted herself. She was dominant winning air balls, punts and goal kicks, even scoring off a flight cross.
Sophie Miller
Midfielder, Solar Chelsea 00
Sophie had an outstanding tournament helping her team dominate possession, distributing throughout the field while also being very productive with scoring opportunities. She racked up five goals and three assists on the weekend.
Lauren O'Hearn
Midfielder, Storm SA 99 Girls Black
Lauren is a defensive midfielder with tremendous athleticism, technical ability and a high level of fitness. Her ability to both get forward and track runs back allowed her team to be competitive even her team was down a player following a red card.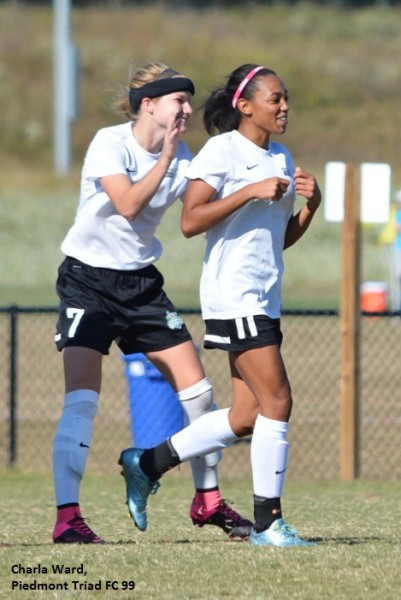 Amy Thompson
Midfielder/Forward, FC Virginia ECNL 99
Get used to this name. Amy was picked out yet again by SoccerWire.com staff at the WAGS Tournament, as she continues to make spectacular plays appear easy on a regular basis. "The General" and "Engine Room" come to mind when watching her patrol the field and make things happen for FCV.
Jenna Vollrath
Forward, United FA 00 Premier
Jenna's free kick goal in Sunday's 3-2 win over FC Virginia exemplified her powerful and extremely accurate long range shot. The class of 2018 striker is not only a gifted scorer, but also a force in the attacking midfield area with her ball-winning and passing abilities.
Charla Ward
Forward, PTFC 99 Lady Black
Charla scored two goals on the weekend and created many other scoring opportunities, including being taken down for a a game-winning penalty kick taken by one of her teammates. One of her goals was also the final one scored to help PTFC win its bracket.
Kenna Zier
Midfielder, Olney Girls 99
Consistent performer with three goals and seven assists from center midfield, showing technical brilliance all weekend long.
U-17
Sidra Bugsch
Midfielder, Davis Legacy 99 Red
Bugsch could easily be mistaken for Tobin Heath from a distance. Along with a physical resemblance, she has a flair on the ball, quickness, technical ability, and work rate that emulate the U.S. National Team member and World Cup Champion. In a game on Sunday against Annandale, she even heel-flick-nutmegged a defender near their corner flag in an attempt to get a cross in to waiting teammates.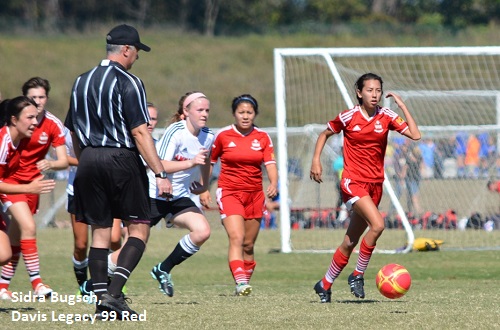 Madison Cochran
Forward, CSC Magic
Madison scored three goals and had an assist for a last-second win in second game of college showcase group play. She exhibited strong attacking skills with the ability to also create for others.
Carson Jones
Forward, LNSC Eclipse
Carson is a creative playmaker who was virtually unstoppable dribbling in the open field throughout the tournament. She was the key to most attacking runs for LNSC, registering two goals and three assists on the weekend.
Sydney Nasello
Midfielder, Tampa Bay United
The attacking center mid always seems to be in the action, box-to-goal, flank-to-flank, and right up the gut. When the ball is at her feet she rarely looks down, and when she's near the goal there's a shot on frame or a killer pass sure to follow.
Amanda Nhek
Forward, FC Virginia ECNL 98
A level of craft and creativity not seen in most teams, this playmaking forward has already been recognized several times by SoccerWire.com at other events. This time she added to her reputation even more by attempting a diving header at the near post, in traffic. She sees the game in a different way than most.
Shaina Pellington
Forward, Ajax FC 99 Red
Shaina helped the team to a 3-0 record by scoring two goals against Fredericksburg FC, a goal and assist against Lauderhill and two goals in Ajax's final game against Triangle United. She was also fouled twice in the box which resulted in two additional goals.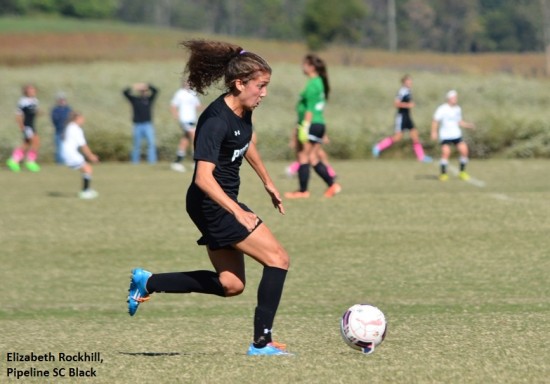 Elizabeth Rockhill
Forward, Pipeline Black
Elizabeth scored four goals over the weekend while covering an obscene amount of ground in Pipeline's three games in Fredericksburg. As a forward she dominates defenders constantly using her skill, change of pace, creativity, and exceptional speed. SoccerWire.com already had her picked out as a Player that Impressed, but she was also nominated by her coach, who said she accumulated 16 shots over the weekend to go with those four goals.
Allison Schaffer
Defender, SAC Premier Blue
With her team down to just 11 players due to high school conflicts, Allison played out of position all three games as a center back for every minute of the tournament for a back line that allowed just one goal on the weekend.
Raquel Sequeira
Defender, Reston Elite
Raquel's intelligence, quickness and consistency showed she has the ability to shut down a litany of high level opponents.
Melanie Simpson
Defender, LMVSC Patriots Red
Melanie displayed athleticism, speed and technical abilities as a center back. Playing at the VYSA Training Center's field No. 2, Melanie had to adjust the teams defensive shape in order to compensate for the width. Melanie did an outstanding job directing her team defensively throughout the match, leading her team to a win.
Emma Singleton
Forward, LVPSA 99 Red
Emma played all but 10 total minutes over the entire tournament, scoring four goals and assisting three others. She is skillful on balls in the air and in 1v1 situations, putting away a header and contributing to several breakaway goals.
U-19
Sarah Brush
Midfielder, Delaware Rush
Sarah scored the only goal in great game between Delaware and Virginia Rush. She played over 200 minutes during the weekend, anchoring a midfield that didn't allow a goal.
Kelsy Fitzgerald
Defender, Delaware Rush
Kelsy played all but five minutes over the course of the weekend. During her time on the field, she was responsible for the other teams top attackers while also taking attacking set pieces. She compiled two assists on the weekend while leading a back line that didn't concede a goal.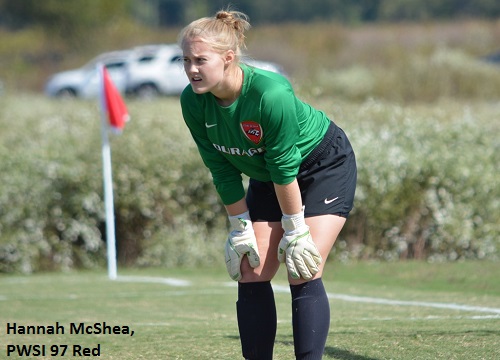 Hannah McShea
Goalkeeper, PWSI 97 Red
The James Madison bound goalkeeper proved again why she's a top recruit. Of course she's a strong shot stopper and athlete, but it's her leadership and soccer IQ that impress the most. McShea has a commanding, relevant and informative voice, organizing her back line constantly with correct information that drastically limits her need to have to stop shots at all.
Vanessa Penn-Martinez
Midfielder, Maryland Rush Montgomery Rush 97
Vanessa is a tough and dependable holding midfielder, always looking to break up the other team's offense. When in possession of the ball she has great field vision, first-touches and passing abilities.
Megan Reilly
Defender, PWSI 97 Red
Anchored a defense that allowed no goals and led the team to the championship of the Showcase I Flight. She was a dominant ball winner, especially in the air.
Bex Velloney
Defender, Beach FC 97 Red
Playing center back, Bex had an outstanding performance in limiting the opponents' shots on goal, as Beach FC conceded only an own goal on the weekend. She was outstanding intercepting passes and dispossessing the opposing attacking players.
Nicole Wurster
Defender, Braden River Rage
Nicole is a standout defender who proved to be the backbone of the BRSC defense. She had a nearly flawless performance over the WAGS weekend, showing dynamic abilities in the air and great vision of the field.