USMNT hosting El Salvador with spot in Concacaf Nations League Finals on the line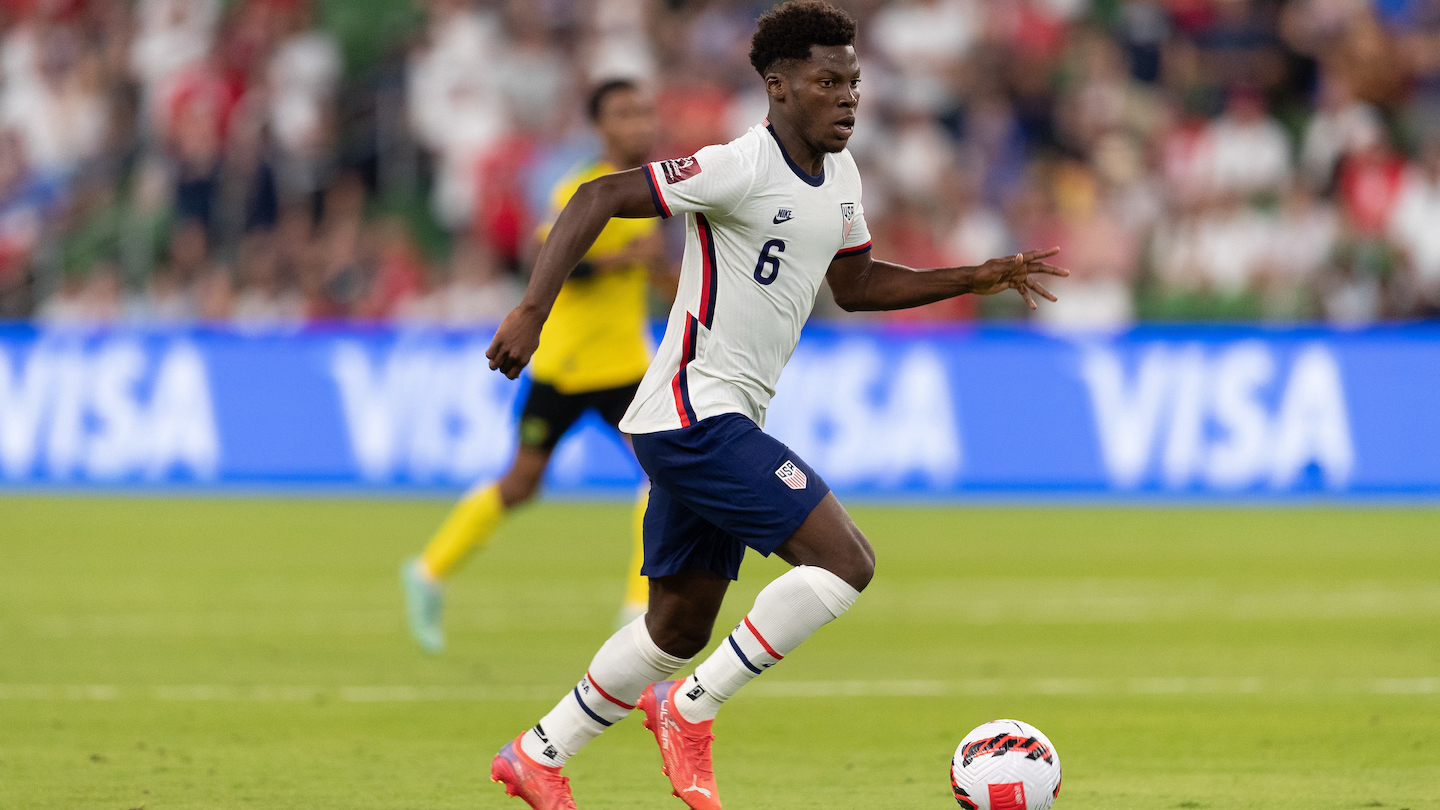 CHICAGO – Following Friday's emphatic 7-1 win on the road at Grenada, the U.S. Men's National Team will host El Salvador on Monday, March 27 with a berth in the Concacaf Nations League Finals on the line.
Sitting atop Nations League A, Group D with seven points – two more than El Salvador – the USA can secure a spot in June's Semifinal with a draw when the teams meet at Exploria Stadium in Orlando on Monday (TICKETS). Coverage begins at 7 p.m., with kickoff set for 7:30 p.m. ET (TNT, Universo and streamed on Peacock).
USMNT ROSTER BY POSITION (CLUB/COUNTRY; CAPS/GOALS)
GOALKEEPERS (3): Ethan Horvath (Luton Town/ENG; 8/0), Zack Steffen (Middlesbrough/ENG; 29/0), Matt Turner (Arsenal/ENG; 25/0)
DEFENDERS (8): Sergiño Dest (AC Milan/ITA; 23/2), Mark McKenzie (Genk/BEL; 11/0), Tim Ream (Fulham/ENG; 50/1), Bryan Reynolds (Westerlo/BEL; 3/0), Antonee Robinson (Fulham; 33/2), Miles Robinson (Atlanta United; 20/3), Joe Scally (Borussia Mönchengladbach/GER; 4/0), Auston Trusty (Birmingham City/ENG; 1/0)
MIDFIELDERS (6): Brenden Aaronson (Leeds United/ENG; 29/7), Johnny Cardoso (Internacional/BRA; 5/0), Luca de la Torre (Celta Vigo/ESP; 13/0), Weston McKennie (Leeds United/ENG; 42/11), Yunus Musah (Valencia/ESP; 24/0), Alan Soñora (Juárez/MEX; 2/0)
FORWARDS (7): Taylor Booth (Utrecht/NED; 1/0), Daryl Dike (West Bromwich Albion/ENG; 9/3), Djordje Mihailovic (AZ Alkmaar/NED; 6/1), Ricardo Pepi (Groningen/NED; 13/5), Christian Pulisic (Chelsea/ENG; 57/23), Gio Reyna (Borussia Dortmund/GER; 17/4), Alex Zendejas (Club América/MEX; 2/1)
WHAT IS THE NATIONS LEAGUE?
Created to maximize the quality, quantity and frequency of competitive matches for all of Concacaf's 41 Member Associations, the 2022/23 CNL is the second edition of the regional tournament. The USMNT are defending champions following a thrilling 3-2 defeat of Mexico in extra time of the inaugural championship match in 2021.
The CNL Group Stage is played in a three League format (A, B, C), with home and away round robin play on the FIFA Match Windows of June 2022 (double window) and March 2023.
All 41 Concacaf Member Associations were allocated in a League pot based on their Concacaf Ranking following the conclusion of the FIFA Men's International Window of March 2022.
The USMNT plays in League A, which consists of four groups of three teams. The winners of each group will advance to the Concacaf Nations League Finals at Allegiant Stadium in Las Vegas, Nevada, with the semifinals set for Thursday, June 15 and the third place match and final played on Sunday, June 18.
Additionally, the Concacaf Nations League serves as qualifying for the 2023 Concacaf Gold Cup, with the two top teams in each League A group booking their ticket. The USA clinched its place in this year's Gold Cup with Friday's win at Grenada.
Concacaf Nations League A, Group D Standings
Team
GP
W
L
D
GD
Pts.
USA – x
3
2
0
1
11
7
El Salvador-x
3
1
0
2
2
5
Grenada
4
0
3
1
-13
1
x-Qualified for 2023 Concacaf Gold Cup
CNL REWIND – JUNE 2022
June 4: El Salvador 3-1 Grenada – After the hosts' Nelson Bonilla scored the first of his two goals in the second minute, Alexander McQueen equalized two minutes later. Bonilla struck for the go-ahead tally before the break, and Grenada's A. J. Paterson put the ball in his own net to close out the scoring.
June 7: Grenada 2-2 El Salvador  – The Spice Boys twice took the lead behind goals from Jacob Berkeley-Agyepong and Jamar Charles, but El Salvador found a late equalizer, with Cristian Gil putting one home in the 88th.
June 10: USA 5-0 Grenada – Jesús Ferreira's four goals propelled the USA to rout in front of a sold-out crowd of 20,500 at Q2 Stadium. His FC Dallas teammate Paul Arriola also tallied.
June 14: El Salvador 1-1 USA – The USA came from behind to tie La Selecta on a rain-soaked, mud-patched field at Estadio Cuscatlán. Jordan Morris brought the USA level in second half stoppage time, heading in Luca de la Torre's cross for the tying goal.
LAST TIME OUT
March 24, 2023: Grenada 1-7 USA – The USMNT routed Grenada 7-1 Friday night at Kirani James Stadium to move atop Group D. Weston McKennie and Ricardo Pepi each scored twice, while Christian Pulisic was involved in five goals, including scoring one of his own. Brenden Aaronson and Alex Zendejas also tallied as the USA snapped a nine-game away winless streak in emphatic fashion, setting the team record for most goals in a road match.
MATCH NOTES:
Eight players from the 2022 FIFA World Cup team played: Matt Turner, Christian Pulisic, Weston McKennie, Brenden Aaronson, Gio Reyna, Joe Scally and Luca de la Torre started, and Yunus Musah can in off the bench.
While involved in five of the seven goals, Pulisic recorded assists on the opening two goals (Pepi and Aaronson) before finding the back of the net himself in the 49th minute to register three goal contributions in a match for the fifth time. He also twice drew fouls and took the ensuing free kicks that resulted in both of McKennie's goals.
Pulisic's goal was also the 23rd of his international career, placing him just one behind Joe-Max Moore for sixth on the team's all-time scoring list.
With his first-half brace, McKennie tallied multiple goals in a match for the second time in his international career. The 24-year-old midfielder recorded his 10th and 11th career goals, becoming the 28th USMNT player to reach double digits.
The only player to appear in all nine of the team's Concacaf Nations League matches, McKennie's goals were also his fifth and sixth in CNL play, which sees him leapfrog Jordan Morris (five goals) for the team's all-time scoring lead in the competition.
With his fourth and fifth career goals, Ricardo Pepi found the back of the net for the first time since also recording a brace in the 2-0 win against Jamaica on Oct. 7, 2021 in Austin.
Luca de la Torre collected two assists in a match for the first time, providing the helper on Pulisic's 49th minute strike and Ricardo Pepi's second goal four minutes later to take his career total to five.
Aaronson's 20th minute strike was the seventh of his international career.
Starting center back Auston Trusty and substitute Taylor Booth both earned his senior international debuts in the match. Trusty also collected his first assist on McKennie's 34th minute goal.
On the night he became officially cap-tied to the United States, Alex Zendejas also scored his first international goal to make it 7-1 in the 73rd minute.
Midfielder Johnny Cardoso also became cap-tied when he entered the match in the 75th minute.
Right back Bryan Reynolds earned his first start for the Red, White and Blue tonight. Reynolds last appeared in the 1-0 win against Bosnia and Herzegovina on Dec. 18, 2021.
Defender Mark McKenzie made his first start since the World Cup qualifier on Oct. 10, 2021 at Panama. McKenzie paired in central defense with his former Philadelphia Union teammate and fellow Academy alum, Auston Trusty.
Substitute striker Daryl Dike made his first appearance since July 29, 2021 against Qatar in the Concacaf Gold Cup semifinal.
Both Ricardo Pepi and Gio Reyna returned to the Starting XI for the first time since Sept. 27 against Saudi Arabia.
Ten of the 11 starters are products of the U.S. Soccer Development Academy: Weston McKennie, Ricardo Pepi and Bryan Reynolds (FC Dallas); Brenden Aaronson, Mark McKenzie and Auston Trusty (Philadelphia Union); Gio Reyna and Joe Scally (New York City FC); Luca de la Torre (Nomads SC, San Diego Surf); Christian Pulisic (PA Classics)
With teams allowed to dress 23 players, defender Miles Robinson was a healthy scratch from the squad.

With this being the first international window on the FIFA calendar since last December, a dozen European-based players return for the first time since featuring in the FIFA World Cup in Qatar.
WORLD CUP VETERANS RETURN
With this being the first international window on the FIFA calendar since last December, a dozen European-based players return for the first time since featuring in the FIFA World Cup in Qatar.
Christian Pulisic leads all players on the roster with 57 caps and has scored four times at Exploria Stadium in Orlando during his national team career.
Fulham and Leeds United from the English Premier League each contribute a pair of players as the defensive duo of Tim Ream and Antonee Robinson head to Orlando joined by Brenden Aaronson and Weston McKennie.
The full list of World Cup returnees: Brenden Aaronson, Luca de la Torre, Sergiño Dest, Ethan Horvath, Weston McKennie, Yunus Musah, Christian Pulisic, Tim Ream, Gio Reyna, Antonee Robinson, Joe Scally, Matt Turner.
Since the initial announcement of the USMNT's 24-player roster, Djordje Mihailovic has replaced another World Cup veteran, Tim Weah,, who was withdrawn after entering the concussion return to play protocol following a head injury suffered in the 2-0 win for Lille away to Toulouse on Saturday, March 18.
ALSO BACK IN THE ROSTER MIX
As the only MLS-based player on the roster, Atlanta United center back Miles Robinson makes his USMNT return after recovering from a torn Achilles tendon suffered with his club last May. The 26-year-old last appeared for the USMNT on March 30, 2022 at Costa Rica, the night the team qualified for the 2022 FIFA World Cup. Coincidentally, Robinson scored his first international goal at Exploria Stadium in 2021.
Goalkeeper Zack Steffen also returns to camp for the first time since that March 2022 window when he appeared in all three matches to help the USA qualify for the FIFA World Cup.
Djordje Mihailovic has played six times for the USMNT, scoring in his international debut during the USA's 3-0 shutout of Panama on Jan. 27, 2019, in Glendale, Ariz. His most recent appearance came in the 6-0 win against El Salvador on Dec. 9, 2020, in Ft. Lauderdale. A native of Jacksonville, Fla., he was part of the squad that reached the final of the 2019 Concacaf Gold Cup and was last summoned for the 2022 January camp.
TWO CAP-TIED…AND ONE TO GO? 
On March 14, Mexican-American winger Alex Zendejas – who made his USMNT debut in January's friendly against Serbia – declared his commitment to represent the United States. He became cap-tied Friday when he replaced Pulisic in the 64th minute, and added the exclamation point when he scored with a curling left-footed shot nine minutes later for his first international goal. He previously represented the USA at the 2015 FIFA U-17 World Cup.
Brazilian-American Johnny Cardoso also became cap-tied when he replace de la Torre in the 75th. Cardoso had previously played four friendlies for the USMNT over the previous three years.
Alan Soñora, who holds citizenship in Argentina and the USA, earned his first two caps for the USA in January's matches against Serbia and Colombia. Should he appear in Monday's Nations League match, he would also be officially tied to the United States for international competition.
USA ROSTER NOTES
The roster holds an average age of 24 years, 97 days as of March 27.
Twelve players were part of the USMNT's 2022 FIFA World Cup roster.
Seventeen players are 24 or younger.
Christian Pulisic leads all players with 57 caps, followed by Tim Ream (50), Weston McKennie (42), Antonee Robinson (33) and Zack Steffen (29).
The roster features players who ply their trade in nine different countries: England (10), Belgium (2), Germany (2), Mexico (2), Netherlands (3), Spain (2), Brazil (1), Italy (1) and USA (1).
Daryl Dike and Arsenal goalkeeper Matt Turner both earned their first cap in Orlando during the 7-0 win against Trinidad and Tobago on Jan. 31, 2021. In that match, Turner became the first USMNT goalkeeper to save a penalty kick in their international debut when he stopped Alvin Jones' spot kick in the 66th minute.
Striker Ricardo Pepi has also shown strong attacking form with Eredivisie side Groningen this season, tallying 10 goals and three assists in 22 matches across all competitions.
Defender Bryan Reynolds also returns to the USMNT for the first time since the December 2021 friendly against Bosnia and Herzegovina. The right back has found a great form on loan with Belgian Jupiler league side Westerlo, where he's made 21 league appearances and contributed one goal and four assists so far this season.
The USA's CNL group finale against El Salvador on March 27 in Orlando occurs one year to the day of the team's 5-1 defeat of Panama in World Cup Qualifying, a match in which Christian Pulisic recorded a hat trick to all but secure the USMNT's place in Qatar.
In total, four of Pulisic's 23 international goals have come at Exploria Stadium, with the attacker also scoring the opener in the USA's 4-0 qualifying win against Panama on Oct. 6, 2017.
One of the standout U.S. players at the 2022 FIFA World Cup, veteran defender Tim Ream has continued his strong form with eighth-place Fulham this season, captaining the side in all 27 league matches. Should he appear in either match this window, it would mark Ream's first international match on this side of the Atlantic since the opening game of qualifying on Sept. 2, 2021 at El Salvador.
Fulham teammate Antonee Robinson scored a particularly big goal against El Salvador just over a year ago, tallying the difference-maker in a crucial 1-0 World Cup Qualifying win on Jan. 27, 2022 at Lower.com Field in Columbus.
JANUARY'S FRIENDLIES
January 25, 2023: In the USA's opening match of the new year, a remarkably green line-up fought hard but ultimately couldn't overcome Serbia at LAFC's BMO Stadium. One of eight players to make their USMNT debut, forward Brandon Vazquez opened the scoring in the 29th minute. Serbia was able to equalize on a free kick from Luka Ilić just before the half, and found the eventual game-winner moments into the second half. At 18 years, 255 days, Gaga Slonina became the youngest goalkeeper to play for the USMNT, and the eight debutants marked the USA's highest total of first caps in one match since the 2-0 win against Canada on Sept. 3, 1992.
January 28, 2023: The USMNT wrapped up its January camp with a 0-0 draw against Colombia in front of a loud, sellout crowd of 27,000 at Dignity Health Sports Park. Four more players made their USMNT debuts in an end-to-end game with the USMNT producing the better quality scoring opportunities despite being outshot on the night and had two shots on goal to just one for Los Cafeteros.
USA VS. EL SALVADOR
Currently on a 21-game unbeaten streak against El Salvador dating back to 1993 (16 W, 5 T), the USA is 19-1-7 all-time against Los Cuscatlecos, including 16-0-2 in home games – having won 15 straight in the USA.
The 21-game unbeaten run against El Salvador matches the longest against any team (Guatemala, 1988-2015).
El Salvador's only win over the USMNT was a 2-0 friendly shutout in San Salvador in February 1992.
The 15 straight home wins vs SLV is the longest home winning streak against any opponent in program history.
El Salvador's last result against the USMNT in the USA was a 0-0 draw in a World Cup qualifier in St. Louis in 1989
In the CNL Group D opener on June 14, 2022, the USMNT came from behind to tie El Salvador 1-1 in a group match played on a rain-soaked, mud-patched Estadio Cuscatlán. After El Salvador's Alexander Latin put the home side up 10 minutes before the half, second half substitutes Luca de la Torre and Jordan Morris combined to bring the USA level in second half stoppage time, with Morris heading in de la Torre's cross for the tying goal.
Prior to the 2022 CNL match, the teams last met in 2022 World Cup Qualifying.
January 27, 2022 (Columbus, Ohio): The USA rode an Antonee Robinson goal to a 1-0 shutout victory, raising its all-time record vs El Salvador in WCQ to 6-0-4.
Sept. 2, 2021 (San Salvador): In a hard-fought 0-0 draw in front of a sellout crowd of 29,000 at Estadio Cuscatlán, the USMNT tied a modern-era record with 12 players making their World Cup qualifying debut: Brendan Aaronson, Tyler Adams, Konrad de la Fuente, Sergino Dest, Weston McKennie, Jordan Pefok, Gio Reyna,  Antonee Robinson, Miles Robinson, Cristian Roldan, Josh Sargent and Matt Turner.
EL SALVADOR ROSTER BY POSITION (CLUBS/COUNTRY)
GOALKEEPERS (3): 1-Mario Gonzalez (Alianza FC), 18-Tomas Romero (Toronto FC/CAN)
DEFENDERS (8): 2-Rudy Clavel (CD FAS), 3-Roberto Dominguez (CD FAS), 4-Eriq Zavaleta (LA Galaxy/USA), 5-Nelson Blanco (North Carolina FC/USA), 12-William Canales (Alianza FC), 15-Alex Roldan (Seattle Sounders SC/USA), 20-Romulo Villalobos (CD Dragon), 21-Bryan Tamacas (Oakland Roots SC/USA)
MIDFIELDERS (6): 6-Narcisco Orellana (Alianza FC), 8-Bryan Landaverde (CD FAS), 10-Enrico Dueñas (FC Cartagena B/ESP), 13-Leonardo Menjivar (AD Chalatenango), 14-Christian Martinez (AD San Carlos/CRC), 23-Melvin Cartagena (Alianza FC)
FORWARDS (6): 7-Mayer Gil (Alianza Petrolera/COL), 9-Bryan Gil (Deportes Tolima/COL), 11-Cristian Gil (CD FAS), 16-Juan Carlos Argueta (Jocoro FC), 17-Jairo Henriquez (Coloradon Springs Switchback/USA), 19-Kevin Reyes (CD FAS)
IN FOCUS: EL SALVADOR
El Salvador is coached by former USMNT star midfielder and National Soccer Hall of Famer Hugo Pérez. Pérez scored a critical goal for the USA vs. El Salvador during its qualifying campaign for the 1990 FIFA World Cup, the USA's first appearance on soccer's biggest stage in 40 years. He also played for the USA at the 1994 World Cup and was inducted into the Hall of Fame in 2008, having scored 13 goals in 73 senior team games.
On Wednesday, March 22 El Salvador lost to Honduras 1-0 on a 32nd minute own goal by Melvin Cartagena in a friendly played at LAFC's BMO Field.
SLV's XI: Tomas Romero; Bryan Tamacas, Eriq Zavaleta, Melvin Cartagena, Roberto Dominguez, Alex Roldan, Narciso Orellana, Enrico Dueñas, Jairo Henriquez, Leonardo Menjivar, Cristian Gil.
The roster includes 12 players who play domestically and 12 who play in five countries overseas, including MLS players Alex Roldan (Seattle Sounders), Eriq Zavaleta (LA Galaxy) and Tomas Romero (Toronto FC).
El Salvador-Colombian brothers Cristian (26), Bryan (21) and Mayer (19) Gil have been called in. Born in Colombia, Cristian is the only one to have played a tournament match for El Salvador. Mayer appeared in a friendly last November against Nicaragua, and Bryan has yet to debut.
El Salvador's rich soccer history includes qualification for the 1970 and 1982 FIFA World Cups. The team lost all three group matches in both tournaments.
They have advanced to the Concacaf final round in 1990, 1994, 1998, 2010 and 2022 World Cup qualifying tournaments.
El Salvador finished 7th in the 2022 World Cup Qualifying final round standings with a 2-8-4 (10 points) record.
The team was promoted to the 2022/23 CNL League A after winning the 2019-21 CNL League B, Group B with a 5-1-0 record:

Sept. 7, 2019: W 3-0 vs Saint Lucia
Sept. 10, 2019: L 0-1 at Dominican Republic
Oct. 12, 2019: W 2-0 at Montserrat
Oct. 15, 2019: W 2-0 at Saint Lucia
Nov. 16, 2019: W 1-0 vs Montserrat
Nov. 19, 2019: W 2-0 vs Dominican Republic
By securing a top-two finish in Group D, El Salvador has earned a spot at the 2023 Concacaf Gold Cup, which will be their 13th appearance.