USMNT facing Denmark today at 3 p.m. ET on ESPN2, UniMás, online streaming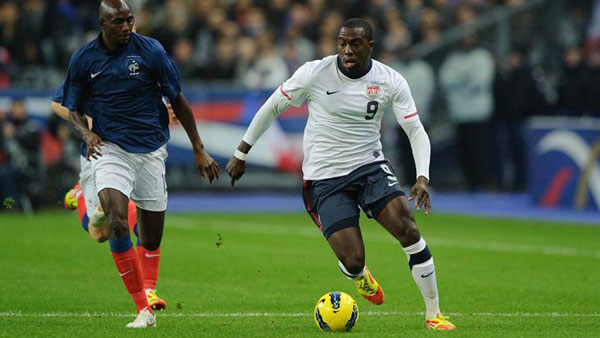 (Via U.S. Soccer) – The U.S. Men's National Team visits Denmark for the first of four challenging road friendlies in advance of the 2015 CONCACAF Gold Cup. Kickoff at NRGi Park in Aarhus is set for Wednesday, March 25 at 3 p.m. ET, and the game will be broadcast live on ESPN2, WatchESPN, UniMás and univisiondeportes.com.
Six days later, the USA meets No. 12-ranked Switzerland – one of the eight seeded teams in the 2014 FIFA World Cup – on March 31 in Zurich (FOX Sports 1, UniMás, UDN). In June, the United States will take on two top-five ranked teams, meeting fifth-ranked Netherlands in Amsterdam before facing 2014 FIFA World Cup champion Germany in Cologne.
Klinsmann has 22 players in Europe for the March friendlies against Denmark and Switzerland, including 10 players from the 2014 FIFA World Cup Roster. U.S. team captain Clint Dempsey suffered a right hamstring strain in training Monday and has been ruled out for both matches.
Wednesday's game marks the USA's first international friendly in Denmark since the team's 3-1 defeat on Nov. 18, 2009. The U.S. is 1-2-3 all-time against Denmark, with its win and two of the draws coming on U.S. soil. Denmark currently sits atop Group I in 2016 European Championship qualifying.
Meantime, the U-23 Men's National Team will play Bosnia-Herzegovina (March 27) and Denmark's U-23's (March 31) in preparation for Olympic qualifying this October, while the U-20 MNT has games against Tottenham (March 27) and England's U-21 side (March 29) as it gears up for the 2015 FIFA U-20 World Cup beginning May 30 in New Zealand.
U.S. Men's National Team by Position – Detailed Roster
GOALKEEPERS (3) : Cody Cropper (Southampton), Nick Rimando (Real Salt Lake), William Yarbrough (Club Leon)
DEFENDERS (8) : Ventura Alvarado (Club America), John Brooks (Hertha Berlin), Timmy Chandler (Eintracht Frankfurt), Greg Garza (Club Tijuana), Michael Orozco (Puebla), Tim Ream (Bolton Wanderers), Brek Shea (Orlando City SC), DeAndre Yedlin (Tottenham Hotspur)
MIDFIELDERS (8) : Alejandro Bedoya (Nantes), Michael Bradley (Toronto FC), Julian Green (Hamburg), Miguel Ibarra (Minnesota United FC), Fabian Johnson (Borussia Mönchengladbach), Alfredo Morales (Ingolstadt), Danny Williams (Reading), Gyasi Zardes (LA Galaxy)
FORWARDS (3) : Jozy Altidore (Toronto FC), Aron Johannsson (AZ Alkmaar), Rubio Rubin (Utrecht)
2015 U.S. MNT SCHEDULE:
| | | | | |
| --- | --- | --- | --- | --- |
| Date | Opponent | Result/Time (ET) | U.S. Goal Scorers/TV | Venue |
| Jan. 28 | Chile | 2-3 L | Shea, Altidore | Estadio El Teniente; Rancagua, Chile |
| Feb. 8 | Panama | 2-0 W | Bradley, Dempsey | StubHub Center; Carson, Calif. |
| March 25 | Denmark | 3 p.m. | ESPN2, WatchESPN, UniMás,univisiondeportes.com | NRGi Park; Aarhus, Denmark |
| March 31 | Switzerland | 12 p.m. | FOX Sports 1, UniMás,univisiondeportes.com | Stadion Letzigrund; Zurich, Switzerland |
| April 15 | Mexico | 8:30 p.m. | FOX Sports 1, UniMás,univisiondeportes.com | Alamodome; San Antonio, Texas |
| June 5 | Netherlands | 2:30 p.m. | ESPN2, WatchESPN, UniMás,univisiondeportes.com | Amsterdam Arena; Amsterdam, Netherlands |
| June 10 | Germany | 2:45 p.m. | FOX Sports 1, UniMás,univisiondeportes.com | Rhein Energie Stadion; Cologne, Germany |
| July 7 | Honduras OR French Guiana | 9:30 | FOX Sports 1, UniMás | Toyota Stadium; Frisco, Texas |
| July 10 | Haiti | 8:30 | FOX Sports 1, UniMás | Gillette Stadium; Foxborough, Mass. |
| July 13 | Panama | 9:30 | FOX Sports 1, UniMás | Sporting Park; Kansas City, Kan. |
USA vs. DENMARK:
The United States is 1-2-3 all-time against Denmark and has earned a win or draw in two of the last three matches. The two teams have combined to score 19 goals in six matches, with the USA scoring eight and surrendering 11.
The most recent encounter between the two was the USA's 3-1 defeat on Nov. 18, 2009, at NRGi Park in Aarhus. Despite having played Denmark five times heading into the game, this was the first played in Denmark. The U.S. found the net early when Jeff Cunningham scored his first international goal 26 minutes into the game to give the USA a 1-0 lead. In the second half, Denmark came out hot, scoring three times in the first 10 minutes to notch the final 3-1 scoreline. Both Jozy Altidore and Michael Bradley appeared in that game and are the only players active in the current squad to have played against Denmark.
In 2007, the game between the two nations played out as an opposite of what occurred in 2009. In Carson, California, the USA played to an efficient 3-1 victory. The Danes struck first in the 37th minute, but the U.S. followed with goals from Landon Donovan, Jonathan Bornstein and Kenny Cooper to pick up a 3-1 victory and its first win against Denmark.
The match represents a homecoming for Aron Johannsson, who played at Aarhus from 2010-12, amassing 23 goals in 65 appearances.
DeAndre Yedlin and Denmark's Christian Eriksen both play for English Premier League club Tottenham Hotspur, while Johannsson is teammates with defender Simon Busk Pouslen at AZ Alkmaar. Alejandro Bedoya and Kian Hansen also play together at Nantes.
U.S. ROSTER NOTES:
A total of 10 players on the roster were members of the 2014 FIFA World Cup roster that traveled to Brazil and helped the USA advance out of the "Group of Death," including two goalscorers (John Brooks and Julian Green).
Michael Bradley was the only player who started in all four matches for the USA during the World Cup.
Bradley is the leading cap winner on the roster and is in line to soon reach the century mark, having played 93 games.
Seven countries and nine leagues are represented on the roster: Canada, England, France, Germany, Mexico, Netherlands, and the United States.
Jozy Altidore, Bradley and Brek Shea are the goalscorers for the U.S. in 2015. At club level, Altidore netted a pair of goals in his debut match for Toronto FC to start the 2015 MLS season.
Goalkeeper Nick Rimando boasts an impressive 11-1-2 career record with four shutouts.
Greg Garza played in the last five games of 2014 starting three following the World Cup. The Club Tijuana left back has been a part of every level of U.S. National Team programming, beginning with the U-14's.
Miguel Ibarra, who earned his first cap for the U.S. in 2014, is the reigning MVP of the NASL.
Aron Johannsson has the chance to make his first appearance for the USA since replacing Jozy Altidore in the first half of the USA's 2-1 win against Ghana in the opening match of the 2014 World Cup. He has been hampered by injuries since then and is fighting his way back into the lineup at AZ Alkmaar.
Danny Williams also has the opportunity to get his first action since March 5, 2014, when he appeared against Ukraine in Cyprus.
Rubio Rubin and Green are the only MNT players on the roster age-eligible for this summer's FIFA U-20 World Cup.
Rubin, who scored over the weekend for Utrecht, earned his first MNT cap and start on Nov. 14, 2014, against No. 3-ranked Colombia.
William Yarbrough was born and raised in Mexico to two American parents. He marshaled the backline for Club Leon to the 2013 Apertura and 2014 Clausura titles. This is Yarbrough's first call up to the U.S. Men's National Team.
IN THE RECORD BOOKS:
Jozy Altidore is fifth on the MNT's all-time goal scoring list with 26 goals, adding his first goal of the year against Chile in January. Altidore is now four goals behind fourth-place Brian McBride (30 goals from 1993-2006).
Midfielder Michael Bradley is inching closer to the century cap mark with 93 appearances since debuting for the MNT in 2006. He is 18th on the MNT all-time list, two appearances behind McBride.
Bradley is ranked 13th on the all-time goals scored list with 13 goals, and is tied with Marcelo Balboa and Hugo Perez.
Nick Rimando ranks fifth on the all-time wins list with 11. The Real Salt Lake man is 11-1-2 all-time with the USA, his only loss coming against Chile in January.
U.S. head coach Jurgen Klinsmann (34-16-11) ranks third among the USA's all-time winningest coaches. Ahead of Klinsmann are National Soccer Hall of Famers, Bruce Arena (71) and Bob Bradley (43).
BY THE NUMBERS:
4 Players on the U.S. MNT roster playing in Mexico's Liga MX
5 Players on seeking their first international cap
26 Career goals by Altidore, who is fifth on the USA's all-time scoring list
28 Denmark's current FIFA ranking
32 USA's current FIFA ranking
34 Victories under head coach Jurgen Klinsmann